NewZNew (New Delhi) : President Barack Obama and his wife Michelle have begun their three-day visit to Delhi.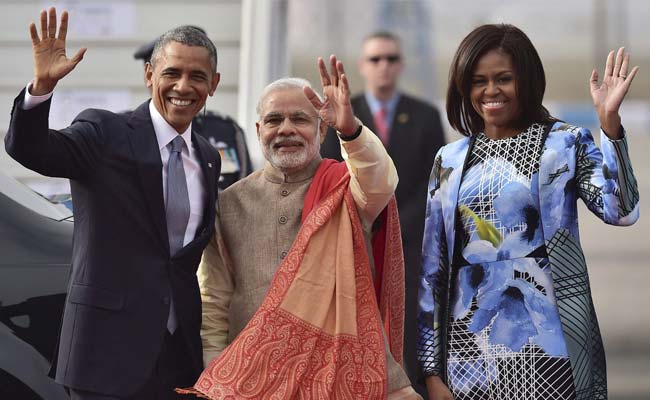 A seven-layer security ring with 50,000 security personnel  including 500 US Secret Service Agents are part of Obama's security detail for his three days in the capital. On Republic Day, the no-fly zone is being extended to 400 km covering cities such as Jaipur, Agra and extending to the border with Pakistan.
71 buildings have been sanitised and snipers stationed for the Republic Day parade. 15,000 CCTV cameras have been installed in Central Delhi including high-definition license-plate recognition cameras. They are relaying pictures to a central control room manned and monitored by more than a joint team of Delhi Police and  US Secret Service Agents.
More than 20 US Malinoises which are sharp, energetic shepherd dogs have been deployed around Rajpath and the ITC Maurya Hotel, where the Obamas are staying.  For the grand Republic Day parade tomorrow, where POTUS is the Guest of Honour, there is a three-tier security check for those with passes to attend. The police have been granted the right of refusal of entry without needing to offer any explanation.
At  Rajpath, the wide avenue where the parade will take place,  there are 500 police officials who have been trained in detecting suspicious movements in the public and among the participants. They have been specifically trained to profile potential terrorists.
The major roads near the hotel where the President is staying have been closed completely. Policemen are posted in the forest area of the ridge that lies near the hotel. All Metro station parking lots will remain closed from 2 pm of January 25 to 2 pm of January 26. Several stations along with the Yellow, Blue and Violet line of the Metro will be shut for several hours on Republic Day.