Sula Vineyards wins three prestigious awards at the 'delWine Excellence Awards'
NewZNew (Chandigarh) : Sula Vineyards, India's #1 wine companyraises a toast to celebrate the grand achievements at the first edition of the 'delWine Excellence Awards' -bagging three awards to its fame. Sulawas nominated in three categories and won all three!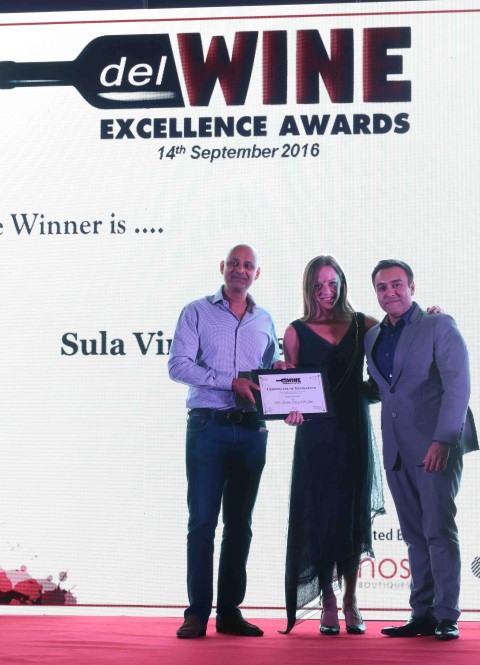 The organisers of the delWine Excellence Awards – Indian Wine Academy President Subhash Arora and food journalist and blogger Sourish Bhattacharyya of the Indian Restaurant Spy – have joined hands with India's first and only Master of Wine, Sonal Holland.  Together they launched and organized the first-ever wine-specific award in India to encourage the wine culture, awareness and excellence. The winning awards were decided via public vote.
This is India's first ever awards dedicated to the wine industry – the ceremony was held last night at Pullman Aerocity Hotel in New Delhi. The event saw industry leaders and wine professionals from across different sectors and across the country. From Sula Rajeev Samant and Cecilia Oldne were both present.
The highlight of the evening was a 'by invitation only' Wines of the World (WOW) Showcase, where guests were able to taste more than 120 wine labels including wines from Sula Vineyards and also Sula Selections –  the company's import arm for wines and spirits.
The award is an initiative to celebrate and recognize people and companies in wine in India for their contribution to the growth and success of the Indian wine industry.
The event was attended by wine producers, sommeliers – even a Master of Wine, F&B fromfive-star hotels, restaurants, wine retailers and importers, promoters of wine tourism etc. It was a wine full affair.
Rajeev Samant, CEO, Sula Vineyards on the receipt of the awards said; "First congrats to delWine on organising these awards for the first time – it was a great event! Our three awards are a tribute to the hard work put in by the entire Sula team, especially the winemaking team led by Ajoy and the hospitality team led by Monit. Kudos to them and the entire Sula family!"
One man's vision 15 years ago followed by hard work and conviction to serve the best wine to Indians has led to what Sula Vineyards is today. Sula has 65% market share and is also exported to 30 countries.  Sula is also a pioneer in wine tourism in India, having opened the country's first Tasting Room at a winery in 2005. Sula had 230,000 visitors last year. The company's annual music festival SulaFest has become one of the most awaited in India – its 10th edition coming up February 3rd – 5th 2017.
On winning the 'Wine Tourism Winery of the Year' award – Sula's VP Hospitality, Monit Dhavale says;
"Wine tourism is an evolving trend in India and Sula being the pioneer of this concept, it's always a challenge to offer something new and unique to all our visitors. We would like to thank all Sula lovers and visitors for their contribution in our success journey and wepromise to make our offerings even more exciting in the years to come… Stay tuned!"
Sula Vineyards also discovered Dindori as a wine making region, and this region is today regarded as having the best terroir for producing wine in India.
Sula's Chief Winemaker Ajoy Shaw won the award – Indian Winemaker of the Year! Sharing his excitement he said;
"I feel on top of the world after receiving this award. This would not have been possible without the support of my fellow winemakers and the Indian wine consumers. I would like to dedicate this award to the entire Sula team!"
Sula remains committed to excellence and quality – and it is great that this is also recognized by the Indian consumers. It's a grand achievement to win all the categories one is nominated for. This is a big day for the Sula family!