NewZNew (S A S Nagar) : West Highlander organized seminar at Mohali about study opportunities at Canada under SPP program. Around 130 students attended this informative seminar.  The Director, Parwinder Kaur addressed the audience and told about study options in Canada. She told that numerous students aspire to study in Canada because of the better employment opportunities and enhanced lifestyle offered in Canada.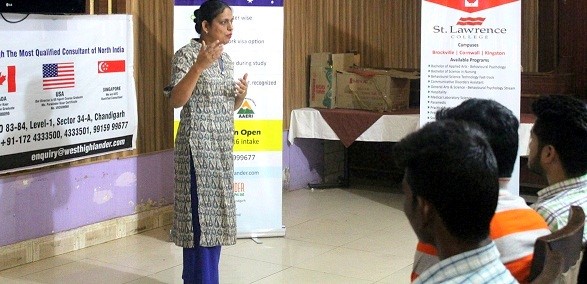 She told at the moment that many students aspire to study in Canada under SPP but they lack proper knowledge and guidance. To study in Canada under SPP colleges and universities in Canada, one must know about the program in detail.  She told that Student Partners Program, commonly known as SPP is a program developed by Association of Canadian Community Colleges (ACCC) and the Citizenship and Immigration Canada (CIC) in partnership. This program was launched with an aim of increasing the number of visas issued to Indian students for studying in Canadian Community Colleges.
The SPP was initially started for the Indian nationals, but now it has also been extended to China as well.  Under SPP program Canada, 47 Canadian colleges are listed which welcome Indian students.  This program is specially designed for Indian students aspiring to study in Canada.  Students must meet several requirements of the participating colleges to get visa.
Parwinder Kaur ,later highlighted the benefits of applying through SPP Canada like faster processing of Visa applications, lesser visa documentation, streamlined visa and admission guidelines and eligibility criteria to apply under SPP Canada. She also told that Students aiming to study in Canada does not need to apply for SPP Canada separately, but can directly apply to a participating college and if their application meets the criteria, they may be considered under the program.  Students must submit their applications at least three months before the commencement of the academic course.  Student must have IELTS score of 6.0 with no band less than 5.5 for undergraduate students and score of overall 6.5 bands with no less than 6.0 for post graduate programs. She told that Work visa is open to all international students those have effectively graduated from recognized college or university in Canada whether under SPP colleges or non SPP colleges.