11 trains to different pilgrimages to be launched in January under the "Mukh Mantri Tirath Yatra Yojana"
Special Trains will leave from all constituencies, next train to chug off for Talwandi Sabo constituency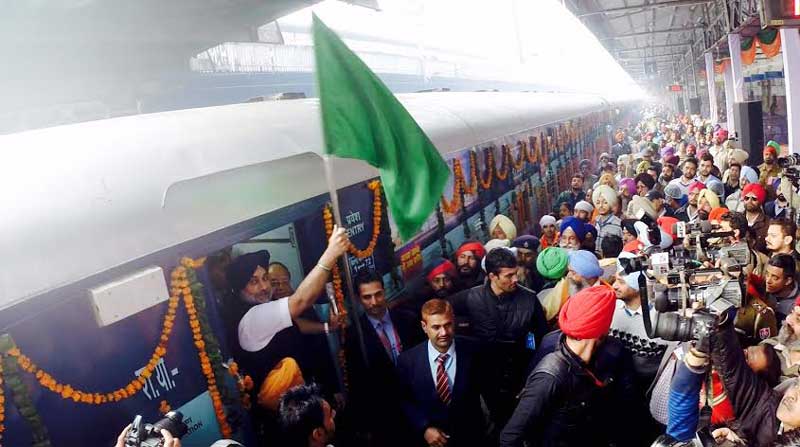 NewZNew (Sri Amritsar Sahib) : Punjab Deputy Chief Minister Mr. Sukhbir Singh Badal today flagged off the first Tirth Yatra train from Amritsar Railway station to Takht Sachkhand Sri Hazoor Sahib, Nanded. He congratulated the people on the eve of New Year and wished peace, communal harmony, amity and tranquility in the state as well as in the country.
Speaking on the Occasion, Mr. Sukhbir Singh Badal said, "Punjab government has been working relentlessly to preserve and promote the precious heritage of Punjab. It is our duty to transfer the rich cultural legacy of Punjab to the future generations. Furthermore, the cultural heritage will also boost the heritage tourism in the state and will be critical in building sustainable visitor economy."Mukh Mantri Tirath Yatra Yojana" is yet another attempt of the Punjab government to preserve and promote majestic culture and royal heritage of Punjab."
Mr. Sukhbir Singh Badal informed about other initiatives taken by Punjab Government to preserve the heritage of Punjab. He also announced that within one year the holy city Amritsar would get a fresh look as various development projects were on advanced stage of completion. He informed that Punjab Government has earmarked Rs. 100 crore for Shri Guru Gobind Singh 350th Parkash Purab at Takht Sri Patna Sahib, birth place of Guru Gobind Singh.
It is pertinent to mention that Amritsar has attained the status of heritage city and an amount of Rs. 69 crores has been allocated to preserve the monuments, mute testimonials of Punjab's glorious heritage besides giving facelift to Sri Harminder Sahib's façade at an outlay of Rs. 211 crore.
Speaking about the development plans of Punjab Government, Mr. Badal said that in the next one year, a sum of Rs. 6000 crore would be spent on rural development and the projects for the development of entire assembly segment will begin soon at an estimated cost of Rs. 30-40 crore. He also announced that in the next 5 years, all the villages of
the state would have CC flooring done on the streets. Similarly, the projects of infrastructural development in 140 cities of the state are also going on the war footing.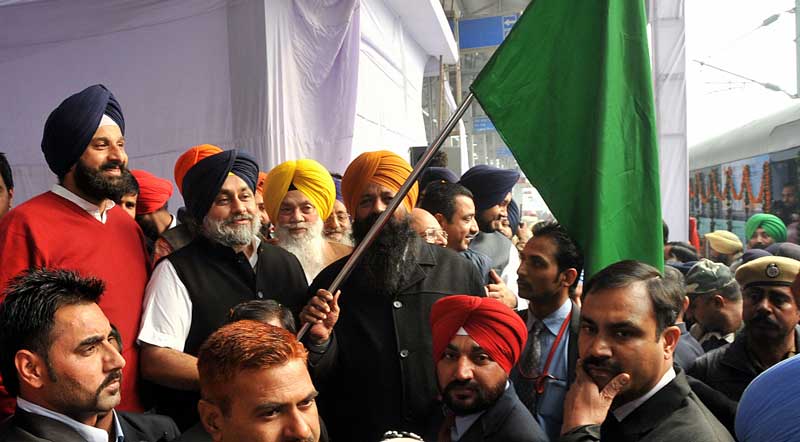 The train comprising of 18 coaches can accommodate 1,080 pilgrims and its pantry can cater to 1500 passengers. The train n will return on 6 January and the pilgrims will be provided food, accommodation, transportation, boarding and lodging facilities free of cost.Seven more such trains will ply for Nanded Sahib from Maur (Bathinda), Sri Anandpur Sahib, Tarn Taran, Patiala, Batala (Gurdaspur), Sri Muktsar Sahib and Beas in this month.
Apart from the trains to the famous Sikh pilgrimage, two trains to Varanasi from Ludhiana and Jalandhar and one to Ajmer Shariff from Malerkotla will also start in January.
11 more Tirth Yatra trains are planned to start in January and February under this scheme. Apart from this Tirath Yatra trains to Katra for Maa Vaishno Devi and to Chennai for Basilica in San Thome built over tomb of St Thomas, an apostle of Jesus, are also in the offing. Free Buses for pilgrimage also to ply under this scheme from January 4 for Salasar (Rajasthan) and Chintpurni (HP).
Under the plan, about 1000 persons from each of the 117 constituencies have been selected for the pilgrimage trips. Respective Deputy Commissioners have screened and selected the beneficiaries for the scheme. An amount of approx Rs. 187 crore have been earmarked for the scheme.
Punjab Welfare Minister Mr. Gulzar Singh Ranike along with his family members also boarded the train. Besides this, officers of various Government Departments were also accompanying the pilgrims for their facilitation of 1050 devotees boarding for Nanded. The devotees will witness the chanting of hymns through audio CDs to be played in
the train.
Prominent amongst those present on the occasion included Mr. Bikram Singh Majithia, Revenue Minister; Mr. Sohan Singh Thandal, Tourism and Cultural Affairs Minister; Mr. Amarpal Singh Boni Ajnala, Chief Parliamentary Secretary; Mr. Baljit Singh Jalal Usma, MLA; Mr. Veer Singh Lopoke, Chairman, District Planning Committee; Mr. R. Venkatratnam, Principal Secretary Transport; Mr. NPS Randhawa, Director Cultural Affairs and leaders of SAD-BJP alliance.