In a major display of clinical excellence, Dr Rakesh K Jaswal, Director, Cardiology, Fortis Hospital, Mohali has successfully trained a doctor from South Africa in challenging Transradial intervention technique in the entire northern India. Dr Jameel Moosa from South Africa received this training at Fortis Hospital, Mohali.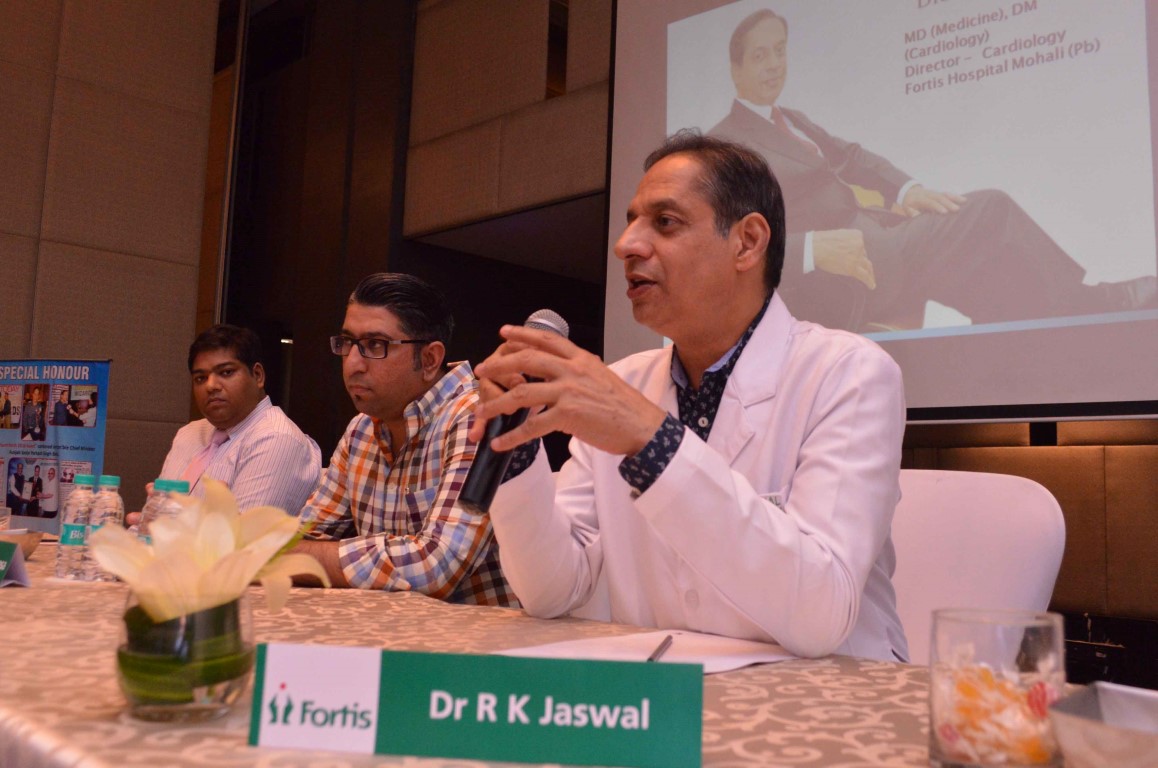 1The challenging Transradial Intervention approach (TRA) is the recommended technique for percutaneous coronary intervention (PCI) in acute coronary syndrome as per European Society of Cardiology guidelines. Empirical evidence has proven that it has better ability to reduce bleeding and mortality when TRA is used. It has also been established that TRA is technically more challenging than the transfemoral approach (TFA). Due to its technical challenge, it is very rare to witness centres or experts of TRA around the world. TRA allows angiography or stenting through the wrist and post operation, a patient can immediately get up from the operation table and walk around without much discomfort.
Speaking about the procedure, Dr Rakesh K Jaswal said, "Our centre of excellence was first to introduce transradial intervention approach in this part of the country when we started in 2002. We still does majority of all TRA, around 60%, in the northern India at Fortis Hospital, Mohali. It is indeed a tremendous honour to train successfully in this challenging but beneficial technique. Dr Jameel Moosa has learnt it well."
Dr Jaswal said, "We always try and spread awareness among the people about ways of preventing heart disease. However, when there is no option but to carry out a procedure, we make sure patients receive the best possible treatment. It's here that transradial interventions have completely changed the script. They are safer, promise better results and quicker recovery – the only catch is these have to be performed by a highly experienced operator."
The doctor had also presented two complex Coronary PCI cases during a paper presentation at the prestigious forum of CIT at China. He also delivered a lecture on 'Transradial Intervention' at the same platform. Further bringing pride to Fortis Hospital Mohali, Dr Jaswal was also honoured with the prestigious 2013 MIDI Management Excellence Award.
Dr. Jaswal has performed more than 25,000 Invasive Cardiology procedures and 12,000 Cardiac Interventions, including high-risk Coronary Interventions. Dr. Jaswal is highly experienced in Transradial techniques, with over 14,000 Transradial Invasive Procedures and over 7,000 Transradial Interventions, including complex Transradial Coronary Interventions, to his credit.