A book about 'Baba Iqbal Singh' authored by Benedict Paramanand
newznew (New Delhi) : Former Prime Minister of India Dr. Manmohan Singh launched the book "Mission to Reboot Punjab Through Value Based Education" a book about Baba Iqbal Singh, authored by Benedict Parmanand in capital today.
Exhilarated to be a part of the launch Dr. Manmohan Singh added "We are currently living in the day & age where there is immense need of value-based education. Our generation apart from getting technically educated must also be made aware of our rich culture, heritage and history". He further said, ' I am truly inspired by Baba Iqbal Singh Ji's life, work and selfless service to the humanity; his commitment to educate the young and the mislead."
In a truly emotional speech Mr. Manpreet Singh Badal (Finance Minister, Punjab) highlighting the prevailing issue of drug addiction amongst the youth, said " It's sad to see the current state of affairs in Punjab . Today, the youth of Punjab is being influenced and misled by the evil elements. Baba Iqbal Singh's relentless commitment and work towards rehabilitation & education is a blessing which is, truly and surely bringing in a positive change. "
Baba Iqbal Singh – a visionary, educationist, and a philanthropist, has been rated as the most powerful non-political Sikh in the world by the "Top Sikh 100" Organization in UK. In 2014 he was awarded a Citation from the New York State Assembly as an exceptional individual, one which is worthy of the esteem of USA and the great state of New York for fostering Tolerance for people of all races and cultures.
The event witnessed a power puff attendance, of educationists, bureaucrats, politicians, industralists and influencers from across the world  coming under one roof.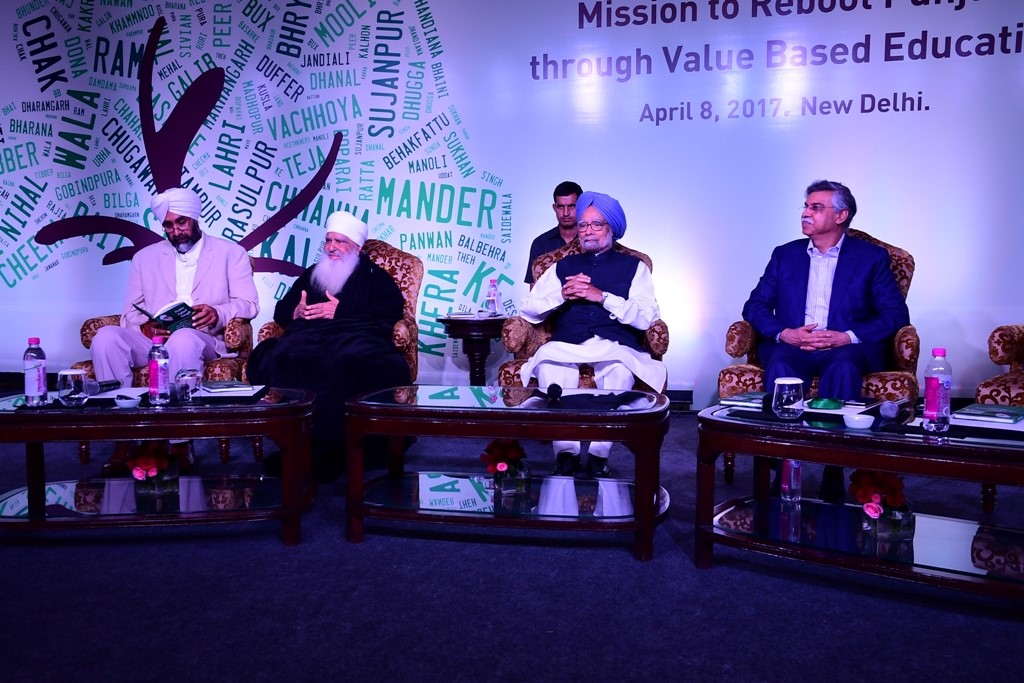 Mr Manpreet Singh Badal (Finance Minister, Punjab), Mrs Isher Judge Ahluwalia, Mr. Kapil Dev Nikhunj (Former cricketer), Mr Sunil Kant Munjal (Industrialist), Sr. Advocate Rupinder Singh Suri (President Supreme Court Bar Association), Mr K. T. S. Tulsi (Senior Advocate), Mr Pankaj Pachauri (ex-media advisor to PM), Mr Manjit Singh GK (President Delhi Sikh Gurdwara Management Committee), Mr Bishen S Bedi (Cricketer), Mr Tarlochan Singh (ex-MP Rajya Sabha), Bhavdeep Singh (Fortis Healthcare), RS Sodhi (MD, Amul India), Mr DK Sharma (former Seceratry,  were some of the guests of honor at the occasion.
On the sidelines of the book launch was also a  'Panel Discussion and Case Study Presentation' on Akal Academy's – 'Rural Education is The Answer ', where Narayanan Ramaswamy (KPMG), Kartik Desai (Asha Impact), Dr. Neelam Kaur and Author of the book- Benedict Paramanand, were the speakers. The case-study was prepared by Amarpreet Singh Ghura, ​Post-doctoral Research Fellow, Indian Institute of Management Calcutta and Professor Vijaya Sherry Chand, Indian Institute of Management Ahmedabad.
Present at the occasion Mr. Sunil K Munjal, Joint MD, Hero MotoCorp said, "Through the chapters of this book, the author has woven a wonderful tapestry around the life, the times and the beliefs of a remarkable leader".
Inspired by the life and works of the living legend and philanthropist, Baba Iqbal Singh of The Kalgidhar Society, Baru Sahib. The author has beautifully drawn the story of Baba ji's charismatic life and his evolution post -retirement from a bureaucrat to a spiritual leader of eminence.