Eden Hospital starts free treatment under Ayushman Bharat Scheme : Rakesh Kumar became first beneficiary in tricity to be admitted in private hospital under Ayushman Bharat scheme.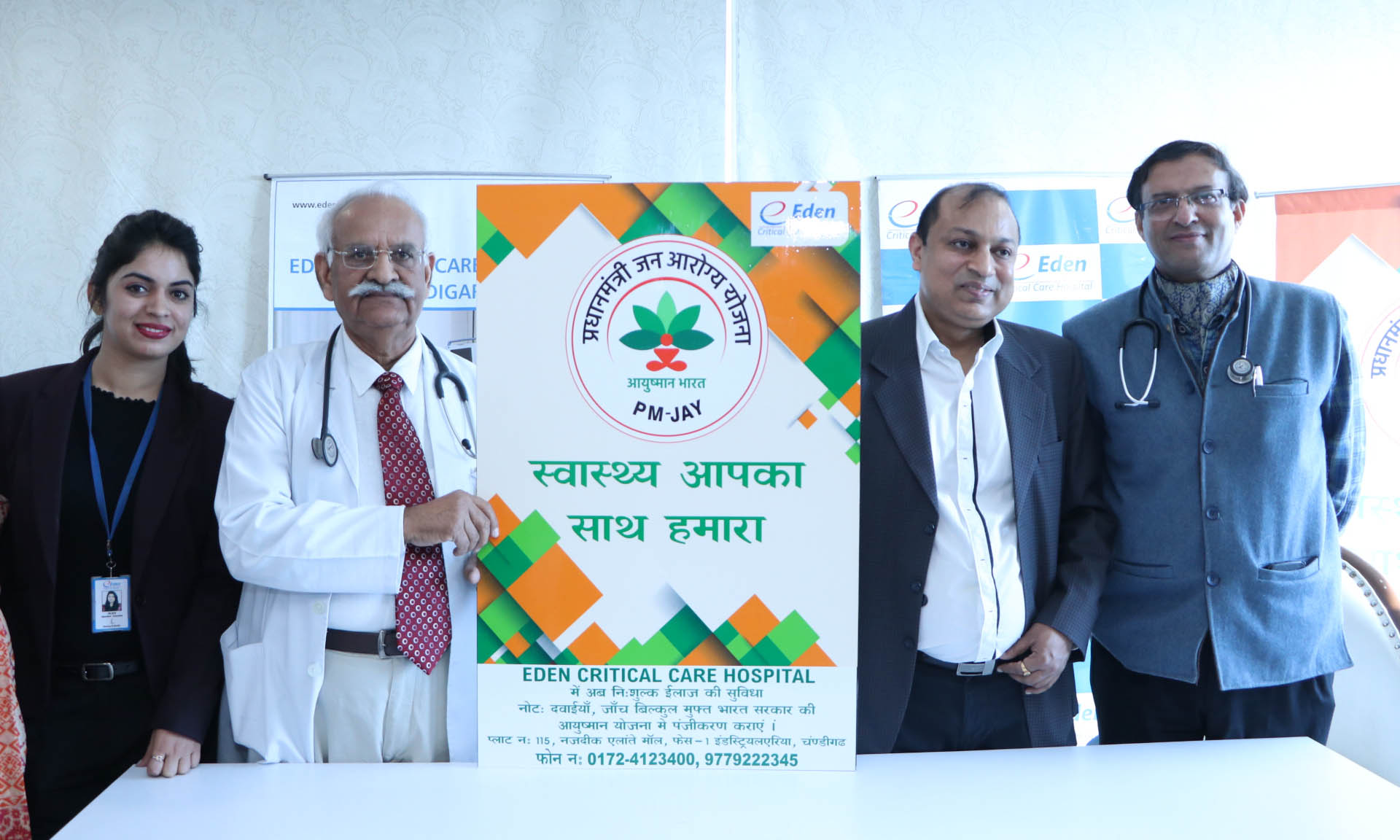 He was admitted in Eden Hospital in a critical state. He needed ventilator for his survival. All treatment including medicines and consumables were provided free of cost to the patient. The government will bear all medical expenses.
The hospital on the other hand has also decided to offer free OPD services to beneficiaries of Ayushman Bharat scheme. Eden hospital is 120 Bed critical care NABH accredited  Super speciality  hospital with focus on critical and polytrauma patients having high end ICU which is most affordable ICU of tricity with best team of intensivists
The scheme is a National Health Protection Scheme, which will cover over 10 crore poor and vulnerable families (approximately 50 crore beneficiaries) providing coverage upto 5 lakh rupees per family per year for secondary and tertiary care hospitalization. Benefits of the scheme are portable across the country and a beneficiary covered under the scheme will be allowed to take cashless benefits from any public/private empanelled hospitals across the country. The beneficiaries, under the scheme will be allowed to take cashless medical facilities from any empanelled private hospitals across the country.
Patient's wife said it was indeed praiseworthy that the government started this scheme which was long overdue, further adding, now they can avail free and best treatment in private hospitals.
Dr Sanjay Bansal Consultant Neuro-surgeon and Managing Director of Eden Hospital, said, "Eden Hospital is the first private NABH accredited hospital of tricity which has started the scheme and started admitting patients. All critically ill patients including patients on ventilator, emergency poly trauma patients, cardiology patients including those who need stents, orthopaedic  patients  needing knee replacements, neuro surgical and other surgical patients will be provided treatment free of cost."
The treatment of these type of patients is generally expensive but under this scheme treatment is totally free, he said, adding, "With implementation of this scheme, the slogan of health for all by 2020 seems realty. Earlier private hospitals were hesitant in joining this scheme due to low pricing and delayed payments but after government assurance private hospitals will willingly join this initiative."