With an aim to make UJALA appliances available across nook and corner of the State, EESL (Energy Efficiency Services Limited) has initiated the distribution of its energy efficient appliances through post offices of Punjab and Chandigarh from July 25, 2018. The announcement was made during a commencement event conducted at GPO Chandigarh in the august presence of Anil Kumar, Chief Postmaster General (Punjab & UT Chandigarh), P.M. Lal, Postmaster General, and Nitin Bhatt, Regional Manager (Punjab and Chandigarh), EESL.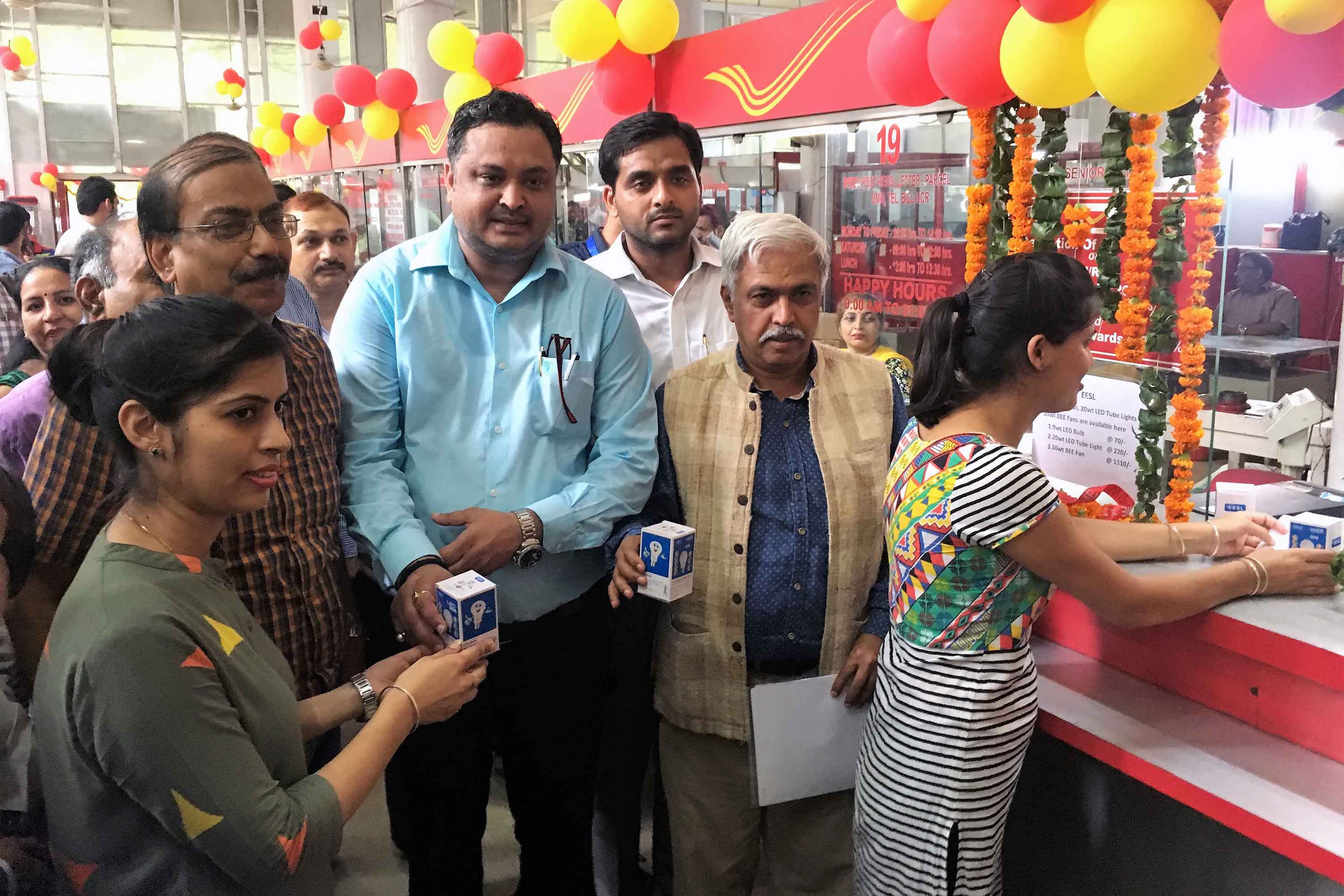 A pact was inked between the Department of Posts and EESL to enhance the penetration of EESL's energy efficient appliances in the region. All appliances, including LED bulbs, LED tube lights and energy efficient fans are now easily available at a post office near you. The sale/ replacement of UJALA appliances will be made from all the 770 post offices in a phased manner. Initially, these appliances will be available in 150 Post Offices in the circle and will gradually extend to all Post Offices in Punjab and UT.
On the occasion, Anil Kumar, Chief Post Master General said, "Post offices have been an integral part of our lives since time immemorial. Today, we are gathered here to commence distribution of UJALA appliances through post offices in Punjab and Chandigarh, which will greatly benefit people. With already so many distribution counters, the Postal Department is committed to further increase the distribution network of EESL in reaching more and more consumers. This will not only help people save in electricity bills but will also help the nation cut its electricity consumption."
The consumer simply has to approach their nearest post office with a valid identity proof to complete the purchase. In addition, each post office is being equipped with publicity material to attract more and more buyers and further the message of energy efficiency in the country. UJALA scheme is innovatively designed to lower the count of megawatts consumed in the country through widespread adoption of energy efficient appliances. Till date, over 18 lakh LED bulbs, more than 1.2 lakh LED tube lights and over 30,000 energy efficient fans have been distributed in Punjab and Chandigarh.  It is estimated that this is leading to daily energy savings of more than 6,66,464 kWh and daily monetary savings of over Rs. 26 lakhs.
Furthermore, alongside commencing distribution in post offices, EESL had also adopted special on-the-wheels publicity mechanism designed to travel across the regions of Punjab and Chandigarh to spread the message of adoption of advanced energy efficient appliances through mobile vans. These vans generally consist of an announcer, who is equipped with enough publicity material having details of distribution counters of UJALA appliances in the region. The van was enhanced with attractive and vibrant designs to attract the attention of consumers. Announcements both in Hindi and Punjabi were carried out through this UJALA-station-on-wheels.
Under, EESL's UJALA programme, domestic grid connected users are getting LED bulbs, LED tube lights and energy efficient BEE 5 star rated fans through designated kiosks spread across the region of Punjab and Chandigarh. The price of one LED bulb is Rs. 70, the ceiling fans cost Rs. 1,110 and energy efficient LED tube light costs Rs. 220. The real-time count of distributed appliances and addresses of distribution kiosks is easily accessible on www.ujala.gov.in. Sh. Nitin Bhatt, Regional Manager, EESL said, "Post offices have been extremely vital to our daily lives and the benefit of their wider reach is now being reaped through the selling of UJALA appliances at their premises. You can either buy or get your faulty appliances replaced at these centers. This addition will be convenient for consumers in far-flung locations. Today, we urge all consumers the join the UJALA scheme."