Launching the  [Second in Chennai – Tamil Nadu]
Promotes Drive Right-Drive Safe culture on roads for a safer future of all
By 2020 TKM plans to launch 50 Toyota Driving School across India
Toyota Kirloskar Motor (TKM) announced the launch of  the company's second "Toyota Driving School" [TDS] in Chennai, in pursuance of its safety mission of 'Safest Car with Safest Driver'. Managed by one of Toyota's dealerships – Harsha Toyota, this being their second TDS facility [also the 2nd driving school in Chennai, Tamilnadu] and the company's eighth driving school across India.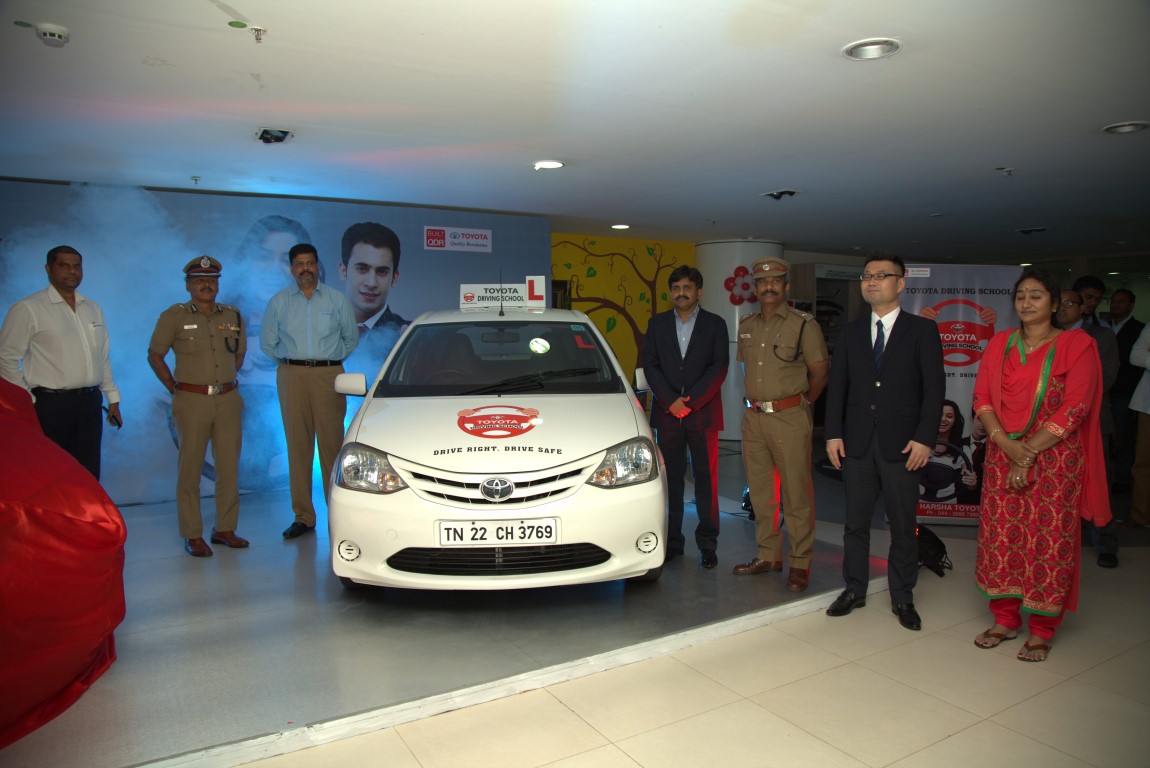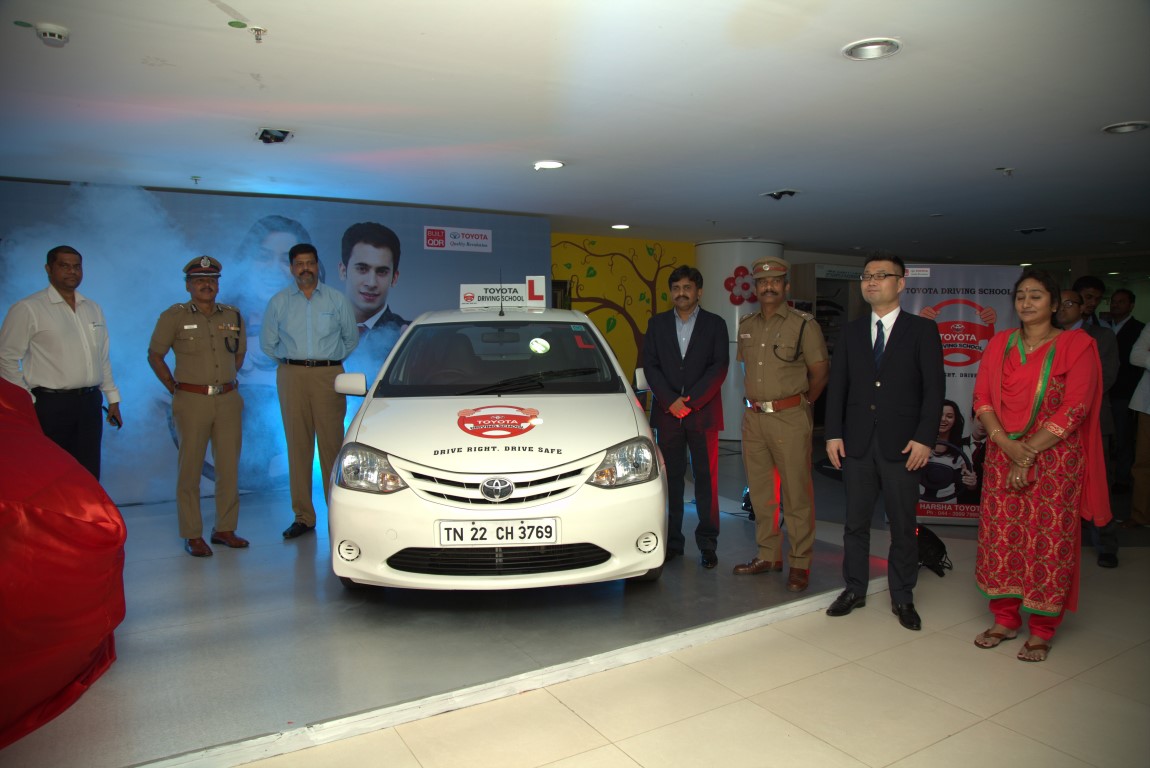 The Toyota Driving School launch was graced by the chief guest Thiru. K. Periaiah, IPS – Additional Commissioner of Police (Traffic), Chennai, Special Guest Thiru. I. Eswaran – Deputy Commissioner of Police (Traffic-Chennai West), in the presence of Mr. M. Harshavardhan, Dealer Principal – Harsha Toyota and Mr. N Raja, Senior Vice President & Director – Toyota Kirloskar Motor.
To improve road safety culture in the country, Toyota Kirloskar Motor has launched seven other driving schools across India at Kochi, Lucknow, Hyderabad, Chennai, Kolkata, Faridabad and Vijayawada, in line with company's safety mission.
Being a part of company's vision of "Safest Car with Safest Driver", 'Toyota Driving School' one of its kind in the country, will ensure extreme importance on making every student a responsible and safe driver. The curriculum will be a comprehensive driver training program that will boast of high quality, practical and futuristic training models like the driver simulator mechanism which is expected to deliver the "Etios Experience". To make this experience as realistic as possible, Toyota has incorporated features like Instrument Panel (IP), Steering, and Seats of an actual Etios car.
The curriculum will comprehensively cover the following topics:
Traffic management, rules and discipline
Safe and right driving concepts
Manners and responsibilities of a driver
Simulation of driving on real vehicle before getting onto road
All aspects of practical driving on road
Driving on various road and climate conditions
Know your car – Basic maintenance and repairs
Emergency handling
Systematic evaluation and feedback
The simulator, a key part of the teaching program, is expected to provide hands on experience. Learners can practice all car controls like steering, accelerator, brake and gear shift before they take the actual vehicle on the road. The simulators can also create various road and weather conditions like fog, dim light, uphill and downhill terrain. While there will be a standard learning package for beginners, 'Toyota Driving School' will also offer the flexibility of additional learning modules so that learners can design a curriculum of their choice.
With the launch of Toyota Driving School across India, the company aims to bring down the rising number of road accidents caused majorly due to human error.  The training module will integrate technical expertise along with enhancing behavioral skills to create awareness about safety nationwide. Toyota Driving School has till date enrolled 3,000 plus students. By 2020 the company plans to cross 50 such schools across India, voicing their traffic safety commitment, louder.
In pursuance of its deep rooted safety mission, Toyota Kirloskar Motor has been carrying out Road Safety initiatives since 2005 through various pan India campaigns. Apart from the commitment to building the safest cars, the company has an all- encompassing Safety Program to address road safety challenges in India. As a safety leader, Toyota initiated the Toyota Safety Education Program (TSEP) in 2007 which aims at educating school children and teachers through phase wise approach on important aspects of road safety and eventually passing on the learning to the general public. Toyota has educated around 6,80,000 school children on road safety across India until  now, as a part of  "Toyota Safety Education Program".
To ensure safest drivers on Indian roads, TKM has been conducting similar Driver Training Programs & Health Check Up camp for Airport taxi drivers in Hyderabad, Bangalore and Delhi International Airport since 2014 under its CSR Initiatives on road safety awareness with over 6000 drivers participating in the campaign till date. Through this initiative, Toyota aims at inculcate a strong road safety sense amongst the drivers, and encourage them to adopt safer driving practices while on roads.
Safest Cars: Etios was first in its segment to standardize Air bags in driver and passenger side. The company went to set a safety benchmark with "The New Platinum Etios', being the first in the industry to standardize Anti-Lock Braking System with Electronic Brake-force Distribution across all Toyota models & in all grades. Additionally, there are also new dual ISOFIX child seat locks for all models & all grades, added to ensure safety of children. Testament to its position as one of the segment leaders in terms of passenger safety, the Etios was presented with the coveted 4 Stars in Global NCAP Crash Test adult occupant safety for the year 2016.