Punjab Government Launched its Biggest Ever Employment Drive to empower the youth of Punjab
NewZNew (Chandigarh) :
Punjab Government has launched the biggest ever employment drive in the history of the State and on offer are 1,13,766 government jobs that will be offered to youth of Punjab
within one year
.  For record, the Badal Government had offered over one lakh Government jobs to youth in its earlier regime.
Punjab's Deputy Chief Minister, Sukhbir Singh Badal says, "Empowered youth are the backbone of any nation. Our mission is to to ensure overall development of Punjab, which could be achieved by creating enough employment opportunities for the youth.We will ensure that there is 100 per cent fair selection and transparency at every level in the employment drive."
Besides jobs in government offices in all groups vis A,B,C and D the Punjab youth would be encouraged to take up jobs in private sector as well. Punjab government is working to create massive job opportunities for youth. There were huge opportunities in sectors like Information Technology, Agro processing and manufacturing sector in the state. Sewa Kendras have the potential to offer 12,000 jobs.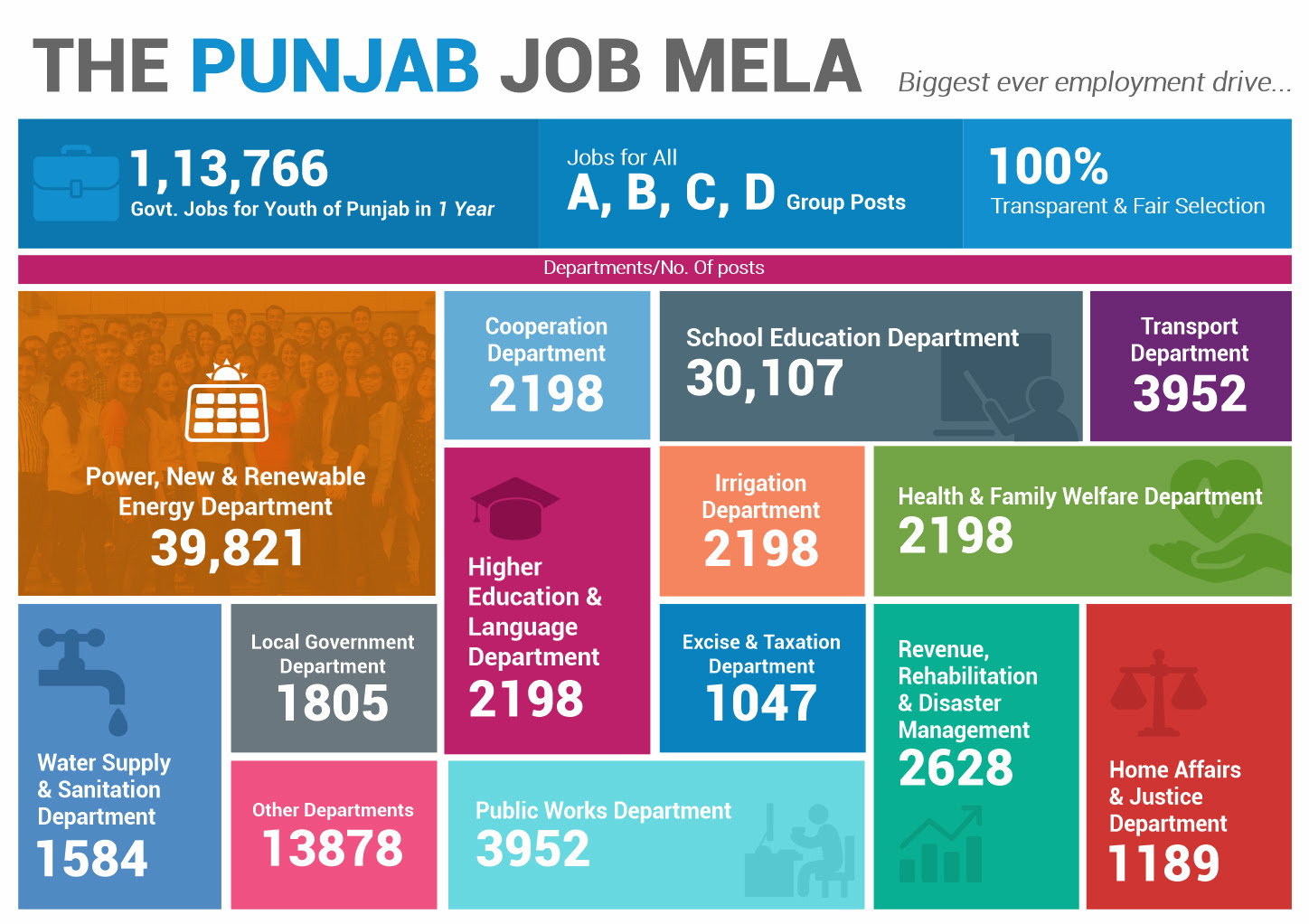 The New and Renewable Energy Department is set to emerge sunrise sector in Punjab. While it aims to make Punjab a solar state of the country, it has potential to catapult farmers into entrepreneurs and create huge job opportunities for Punjab youth.With reforms introduced by Punjab State Power Corporation Limited, the PSPCL has shown a turnaround in its performance. The power sector will offer 39,821 jobs to Punjab youth within one year.
The School Education Department has on offer 30,107 jobs for youth in teaching and related fields. With Punjab emerging on top in the country in opening of new schools and with lowest dropout rate, the department would offer jobs to youth.
About 2198 jobs are available in Higher Education and Language Department, as many as 5301 job opportunities are in Health and Family Welfare Department, 4566 jobs are available in Cooperation Department and Transport Department has on offer 3952 jobs. The Public Works Department has on offer 2852 jobs, Revenue, Rehabilitation & Disaster Management has about 2628 jobs, Irrigation Department about 2072 jobs, Local Government Department has1805 jobs, Water Supply & Sanitation Department would offer 1584 jobs, Home Affairs and Justice Department has on offer 1189 jobs, Excise and Taxation Department would offer 1047 and other Departments about 13878 jobs.
By generating these employment opportunities, Punjab Government is setting the youth of Punjab on the path to Development.