NewZNew (S A S Nagar) : Gian Jyoti Institute of Management and Technology, Phase 2 organised 10th International conference new trends in business and management An International Perspective. The sub-themes will be in the fields of Production and Operations Management, HRM, Financial Management, Marketing, Strategic Management, Services, R&D, Information Technology and allied areas. Sanatan Baweja.Director, Celeste Solutionswas the chief Guest and key note speaker at this occasion.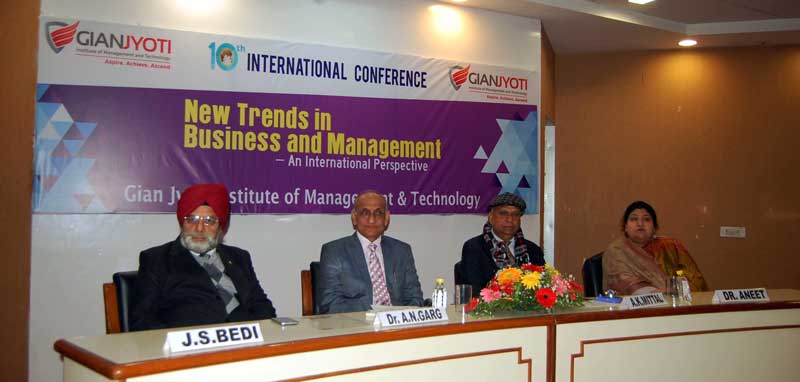 Varun Pal, CEO, Babycorn Events shared his own experience of changing circumstances that guided him to begin his own venture. He stressed on the importance of adapting with changing trends. Dr. A.K. Vashisht, Professor, UBS, Punjab University, Chandigarh, also shared his thoughts on the need for excellence and flexibility in today's organisations to take advantage of the new opportunities and meeting the threats being thrown up by changes in the world around us.
While welcoming all the delegates Chairman J S Bedi Said that the objective of the conference was to provide an opportunity for academics to discuss new concepts, progressive methodologies, embryonic approaches and innovative practices within the world of business and management from an international perspective. Given the fact that there is growing integration of business systems, processes and structures across the international boundaries.More than twenty-five academicians and research scholars from Punjabi University, Patiala, Central University, Dharamsala, MMU, Mullana, Chitkara University, Punjab University, Chandigarh, DAV University, Jalandhar, and other prominent institutes contributed papers in diverse topics.