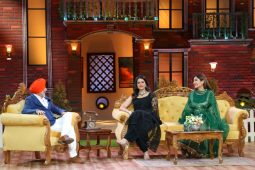 Enjoy Musical Vibes flavoured in Comedy this weekend on Hasseyan Da Halla 2: Music soothes the mood, vibe and completely transforms the environment around us. Moreover Punjabi Music Industry is acknowledged around the globe for its music, even many other musical professionals seek it as a guide.
This weekend is also filled with such musical vibes; not only this it is added with the flavour of comedy alongside as Zee Punjabi bought the Musical Weekend with Prabh Gill and Sweetaj Brar with Actress Isha Rikhi and Surilie Gautam to its audiences on their famous show Hasseyan Da Halla.
On the top of this they have wrapped all this in the themes Khujulika and Sikander that will be the perfect mood lifter with fresh ingredients, flavors and will bring a lot of enjoyment this weekend.
All in all, the show's host Jaswinder Bhalla is ready to win everyone's heart with his comedy and Punjabi singers Prabh Gill, and Sweetraj Brar will spread the magic of their voice in the show. All this will be presented on Hasseyan Da Halla 2 every Saturday and Sunday at 8.30 pm on Zee Punjabi.