Ex-smokers flay Punjab's e-cigarette ban : Council for Harm Reduced Alternatives (CHRA), a national tobacco harm reduction organisation that works towards reducing the tobacco health burden through safer alternatives, and Association of Vapers India (AVI), a consumer rights group that represents e-cigarette users across the country, has flayed the Punjab government's recent ban on e-cigarettes, saying it will deprive smokers of a less harmful alternative and cause havoc with public health.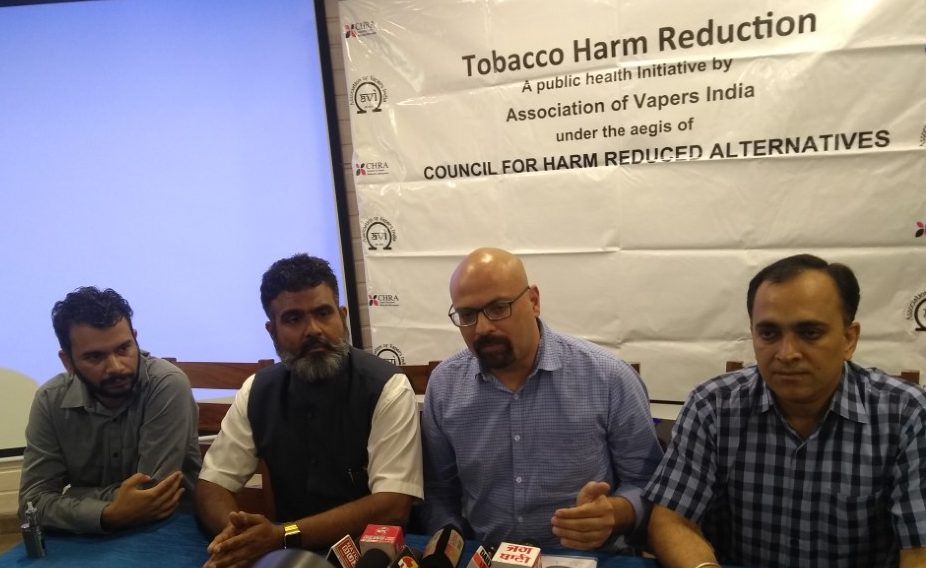 E-cigarettes are an electronic nicotine delivery system (ENDS) and their use is also known as vaping. Punjab has banned e-cigarettes following an advisory issued by the central goernment.
Noting that tobacco use in Punjab has risen from 11.7% in 2010 to 13.4% in 2017, CHRA has contended it is clear that measures adopted by the state government to check the menace are not working and additional, more effective ones are urgently needed.
It is regrettable that the government has resorted to an e-cigarette ban at a time when tobacco use and smoking in the state is on the rise. "Instead of increasing the quit pathways, the Punjab government is limiting them further by banning safer alternatives which have shown great potential across the world in helping smokers quit," said CHRA director Samrat Chowdhery. "The lakhs of smokers in the state have a right to reduce harm to themselves and those around them by switching to less risky alternatives," he added.
AVI has demanded the state withdraw the ban in the interest of public health. Punjab should instead regulate sale and use of e-cigarettes to keep them out of the hands of minors, the body said.
As per the findings of studies undertaken by the world's leading medical agencies, which include American Cancer Society, Public Health England and the US FDA, use of e-cigarettes is 95% less harmful compared to tobacco cigarettes. This is because unlike in tobacco cigarettes, e-cigarettes do not have combustion that produces tar and releases toxic chemicals, which are the main cause of tobacco-related deaths.
Dr Rohan Sequeira, a cardio-metabolic physician at Mumbai's Jaslok hospital, termed the Centre's advisory a knee-jerk reaction. When there is an alternative that is  upto 95% safer than tobacco cigarettes, there is no reason why the government should ban it, he said.
E-cigarettes do release nicotine which is habit-forming, but contrary to common myth, it does not cause cancer. Health regulators in developed countries like the US, the UK and other European countries have permitted use of e-cigarettes given its potential in fighting the menace of tobacco. Thanks to their regulatory embrace of e-cigarettes, these countries have seen significant declines in smoking rates unlike India, which is struggling to control the epidemic as prevalence is increasing in some regions.
The UK, which has adopted e-cigarettes as a tool for smoking cessation, hopes to become smoking-free by 2030. But unfortunately, the Punjab government has decided to ignore developed countries' positive experience with e-cigarettes, CHRA said.
Dr Sequeira said the Centre has not followed principles of developed countries in banning e-cigarettes, which is surprising as governments there tend to be more cautious in such matters given the possibility of class action suits. The government should consider regulating the sale of ENDS and follow the same protocols of sale to minors, he said.
Dr Farrukh Khan, a senior lawyer of the Delhi high court, slammed the decision to ban e-cigarettes, saying it is perverse as judicious application of mind has not been made and international standards for regulation of ENDS overlooked while drafting it.
Dr Khan said the ban will help the tobacco industry, not public health. "I am providing pro bono (for the public good) legal services to those who intend to challenge the central advisory and states' circulars banning e-cigarettes and other ENDS products," he added.
Dr Sequeria suggested that the government allow zero nicotine products and regulate the nicotine add-on through pharmacies and other licenced outlets, which can help curb the sale of nicotine to minors.
About Council for Harm Reduced Alternatives (CHRA)

Council for Harm Reduced Alternatives (CHRA) is a national tobacco harm reduction organisation that works towards reducing the country's tobacco health burden through safer alternatives. The collective of experts, researchers, and medical and legal professionals explores India-specific strategies to end the tobacco epidemic which causes a million deaths a year. CHRA has challenged ENDS bans in two states, Karnataka and Jammu & Kashmir, with a legal challenge in Tamil Nadu about to be filed.
About AVI
Association of Vapers India is a non-profit advocacy group that champions the use of vapor products and electronic cigarettes to help smokers quit. It provides information to smokers regarding quitting smoking and gives them resources and tools to begin and complete their quit journey. AVI currently have access to 100,000 vapers, and hopes to bring people from different walks of life together in the fight against tobacco. AVI along with the help of experts and researchers has also initiated dialogue with the Indian government to find a balanced way to regulate the e-cigarette market and products to ensure it is available to smokers looking to quit.