Fairfield Marriott presents the real taste of Himachal 'Himachali Food Festival': Every individual has its own proclivity for food and that's the reason India has such rich flavours. Celebrating these rich traditional relishes Fairfield by Marriott brings you a scrumptious and luscious food fest with its Himachali food festival.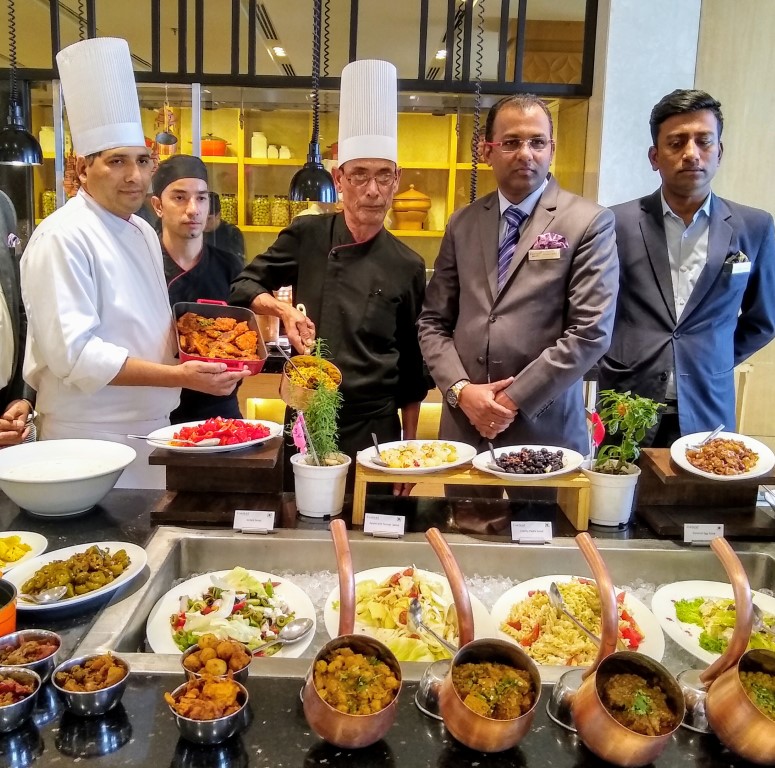 The ten days delightful Food fest from 10th to 19th May, 7pm to 11pm offers selected authentic delights which will deliver the flavours of Himachal Pradesh a state with an exquisite variety of soulful flavours that will make your taste buds dive in the sea of delicacies.
Amritsar, as we have all know has been famous for its amazing variety of food and hence it is a great attraction for food lovers. The people here too are quite experimental with their culinary fascinations and to give their taste buds an ever exclusive treat, Fairfield Marriot brings this authentic Himachali food festival.
The typical Punjabi food with its rich, flavoured and buttery tangs have always been savoured by Amritsar but this time Fairfield by Marriott will take it's guests on a journey of snow-clad mountains and the lush green valley's Himachali Pahadi life through its variation of distinct delicacies along with the traditional Himachali treatment that comes with it.
Himachal is famous for its scenic beauty which reminds us of the valleys and the rich Himachali delicacies of the Traditional Himachali cuisine. This Himachali food fest will be a celebration of all the sinful, vibrant, and sumptuous culinary culture of the state. The fest will offer a variety of Himachali Cuisines to tickle the taste buds of foodies.
The entire menu has been curated with the utmost care and precision to bring on the table all the true flavours of Himachal Pradesh in their very authentic and traditional way. The Himachali feast included amazing Himachali delicacies that were scrumptiously good.
As known to be redolent and ambrosial, Himachali food has always had this special fascination among food lovers and standing true to that each dish on the table was an epitome of the zesty taste and traditional culture of the state.
Talking about the festival, Chef Pritam Chand who is an inhabitant of Kangra district and specializes in making Himachali delicacies lik eKangra murg, khatta kaadu, khatta meat and many more said, "This Himachali food fest has all kind of typical Himachali delicacies which are the region's top specialties.
All the dishes have been precisely prepared and presented with the traditional Himachali touch. People coming to the fest will get a true taste of Himachalicuisine which has been prepared in the absolutely authentic and traditional manner."
While talking to the media Anukam Tiwary, Manager, Fairfield by Marriott's said, "The flavours, taste, culture and food varies from state to state and so is Himachal Pradesh. Himachali cuisine has a unique aroma and flavour to it and this is what we wanted to bring to the people of Amritsar. With a special fondness for food I am very sure that this Himachali Food fest will be loved by the people. We have experimented a lot with our culinary styles to bring forth the Quintessential Himachali delightfull of soulful flavours."
Major highlights of the Himachali food festival arePahadi Chicken Pakora, Kachadu ki Kadhi, Dhola Dhare Murga, Lungdu ka Madra, Methri and Raada Chicken.
You can savour the 'Himachali Food' in addition to the regular buffet spread of sumptuous delicacies at Fairfield by Marriott Amritsar's all-day dining restaurant, Kava Grill & Lounge from 7:00 pm onwards starting May 10th to May 19th at INR 1150 plus taxes including two mocktails for a meal for one. You can also call at 0183 284000 or +91 771 724 4426 to reserve your table at Kava Grill & Lounge at Fairfield by Marriott Amritsar.
Know More About Fairfield Inn
Fairfield Inn & Suites by Marriott (which includes Fairfield Inn and Fairfield by MarriottSM) is the established leader in the moderate tier lodging segment.  With its 100% Guarantee promise, the Fairfield brand provides outstanding services and amazing stays at more than 800 properties, across three continents including North America, Asia and South America.  Targeting no-nonsense travellers who seek a stress-free experience, Fairfield is committed to supporting guests' desire to maintain balance and momentum while on the road.  Intuitively designed hotels feature modern amenities including: multi-functional lobbies; spacious guest rooms; complimentary healthy breakfasts and fully equipped gyms to ensure guests never skip a beat on the road. As a member of the Marriott International portfolio, Fairfield Inn & Suites; Fairfield Inn and Fairfield by Marriott participate in the award-winning Marriott Rewards® frequent guest program.  Members earn their choice of points toward free vacations or frequent flyer mileage for dollars spent at any of the 4,300 Marriott hotels worldwide. For more information or reservations, visit the web site at www.fairfieldinn.com or call the Fairfield Inn toll-free number at 800-228-2800. For travel tips, current brand news or to connect with other travellers, "like" Fairfield Inn on Facebook www.facebook.com/fairfieldinnandsuites and follow Fairfield Inn & Suites on Twitter @Fairfieldhotels.