NewZNew (Chandigarh) : Internationally acclaimed Fashion Designer and the brightest talent at the Fashion Weeks in the country – Anuj Sharma – Collection Button Masala fame, was at Inter National Institute of Fashion Design (INIFD), campus for 2 days to guide INIFD student designers on fashion fundas and latest design trends of the Fashion world.
Internationally acclaimed fashion designer Anuj Sharma is on board with INIFD to mentor students through the journey of Gen Next designer at the most coveted fashion event of the Country – Lakme Fashion Week. Senior Faculty at NIFD Anuj Sharma after training designers like Gaurav Gupta, Nachiket Barve, Karishma Shawney, Swapnil Shinde is now all set to groom INIFD students for Gen Next entries at LFW Winter/Festive 2016. Technical inputs by a mentor of high repute will further enhance the face of INIFD Gen Next entries at LFW.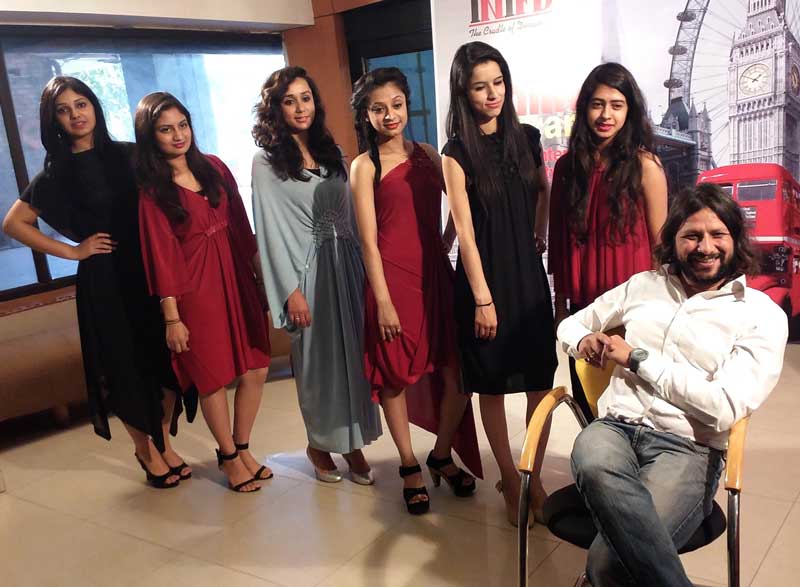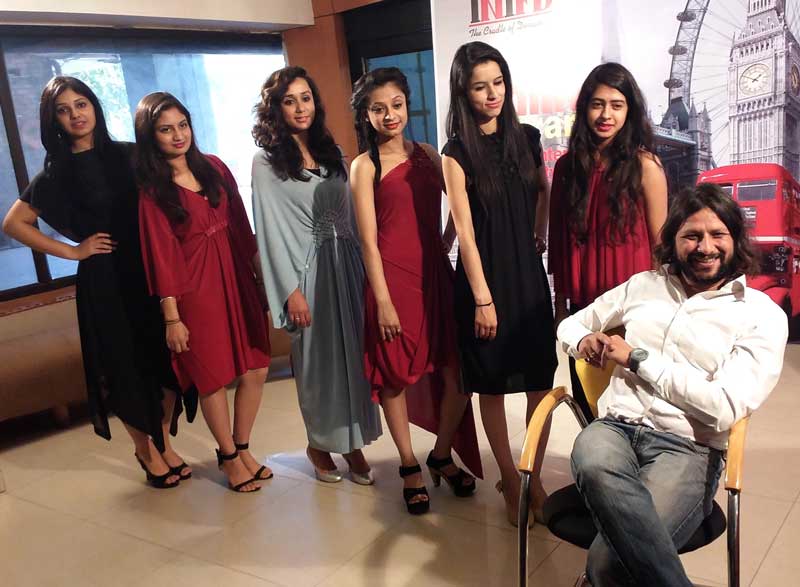 Anuj Sharma, designer with par excellence design abilities and technical skills conducted an exclusive workshop with the INIFD students on draping of knit fabrics, fashion trends, in depth analysis of the fashion industry and finer intricacies of design and retail. He gave technical design and draping tips to INIFD student designers along with the latest knowledge on trends, Fashion Forecast, and styles of fashion, textile design industry. Anuj reviewed student's portfolios and gave them suggestions for improvement, motivating the students to bring out the best in them. The student designers were greatly impressed by the ace designer and they were very positive that his vital inputs regarding their designs for Gen Next participation will help them to reach the Platform with ease.
Anuj Sharma is a regular designer at all Lakme Fashion Weeks receiving compliments and appreciation for his creativity. INIFD students modeled his famous Lakme Fashion Week collection "BUTTON MASALA" as well as "Garment Drapes" that the young designers did in the workshop yesterday, in presence of Media. This maverick designer has found a way to make stitching buckets of fun – he doesn't use any needles or thread. With his method, all you need are some rubber bands and buttons. And yes, that's enough to create ensembles fabulous enough to strut down the runway! He tells BE BEAUTIFUL – how. His collection earned him rave reviews when he showcased it at Lakmé Fashion Week.
Anuj's visit to INIFD centre will help the students to gain firsthand experience of ever growing Fashion Design Industry and help them sharpen their creativity which will help them in carving a great career for themselves. Anuj Sharma's insight into national and international fashion trends taught students the finer intricacies for becoming a "bigger" designer of tomorrow. He greatly appreciated the designer creativity of the budding designers and said he is proud that INIFD is playing a key role in shaping the future talent.
Speaking on this occasion Anuj Sharma said that, "I am happy to see so much talent here. The design students of today are fortunate to find right mentors in educational institutes like INIFD, which offers them so many varied options in fashion education. There is abundance of talent in this country and all they need is the right direction and the belief that we can be the best". Anuj spent time with the students to understand their concerns and offered valuable tips and advice to hone their skills.