FICCI (Federation Of India Chamber Of Commerce & Industry), a business organisation curated an exclusive Special Jury Award to recognize Dr. K R Balakrishnan, Director – Cardiac Sciences, Fortis Centre for Heart Failure & Transplant an Internationally recognized Indian Cardiac Transplant surgeon, for his contributions to healthcare and medical research.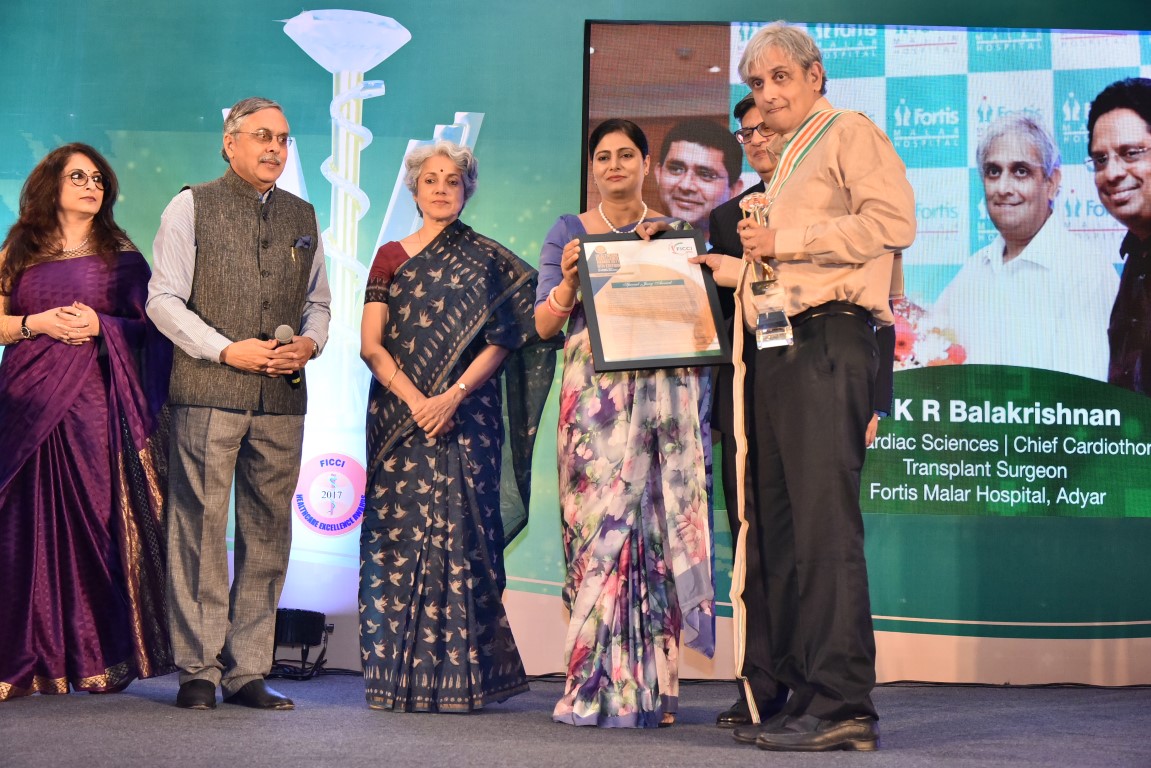 Fortis Malar hospitals, Chennai has played a significant role in elevating the Indian medical practices on a global scale and has successfully performed over 150 transplant surgeries with the expertise of Dr. K R Balakrishnan.
The award was presented in a Conference at New Delhi in the presence of Ms Anupriya Patel – Union Minister of State, Ministry of Health and Family Welfare, GoI, Mr Rahul Khosla – Chair, FICCI Health Services Committee; President, Max Group & Chairman, Max India Ltd and other eminent dignitaries.
FICCI Heal held a Medical conference at New Delhi focusing on "Indian Healthcare: A Patient's View". The conference laid a platform for medical institutions and healthcare professionals to share knowledge and innovations about the healthcare industry at large. As part of this conference, FICCI had organised Healthcare Excellence Awards to recognize tremendous contributions of these medical experts. In a first-of-its-kind move, FICCI also curated an exclusive Special Jury Award to recognize the contributions of Dr K R Balakrishnan in the Indian Medical ecosystem.
Speaking on the occasion, Dr. K R Balakrishnan, Director – Cardiac Sciences, Fortis Centre for Heart Failure & Transplant, said "It is indeed a great honor to be recognized by an institution like FICCI for our collaborative work at Fortis Malar Hospital. We at Fortis Malar strive to offer world-class medical experience without compromising on patient care. Our every step, every initiative is undertaken with utmost importance to place India as a Healthcare capital on the International map."