Patient walked on her feet within 24 hours post surgery!
NewZNew (Chandigarh – Kulbir Singh Kalsi) : 52 years old Baljeet Kaur from Sangrur, was able to walk within 24 hours, after both her knees were replaced. This is the first time in the tri-city, where Dr Jatinder Singla –  Senior Consultant, Orthopaedics, Mayo Healthcare Super Speciality Hospital, Near Gurudwara Singh Shaheedan, Sector 69 Mohali – performed "Stitch-less Knee Replacement" in both the knees. The surgery was performed on the patient on Wednesday evening i.e. 11 March 2015 and she was able to walk on her own by 2 pm of Thursday i.e. 12 March 2015.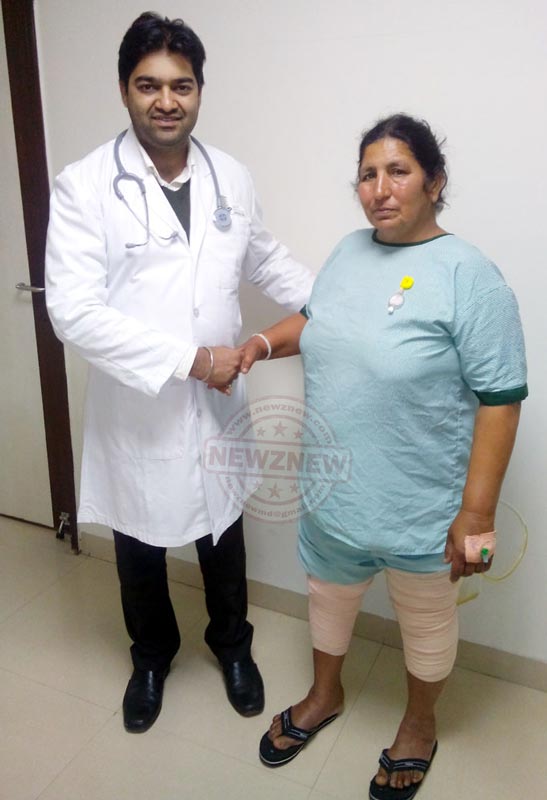 The patient had been suffering with osteoarthritis for the last 6 years and was unable to walk without support.
"Since it's a Stitchless Knee Replacement,therefore the time taken for recovery was minimal and the patient was able to walk in less than 24 hours!" said Dr. Singla.
What is Stitchless Knee Replacement
Explaining further, Dr. Singla said that "As the patient was diagnosed with Osteoarthritis and was in extreme pain and immobility of joints, so we thought of doing Stitchless Knee Replacement on her. During the surgery, no stitch is placed on the outer skin. Only a line is seen on the knee, which are the special medicated stitches, and are placed inside the skin."
No Plastic Surgery Required
Maximum patients who go through Knee Replacement, often opt for plastic surgery to get rid of the scars. In this surgery, no plastic surgery is required because there is no stitch placed on the skin and the line-like scar vanishes within days of the surgery.
"I am walking without pain, it's a thrilling experience for me as I have been unable to walk and perform even simple household chores, due to immense pain in my knees for the last three years," said Patient Baljeet Kaur.
Benefits of the Surgery
Recovery within 24 hours, no bleeding, no repeated dressings, few chances of infection, no scars, said Dr Singla.