City Air NCC girl cadet creates history – First Woman from Chandigarh to Bag the Coveted 'Sword Of Honour' at Officers Training Academy, Chennai.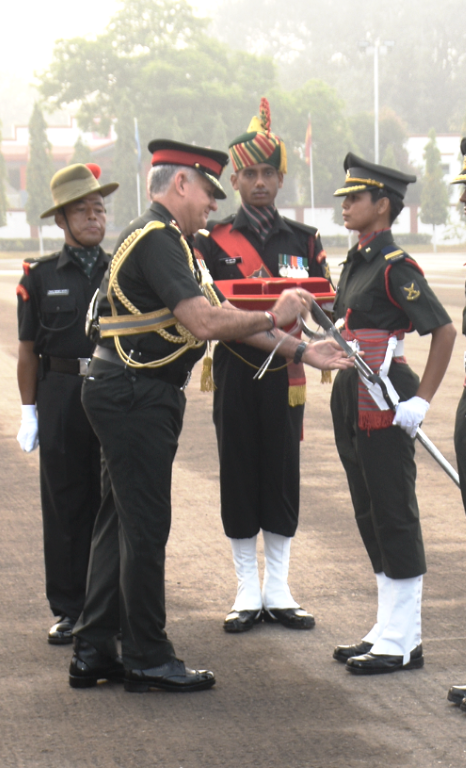 On 10th, March 2018 passing out parade was counted at officers training academy, Chennai. With this Indian army got few more young men and women officers for the motherland. A 2016 batch air wing NCC cadet, Preeti Chaudhary from No. 1 Chandigarh Air Sqn was one among 259 officers incl 41 lady officers, who passed out from the academy and given the rank of Lieutenant.  Lt Preeti Chowdhary is the first woman in the history of Chandigarh to bag the coveted Sword of Honour from the Officers Training Academy (OTA). Winning Sword of Honour, means she was the 'Best all-round Cadet in her whole batch.
As Air wing NCC cadet she represented NCC Gp Hq Chandigarh of Pb, Har, HP & Chd NCC Directorate in Republic Day Parade 2016 and marched down the Rajpath at New Delhi. She was declared Second Best Air wing Girl Cadet" across the country. She has always worked hard and made all of us at City beautiful feel proud," said Wing Commander M R Pandeya, CO, Air NCC Chandigarh.
Lt. Preeti Chowdhary graduated from GCG-11, Chandigarh and is a 2nd generation in Army. Her father Hony Captain Inder Singh served in the Army Medical Corps, added Pandeya.
NCC training tought me to work hard, just remain yourself and enjoy. The more you think about result, the more nervous you get and tend to make mistakes, It was my training of three years in NCC Air wing, after which I applied for NCC special entry and cleared the SSB in first attempt, says Preeti. Winning the Sword of Honour is secondary to becoming a good officer. You have to give your extra bit each and every day. Following the rules even when no one is looking, not taking shortcuts, putting in all your effort into what you are doing. Once you train well and become confident, it will come on its own, she added.
What feels better is to see my NCC instructors and my parents extremely proud of me. Their happiness makes the win complete, said Lt Preeti. I would advice more and more students to join NCC. It trains us to always remain happy, to respect seniors and instructors and most importantly LEARN every little thing.