Flue Gas Desulphurisation Work Starts in Full Swing at Nabha Power's Rajpura TPP: L&T-owned Nabha Power has started the work for installation of Flue Gas Desulphurisation (FGD) system in full swing, with piling works for the chimney beginning recently at its plant premises.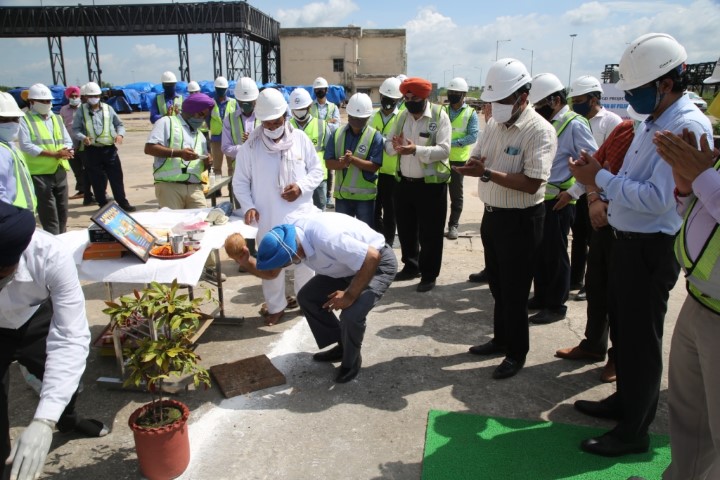 PPCB Chairman, Prof S. S. Marwaha laid the foundation of piling works for FGD at NPL. He also lauded the efforts taken by NPL towards creating a green surrounding and participated in tree plantation activity.
Nabha Power was the first thermal power plant in the state of Punjab to award the FGD contract inDecember 2019 and is expected to complete the FGD work by December 2022. The contract for the FGD project was awarded through a transparent International Competitive Bidding process under the supervision of PSPCL where L&T outbid Beijing Boqi, a Chinese company.
The company's commitment to install Environment Protection equipment such as FGD is in line with the Governmentof India's focus on reduction of emissions from coal-based Thermal Power Plants (TPPs). The Ministry of Environment, Forest, and Climate Change (MoEFCC) introduced limits to SOx and NOx emissionsfor the first time in country, for which the TPPs are required to install emission control systems, such as FGD.
Commenting on FGD project, Spokesperson NPL,said: "We want to stay ahead on the environmental compliance curve.L&T has always been an environmentally conscious organisation and is committed to ensuring clean and cost-effective energy for the people of Punjab."
"Most of the equipment will be sourced indigenously, which will fulfil the mission of Aatmanirbhar Bharat,"he added.
After installing FGD, the SOx levels for Nabha Power will come down to less than 200 mg/Nm3.
Installation of FGD is being carried out for the first time at such a large scale in India. Novelty of technologies, limited vendors and technology providers and associated costs of the project required every thermal plant to tread carefully in FGD installation with proper due diligence. Despite multiple challenges, Nabha Power went ahead with the bidding processto ensure expeditious compliance with the revised emission norms.
Recently, the Rajpura plant successfully completed Mission 50,000, an initiative to plant 50,000 trees in the plant premises, which is a testimony of NPL's commitment towards greener environment.
Nabha PowerLimited is a wholly-owned subsidiary of L&T Limited, which owns and operates a 2×700 MW supercritical thermal power plant at Rajpura Punjab that provides cheapest power among the thermal plants in the State and  plays a crucial role in its economic development.