Fortis Mohali Doctor treats Spanish Basketball team player for sports injury with Hybrid ACL Surgery: Spanish Basketball team player Ariadna G Perez came to Fortis Mohali with an Anterior Cruciate (ACL) tear and was wheelchair-bound. With timely treatment at the hospital, Perez will be back to sportsground within 6 months of her surgery.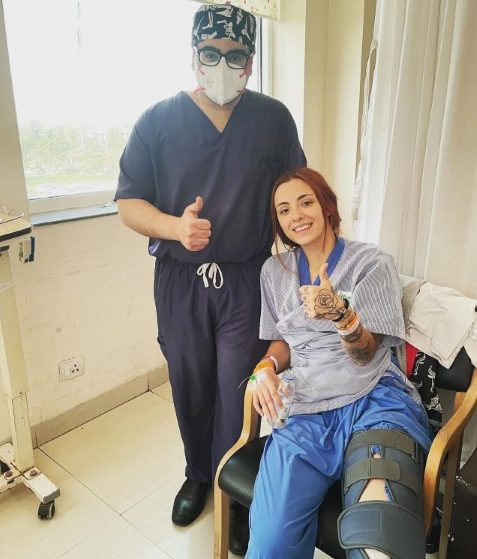 The ACL is a ligament in the knee that connects the thigh bone (Femur) to the shinbone (Tibia), at the knee and controls stability.  An ACL injury is a tear or sprain that causes overstretching or tearing of the ACL in the knee and is a common injury affecting sportspersons.
The Orthopaedics Team at Fortis Hospital Mohali under Dr Manit Arora, Consultant, Orthopaedics and Sports Medicine, Fortis Hospital Mohali, successfully operated a Spanish Basketball team player Ariadna G Perez for the condition, she had suffered during a basketball tournament. Perez was treated using a special technique called Hybrid ACL Surgery early this month. Hybrid ACL surgery is a new technique for ACL surgery which helps restore native anatomy, accelerates rehabilitation and the patient's return to the respective sport.
Dr Arora, said, "Perez came to us with an ACL tear and was wheelchair-bound. I operated upon her knee using a special technique called Hybrid ACL Surgery. This allows a patient to walk from Day One, and can return to sports post 6 months of the surgery. We at Fortis Hospital Mohali have been treating international and national players regularly including Indian Hockey Team players, Ranji and Indian U-19 team cricketers, Indian Super League (ISL) footballers and pro-kabbadi players."
Dr Arora is publishing his work on Hybrid ACL Surgery, and has already published a paper on a new Dr Arora technique for ACL repair in the Indian Journal of Orthopaedics.
Know More About Fortis Healthcare
Fortis Healthcare Limited – an IHH Healthcare Group Company – is a leading integrated healthcare services provider in India. It is one of the largest healthcare organizations in the country with 36 healthcare facilities (including projects under development), 4000 operational beds, and over 400 diagnostics centres (including JVs). Fortis is present in India, United Arab Emirates (UAE) & Sri Lanka.
The Company is listed on the BSE Ltd and National Stock Exchange (NSE) of India. It draws strength from its partnership with global major and parent company, IHH, to build upon its culture of world-class patient care and superlative clinical excellence. Fortis employs 23,000 people (including SRL) who share its vision of becoming the world's most trusted healthcare network. Fortis offers a full spectrum of integrated healthcare services ranging from clinics to quaternary care facilities and a wide range of ancillary services.