In four separate Curatorial Art Walks to help viewers understand and appreciate the Modern Indian Art, two experts from Mumbai and Delhi – Siddhant Shah and Supriya Consul held four sessions of approximately 90 minutes each with students and teachers from Apeejay College of Fine Arts, Jalandhar and art lovers from other parts Punjab and Chandigarh, gave important insights into the history of Modern Art, its origins and artists who engaged themselves in this revolutionary period in the history of mankind. Amidst 57 original artworks by 41 masters of Modern Indian Art, it was a lesson in the history of Indian Modern Art and rare opportunity to witness, feel and explore the nuances of visual arts from a close distance.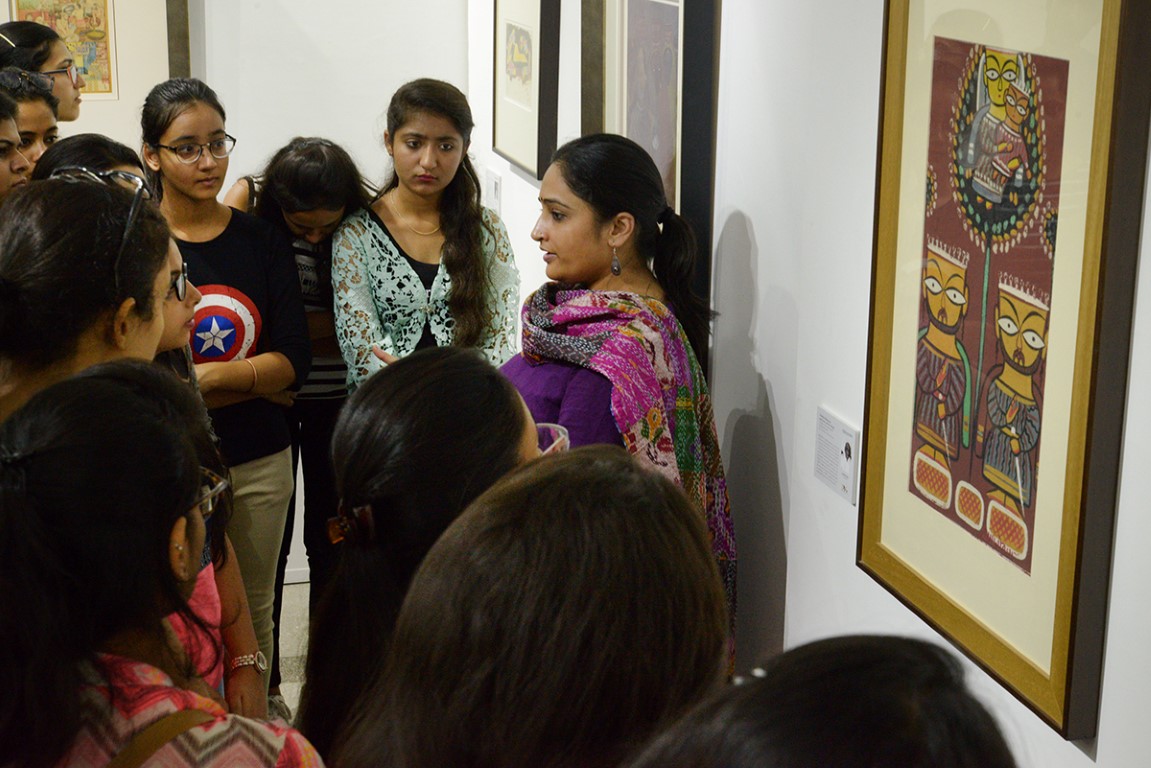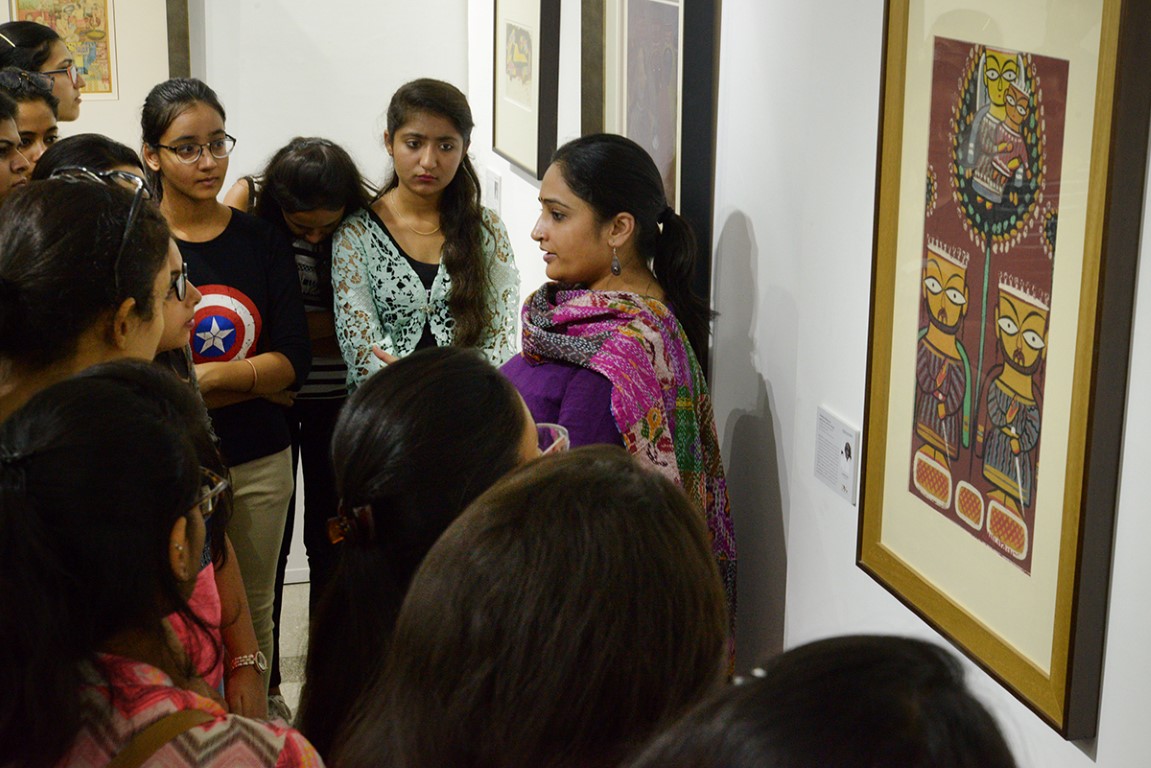 In the first Art walk at 11.15 am 50 students and teachers from Apeejay, Jalandhar, 20 students from Govt College for Girls, Sec 11 Chandigarh took part, at 12.45 pm another 80 participants from Punjab immersed themselves in the atmosphere charged with information about the political and social developments taking place in the world and India and anecdotes about artists, their personal lives and artistic activities by Siddhant and Supriya. Pages from the history began opening one after the other with revelations about how Indian artists got influenced or inspired, first by the Imperial art practices then confluence of the oriental with the western culminating with a fusion of local, traditional and folk with the avant-garde art movements of Europe and beyond. Another Art walk began at about 2.30 with another group of 60 students of mass communications from Punjab.  Last group of art lovers of art lovers took advantage of the expertise made available by DAG Modern at the invitation of Punjab Lalit Kala Akademi.
This initiative is first of its kind in the region, brought to Chandigarh by artist Diwan Manna who also happens to be President of Punjab Lalit Kala Akademi. DAG Modern, a private Art Gallery in Delhi with foot prints in Mumbai and New York has been extremely helpful in bringing this rare exhibition of such a large collection of original artworks to Punjab along with educational programmes such as Curatorial Art Appreciation Walks, Art Appreciation programmes specifically designed with tactile material for the visually challenged persons, Film screenings on Art and Artists with conversations with experts, Art Appreciation Workshops for the media persons, corporate CEOs and bureaucrats.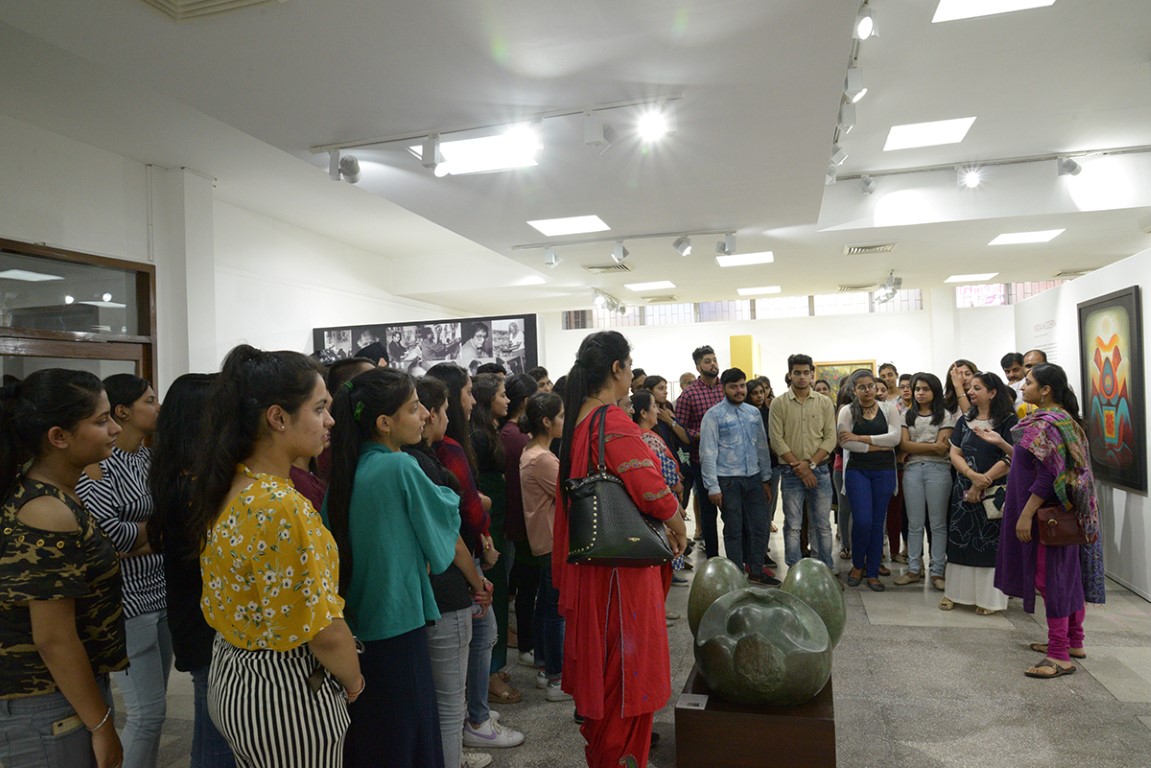 Programmes:
Art Appreciation Walk with Tactile material for Visually Challenged will take place on 27th Sept 2017 at 11.0 am
Film screening with conversation would take place on 28th Sept 2017, at

11.30 am and 5.30 pm

Art Appreciation workshop for Corporate persons and bureaucrats will take place on 7th Oct 2017, at

3.00 pm

Art Appreciation Workshop for Media Persons covering visual arts and for students and lovers of art will take place on 8th Oct 2017 from

11.00 am

onwards
All the events will take place inside the Art Gallery in the midst of original artworks and books on art for immediate reference, at Punjab Lalit Kala Akademi, Punjab Kala Bhawan, Rose Garden, Sector 16 B, Chandigarh.
For further information please contact: 9814015079