NewZnew (Ludhiana) : Ireo, India's first and the largest FDI investor dedicated to the Indian real estate sector, today conducted a free medical camp at its Waterfront project near Sidhwan Canal in collaboration with Dayanand Medical College and Hospital(DMCH).  As a part of the camp, free medical assistance was provided to the inhabitants of neighboring rural areas at the developer's existing medical dispensary which had been instated earlier in 2013. The medical camp which was attended by more than 300 women, children and men included residents from across nearby villages like Devatwal, Eisewal, Dakha, Gahaur and Birmi, falling in the vicinity of the project.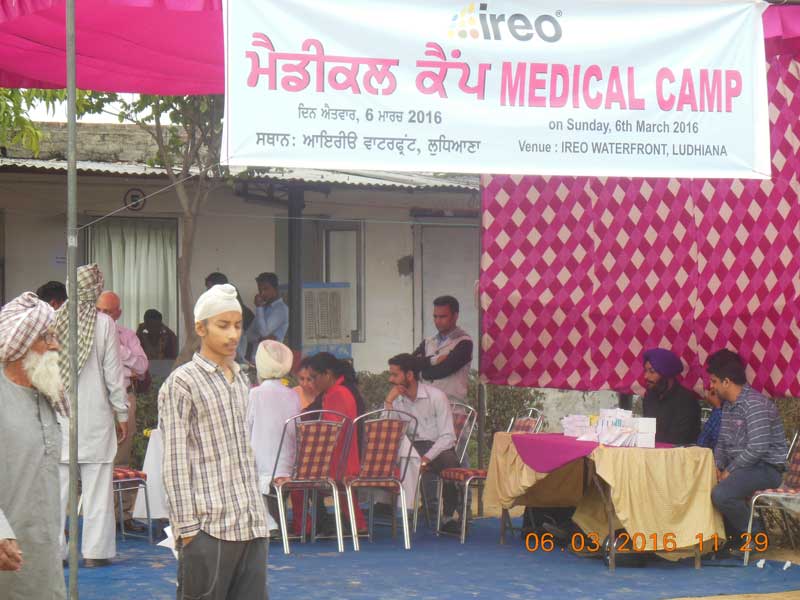 The camp, organized for the fourth consecutive year saw patients avail free OPD medical consultancy for various ailments like ortho-arthritis, rheumatic arthritis, osteoarthritis, anemia, common chest diseases, heart related diseases, liver related diseases, gastritis, glaucoma , cataract, diabetic Retinopathy, acne, Contagious Skin diseases, eczema, dermatitis, abnormal pigmentation, fibroids in Uterus, ovarian Cysts, UTI, infertility, vaginal yeast infection etc. A team of doctors from Dayanand Medical College and Hospital including a gynecologist, an ophthalmologist, an orthopedic specialist, a dermatologist as well as a general physician. Ireo also distributed free medication and supplements basis to each patient the diagnosis rendered to encourage medical awareness amongst the rural population residing in these villages.
As a part of its initiative to enhance health and sanitation facilities for the rural population residing near its projects, previously, Ireo in association with Ludhiana Mediways Hospital had also set up free medical dispensary within its vicinity. The dispensary, open 6 days a week from 10 AM to 1 PM is managed by general physicians from the hospital itself who provide free tertiary healthcare aid to all patients. As a part of its ongoing initiatives, the dispensary regularly organizes health-check up's, eye-check up's and other medical camps to promote a healthy and disease free living amongst the rural populace in the area. Over the years, more than 400 residents across neighboring villages and hamlets have benefitted from these camps.
Speaking at the camp, Mr. Madhukar Tulsi, President at Ireo, said, "At Ireo, we are committed to enhancing the standard of life of not just our customers but also the population residing in and around our townships. These are the people who contribute to making our projects thriving centers of excellence and development and hence, it is our duty to care for them. Our previous efforts have included enhancing the existing sanitation system of the area by upgrading toilet blocks and installing water coolers in local schools as well as installing a proper drainage system for the neighboring villages. We also hope that over the upcoming years we are able to organize more such initiatives' and avenues which will lead to development of the Ireo community."
To ensure that most of the population from surrounding villages could attend the camp and benefit from the available medical staff's expertise, Ireo had also distributed pamphlets as well as spread the word of mouth through local sarpanch's and Waterfront's housekeeping and horticultural staff. Banners were also placed at prominent areas to invite villagers to attend the camp. The camp too gained much success where villagers who attended the same also specifically requested that separate eye check-up camps be organized in the upcoming months to deal with eye diseases prevalent in the area.