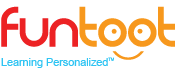 NewZNew (Chandigarh) : Edreams Edusoft solutions the inventor of world's first intelligent and personalized digital learning solution – 'funtoot', is tackling the homogenous instructional techniques avidly using the New age technology. The mission to make learning fun by leveraging the student's area of interest contributed to the creation that enables self-learning beyond school. Funtoot provides an interactive and engaging environment to students which helps them master concepts and develop cognitive reasoning.
In the last 2 Years, funtoot has successfully identified and resolved 4 million learning gaps automatically and has made 6 million learning interventions.  The digital trainer stores knowledge inside machine using complex ontology that are created using the working model of a functioning human brain that contextualizes the knowledge according to an individual's IQ. It also detailed how the software uses dozens of algorithms around artificial intelligence, machine learning and natural language processing to store knowledge inside itself besides touching upon engaging subjects like benefits of personalized tutoring and its contribution to enhance the students interest in the classroom and insights on the 'Learning Gap' in Indian students
Speaking about the product, Mr. Rajeev Pathak, CEO and Founder of funtoot & Ex-General manager, Wipro expressed that "Cutting edge technology combined with adaptive and predictive algorithms like Funtoot can deeply accelerate a child performance related competence through a personalized learning journey with increased mastery of the fundamentals. Our program is aimed to help lay a stronger foundation towards creative problem solving"
He also added stating "Eliminating or even reducing this learning deficit is an impossible task to achieve until we provide one personal teacher for every learner. While an ideal solution, it is not really practical, Thus we have intiated funtoot to bring together parents, teachers, school administrators and Government authorities to address the biggest challenge of quality learning and that how personalized learning can help improve every child's life.  "
'funtoot' is an Indian invention for global education, built after 4 years of pedagogy/technology R&D by 40 experts. The software is currently used by over 50000 students as in 100+ top schools in 50 cities/towns in India.
'funtoot' has deep knowledge of Maths for Grade 2-9 and Science 2-5 at present. Its super curriculum is capable of adjusting itself to new curriculum. By also generating digital reports it 'keeps teachers and parents informed about the progress, learning gaps, remedies and top issues of the students through its detailed analytics.
This vision to provide quality-learning solutions through intelligent machines, led to the invention of funtoot, an intelligent and adaptive personal instructor aimed to improve the life of every child through disruptive technology that enhances teaching methodologies. The initiative was a clarion call made to change makers in education system to embrace their roles in this new paradigm of Personalized Learning.
The funtoot program has so far resulted in a 25% increase in learning engagement and a 65% increase in attention span for students across schools using the program