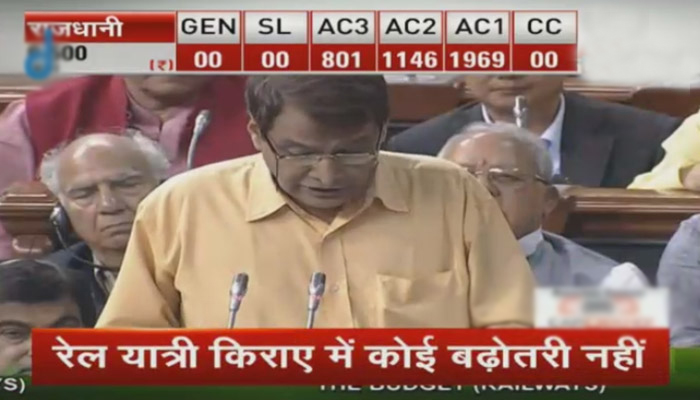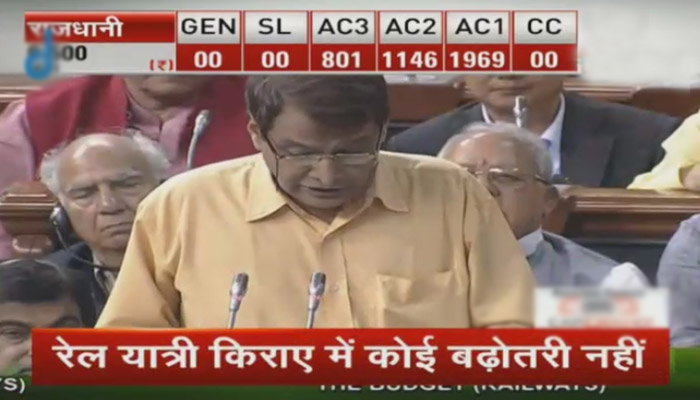 NewZNew (New Delhi) : The Railway Budget presented in Parliament on Thursday proposed measures to make Indian Railways prime mover of Indian Economy. Presenting his maiden Rail Budget in Parliament, Railway Minister Suresh Prabhu said that all critical initiatives proposed will be pursued in mission mode.
"The Budget proposals have set four goals to transform Indian Railways over next five years which are a sustainable and measurable improvement in customer experience, make rail a safer means of travel, expansion of capacity substantially, modernization of infrastructure and finally to make railways financially self-sustainable," Prabhu said.
Prabhu spared passengers from any hike in fares but made changes in freight rates to rake in more money while ruling out privatisation.
In order to make travel on Indian Railways a happy experience, Prabhu has given thrust on cleanliness by proposing a new department for keeping stations and trains clean under Swachh Rail Swachh Bharat Abhiyan.
Under the proposal, new toilets will be built at 650 additional stations and online booking of disposable bed rolls will be made available.
A 24X7 helpline number 138; toll-free number 182 for security related complaints have also been proposed in the budget.
In order to make ticketing more passenger friendly the Prabhu proposed "operation five minutes" for issuing unreserved tickets, hot buttons, coin vending machines, concessional e-tickets for differently abled travelers. While for booking tickets a multi-lingual e-portal will be developed.
Crediting of refunds through banks and unreserved tickets on Smart phones will also be available, Prabhu added.
Emphasising on the need to increase safety of women passengers, Prabhu said that surveillance cameras will be provided on a pilot basis in selected mainline coaches and ladies' compartments of suburban coaches.
The Railway Minister also proposed proliferation of automatic ticket vending machines with smart cards and currency options, integrated ticketing system on the lines of rail-cum-road tickets.
Prabhu also proposed e-catering to select meals from an array of choices. Under the scheme, ordering food through IRCTC website at the time of booking of tickets; integrating best food chains into this project; setting up of Base Kitchens in specified divisions to be run by reputed agencies for serving quality food and expansion of water vending machines will be taken up.
Hand-held terminals to Travelling Ticket Examiners (TTEs) for verification of passengers will now be provided for verification of passengers, possibility of extending facility of SMS on mobiles as a valid proof of travel for PRS tickets will be explored.
A centrally managed Railway Display Network in over 2000 stations in next two years will be included besides "SMS Alert" service to inform passengers in advance of the updated arrival/departure time of trains at starting or destination stations.
The Railways will also take up a project for introducing on-board entertainment on select Shatabdi trains, mobile phone charging facilities will be provided in general class coaches and will be increased in sleeper class coaches.
Taking up the long pending issue of railway corridors, Prabhu proposed to increase the speed of 9 railway corridors from existing 110 and 130 kmph to 160 and 200 kmph respectively so that inter-metro journeys like Delhi-Kolkata and Delhi-Mumbai can be completed overnight.
Average speed of freight trains in empty and loaded conditions, will be enhanced to 100 kmph for empty freight trains and 75 kmph for loaded trains.
The Railway Minister proposed constituting an innovation council called "Kayakalp" for business re-engineering and introducing a spirit of innovation in Railways besides setting up of Technology portal to invite innovative technological solutions.
Four Railway Research Centers in select universities for fundamental research have also been proposed besides 'Malaviya Chair' for Railway Technology at IIT (BHU), Varanasi.
Prabhu further said that PPP cell of Railways will be revamped to make it result oriented. "Joint ventures will be set up with States for focused project development, resource mobilization, land acquisition, project implementation and monitoring of critical rail projects. In order to meet the requirements of new lines JVs will also be set up with major public sector customers," Prabhu said.
Here are the key highlights of the Rail Budget 2015
– No hike in Railway Passenger Fares
– To allow 120 day advance booking
– Operation 5 minute: Hot buttons, coin vending machines for railway tickets within 5 minutes
– E-catering to select meals from an array of choices
– All India 24 X 7 helpline '138' from 1/3/15 ; Toll free No. '182' – for security complaints
– 200 more stations to come under Adarsh Station scheme; Wi – Fi to be provided at B category stations
– 24X7 helplines for attending passenger problems and security related complaints
– Safety of women passengers through surveillance cameras in select trains
– More General class coaches will be added in identified trains.
– The speed of nine railway corridors will be increased to 160 and 200 kmph
– A new department for keeping stations and trains clean under Swachh Rail Swachh Bharat Abhiyan