Gandharva Maha-Vidyalaya, Panchkula hosts classical music concert: A grand concert of classical music was organized at Tagore Theatre by Gandharva Maha-Vidyalaya, Panchkula to commemorate the 150th Birth Anniversary of the legendary doyen of classical music Pt Vishnu Digambar Paluskar and to mark 75 years of Maha-Vidyalaya's existence and service to society.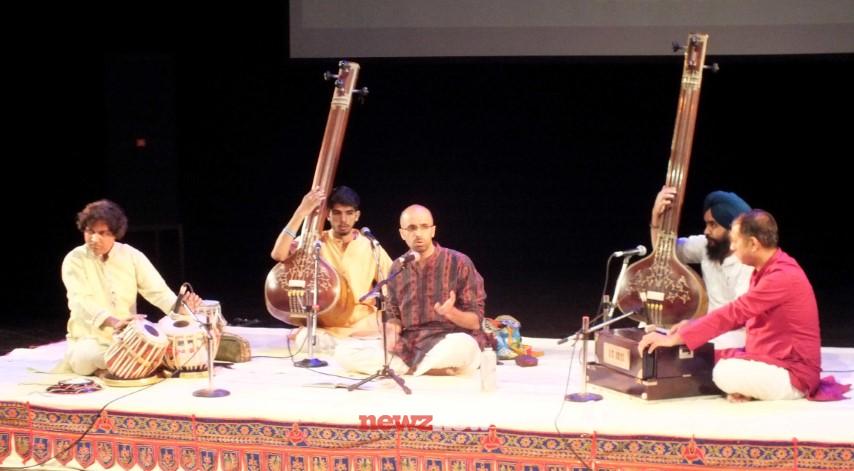 His Excellency Sh. Bandaru Dattatreya, Governor of Haryana, was the Chief Guest on the occasion. Some of the noted artists invited to present their performance on the solemn occasion were :  Pt. Yogesh Samsi, Dr Vinay Mishra, Sh. Rajneesh Dhiman, Dr Aditya Sharma and Sh. Adarsh Saxena.
Two compositions in Rag Hansdhwani Viz. Maa Sharde Vudyadani and Mangla Narayani followed. A famous Shabad " Sadho Man Ka Maan Tyago " from the Holy Gurbani composed by Pt Vishnu Digambar Paluskar was also presented. The students of the Maha-Vudyalaya who presented these items were : Trishya, Menasha, Vani, Returning, Humankind and Prabal. They were accompanied on the Harmonium by Rahul and on the Tabla by Aman.
Dr. Aditya Sharma, a product of the Maha-Vidyalaya who represents third generation of the Maha-Vidyalaya family, presented a traditional composition of Pt Vishnu Digambar Paluskar in Rag Bhupali "Jab HI Sab Nirpaat Bhayi" in slow Khyal and followed it up with "Jab Se Tum San Lagi" in Drut Khyal set to Taal Tilwara. He was accompanied on the Harmonium by Sh. Adarsh Saxena and on the Tabla by Sh. Rajneesh Dhiman. The presentation elicited huge applause from the audience.
The star presentation on the occasion was an amazingly skillful Solo Tabla by internationally acclaimed Sh. Yogesh Samsi. His intricate and subtle variations kept the audience deeply spell-bound. He was very skillfully accompanied on the Harmonium by the ace Harmonium player Dr Vinay Mishra. The programme concluded with thanks and  remarks by Dr Arvind Sharma, Director of the Maha- Vidyalaya, on the declining quality of the present day music and the need to preserve our rich music heritage.