Get Ready to use the Uncommon Sense with Jeeveshu Ahluwalia: Get set for the perfect laughter dose this July at Elante SOCIAL on 8th July 2022, 7 pm onwards! Start your weekend with fun, frolic and laughter at the Stand-Up comedy night with Jeeveshu Ahluwalia.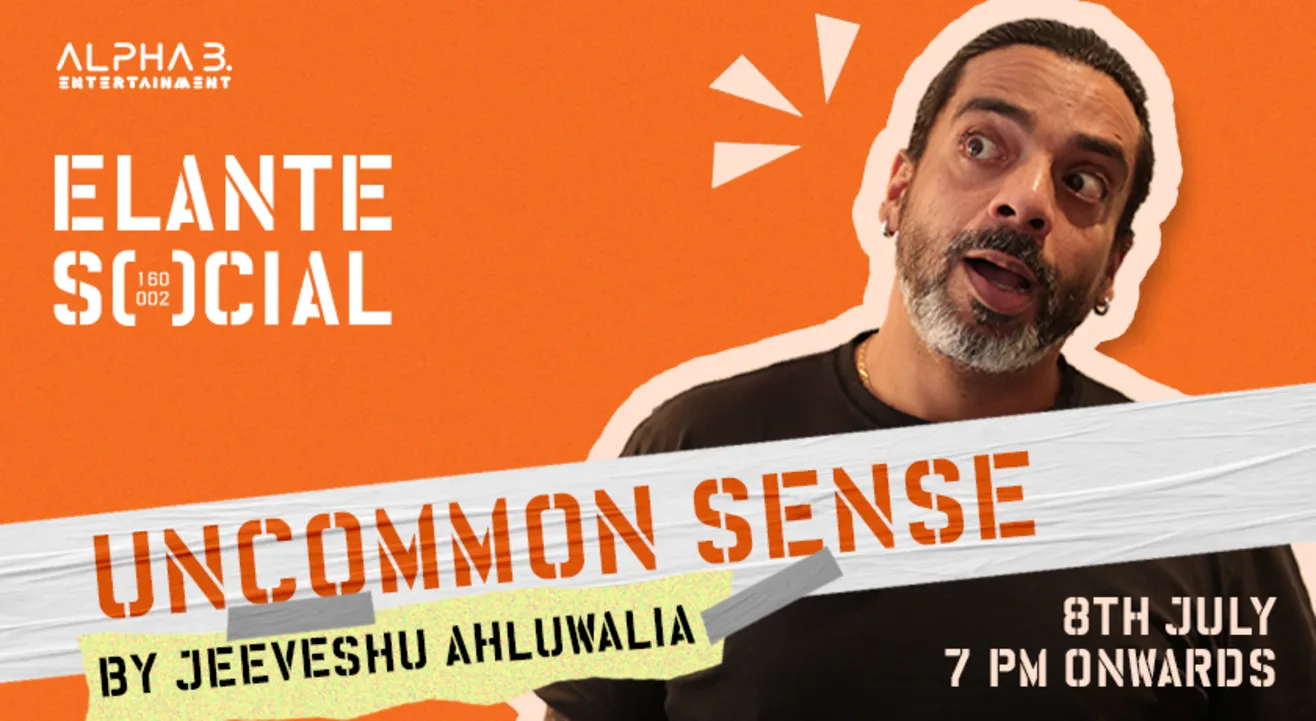 Jeeveshu's quick wit can be easily spotted in spontaneous one-liners & quirky jokes. His peculiar style of comedy is most inspired by everyday observations. The comedian will definitely make you laugh to tears come rolling down with his Uncommon Sense.
Block this Friday and head to your favorite neighborhood cafe and bar with your gang and enjoy the most fun gig in the city!
Know More About Jeeveshu Ahluwalia
An Indian stand-up comedian, writer, presenter, and actor by the name of Jeeveshu Ahluwalia. He gained renown in 2014 after winning the Radio Mirchi Comedy Ka King competition; prior to this, he served as a director in a call centre.
Before transitioning to stand-up comedy, he previously worked as a writer and director in a call centre. Before starting stand-up comedy, he also worked as a writer. Prior to this, he served as a director in a call centre. Before starting stand-up comedy, he also worked as a writer.
He made his Bollywood debut in the Imitaz Ali-directed film "Tamasha," which starred Ranbir Kapoor and Deepika Padukone. He is a TEDx speaker, and you can see him in TV advertisements for companies like Phillips, Apollo Hospitals, ICICI, Prudential, Grofers, MakeMyTrip, Loan Junction, and Comedy Central India, and more.
In the comic series "Gangs of Hasepur" on Zee TV, he made his television debut.His stand-up and comedy sketches have even been viral on Youtube.
Date: 8th July 2022
Time: 7 pm onwards
Venue: Elante Social,322A, Third floor, Elante Mall, 178-178A, Purv Marg, Industrial Area Phase I, Chandigarh, 160002, India
Fee: 699/- onwards
Ticket: Click here for Tickets
Know More About Social
SOCIAL is a path-breaking urban hangout that's designed to take you offline while still keeping you connected. From an all-day café serving great food, coffee, and cocktails, SOCIAL transforms from this creatively charged collaborative space into a high-energy bar when work hours end, striking the perfect balance between work x play.
Each outpost is a representation of the neighborhood it resides in, from the Pincode to the people. It's a second home, workplace, and hangout, all wrapped up in one mind-blowing experience.