newznew (Ludhiana) : Setting the bar higher for the industry, the Garments Machinery Manufacturers & Suppliers Association (Regd.) – Expo announced their second edition of GMMSA EXPO-INDIA 2017 to be held at Dana Mandi, Bahadur Ke Road, Ludhiana from 17th February to 20th February 2017.
The 2nd edition of the Expo is being organised to facilitate the garment machinery manufacturers and suppliers to showcase their products with the latest world class technology. An estimated 50,000 visitors from India and abroad are expected to attend the Expo that has fast become a success ever since it was first organised. The Expo will showcase over 2000 products on Spinning, Weaving, Knitting, Dyeing, Finishing, Printing, Sewing machines and accessories by leading brands with participants from India and over 18 countries.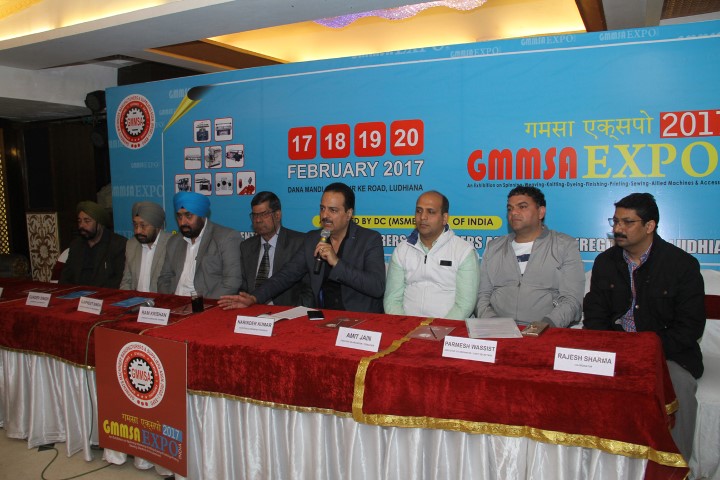 Speaking on the occasion, Ram Krishan – Chairman, GMMSA Expo India 2017 said that, "The objective of this Expo is to capitalize on the opportunity to provide latest technology and know-how at the doorsteps of the industry which was achieved by organizing the maiden venture in February 2016 and acclaimed as huge success by not only participants but also industry as whole resulting in 100% advance booking of the second edition of GMMSA EXPO INDIA – 2017.
Narinder Kumar – President, GMMSA Expo India 2017 said that, "The Expo is being organised by the industry itself for the betterment of the Ludhiana industry as a whole and in particular to boost domestic as well as export segment in particular. We find special craze among leading brands of machinery to exhibit their products in GMMSA Expo which has turned out to be the largest ever industrial exhibition of garment machinery in Punjab. The machinery manufacturers are keen to be at fore-front in showcasing their latest technology to increase productivity and achieve cost efficiency in each process of garment manufacturing making the industry more competitive. "