The 3rd edition of GMMSA EXPO INDIA started with a big bang on Sunday. The first day of the exhibition showcased leading inventions in the world of garment manufacturing machinery. The Garments Machinery Manufacturers & Suppliers Association (Regd.) – Expo is being held at Dana Mandi, Bahadur Ke Road, Ludhiana from February 25 to February 28, 2018.

The expo was inaugurated by Mr Vinod Thapar – Chairman, Knitwear Club, Mr Charanjit Singh – Secretary Shawl Club, Mr Sudarshan Jain – President KAMAL, Mr Arun Aggarwal from KAMAL, Mr Ashok Makkar of Dyeing Association, Mr Lakshmi Gupta of Knitwear Club and Mr Bakshi of GTE.
This year is bigger and better than the previous editions and the scale of the platform has increased with a spread of over 2 Lac sq ft. The Expo has on display over 2000 products on Knitting, Weaving, Dyeing, Finishing, Printing, Sewing machines and accessories by leading brands with participants from India and over 18 countries. The first day of the exhibition saw a foot fall of more than 12000 where manufacturers demonstrated the latest technology in respective fields of garmenting processing.
Mr Narinder Kumar – President, GMMSA Expo INDIA 2018 said, "Our team has worked very hard to make the exhibition great. This expo has been put together by the people who are directly associated with the industry or are a part of it. The industry looks forward to cutting cost, time and saving labor cost in manufacturing and that is what the exhibition brings to the industry."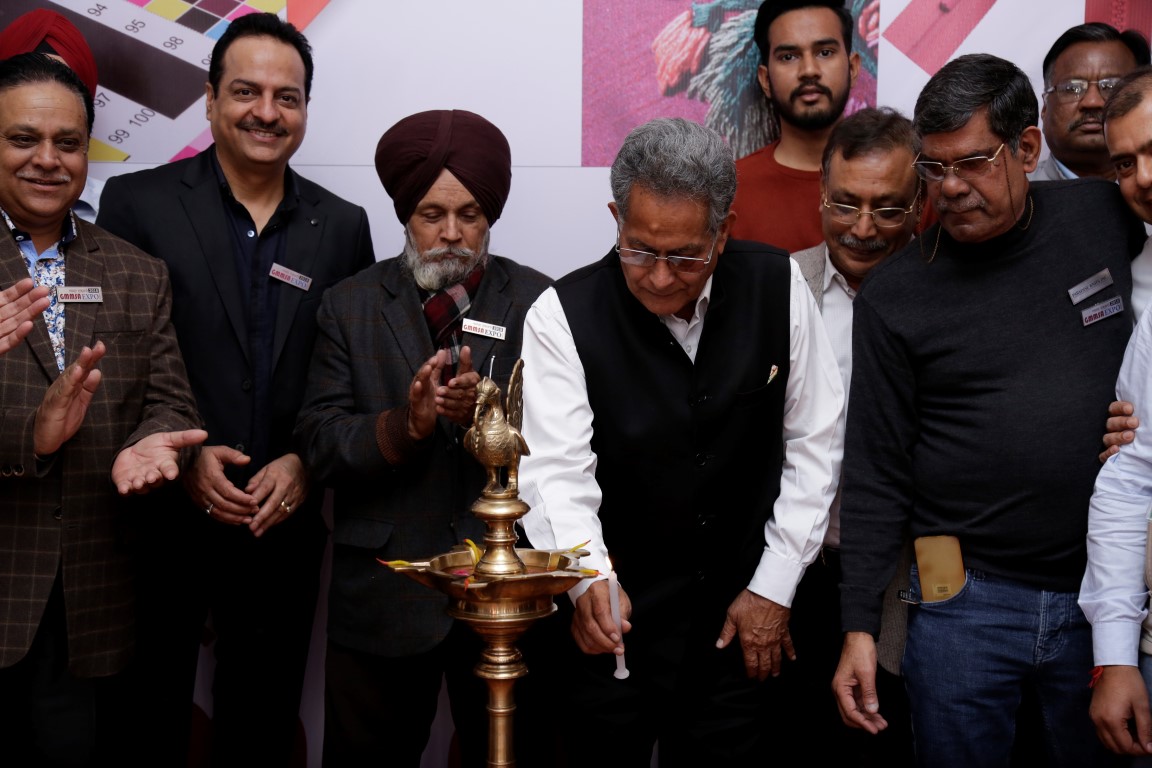 Speaking on the occasion, Mr Ram Krishan – Chairman, GMMSA Expo INDIA 2018 said, "We are very happy with the response that we have got from the industry. Last year we had 113 stalls and this year we have 163 stalls. Clearly, we have grown with a lot of support. The garment industry looks upon GMMSA Expo and GMMSA activities for up gradation of the machinery in all segments of garmenting and this is a matter of pride for us. We will continue to provide a premier platform for machinery manufacturers to showcase their latest inventions and technological advancements."
Also present on the occasion were Mr Gurpreet Singh, Mr Amit Jain, Mr Parmesh Wasist, Mr Gurdev Singh, Mr Jatinder Sudera, Mr Pankaj Kalra, Mr Teja Singh and Mr Rajesh Sharma, Mr Mohan Chawla, Mr Rajinder Bhamra and Mr Davinder Pal.