Gul Panag encourages students to become a specialist at UPES 'Unleash' : UPES, a specialization-focused, multi-disciplinary university, hosted its mega career and counselling event 'Unleash' for the city students at JW Marriott Hotel.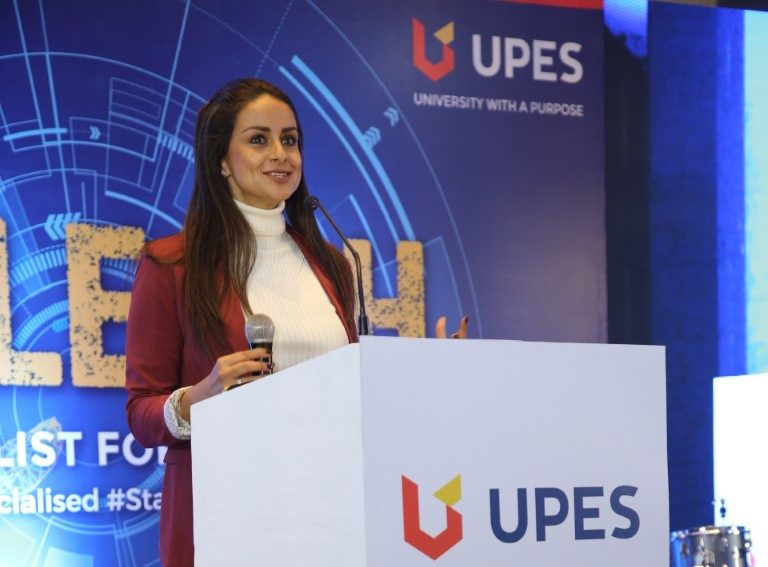 Gul Panag, a former beauty queen, social activist, avid biker who recently earned her "wings" as a professional pilot, interacted with more than 550 school and college students of Chandigarh. She inspired them with her motivating words on how to stay relevant by specializing in their own field of interest in today's cut-throat competitive world and follow their dreams fearlessly. Yuvraj Hans, an eminent Punjabi actor and singer also captivated the audience with his musical performance.
After successfully counselling 2000+ students during the Unleash events in Delhi, Lucknow, Jaipur, Patna and Kolkata, UPES organized this mega event in Chandigarh and received an overwhelming response.
'Unleash' provided a much-needed platform to students to come together and hold a personalized interaction with UPES professors, admission counsellors, alumni, and UPES industry partners so that they can take right decisions about their higher education plans. They also got an opportunity to witness the university's infrastructure and culture as they experienced the beautiful 360-degree view journey of UPES campus in Dehradun through virtual reality.
Addressing the excited audience, Gul Panag said, "The world is changing today and we must equip ourselves to be prepared to handle the disruption. The changing nature of businesses today demands that we adopt specialization to excel. I am very happy to see the overwhelming responses of Chandigarh to this chapter of Unleash and I feel that a prime university like UPES would provide the required guidance to the future generation to tap the opportunities the future holds for them".
Commenting on the occasion, Subhrangshu Neogi, Chief Commercial Officer, UPES, said, "Unleash is an initiative to connect with aspiring students and enable them to evaluate a specialization focused higher education choice with UPES. At UPES our belief is that the future belongs to specialists and a specialization focused degree will go a long way in making students industry ready and relevant for tomorrow and beyond. Chandigarh has always given us great talent and we are very happy to see how well Unleash has been received by students this year as well."