NSDC Partner Orane joins hands with Bhartiya Skill Development University : In a huge boost for the Skill India Mission, National Skill Development Corporation (NSDC)-Approved Training Partner Orane International signed an MoU here today with the Bhartiya Skill Development University (BSDU), Jaipur, under which the two parties would collaborate to conduct undergraduate and postgraduate degree-level courses in beauty and wellness at the BSDU.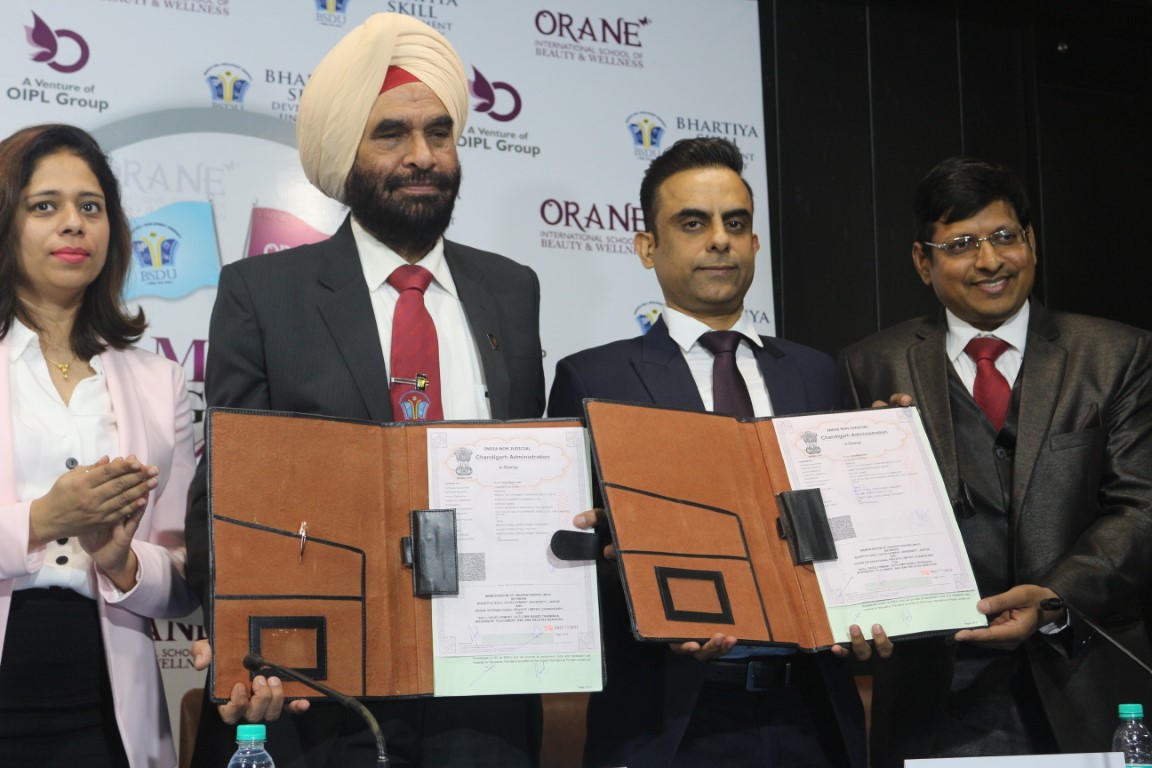 Students who successfully complete all modules of the entrepreneurship skills-focused course – that will also have multiple exit options in the form of Certificates and Diplomas – would receive B.Voc./M.Voc. degrees in beauty and wellness from the BSDU.
Students already studying at Orane's training facilities or those who have been trained by Orane in the past would have their Certificates/Diplomas taken into consideration if they choose to upgrade to the Orane-BSDU beauty and wellness degree program.
Speaking on the association between Orane and BSDU, Orane Co-Founder & CEO Mr. Dinesh Sood said, "We are delighted to tie up with a prestigious Skills University as the BSDU for launching this unique entrepreneurship-centred degree-providing skill development program in beauty and wellness as it is possibly for the 1st time that an NSDC-Approved Partner has directly got involved with such a venture in the fast-growing beauty and wellness sector."
"We are confident that the coming together of Orane and BSDU would, going forward, lend tremendous impetus to ongoing skill development-led youth entrepreneurship and women empowerment initiatives in the country, in addition to the Skill India Mission," Mr. Sood pointed out.
Commenting on the partnership, BSDU Vice Chancellor and President Brigadier (Dr.) S S Pabla said, "The BSDU has already established a name for itself in the skill development arena for its model based on the Swiss Dual System comprising of "On the job Training" and "Vocational School" which has been adopted after carrying out due modifications to suit the Indian industry. Orane is already a name to reckon with in the beauty and wellness training sector. We are sure that students in the beauty and wellness domain would benefit immensely by this first-of-a-kind arrangement between BSDU and Orane."
As part of the understanding between Orane and BSDU, Orane would establish a 'Centre of Excellence' at the BSDU. In consultation with BSDU, Orane would also decide on the curriculum for the degree level programs. Text books for the students, moreover, would be prepared by Orane.
To ensure students undergoing the program obtain an edge over their peers, Orane would, in addition, assist in the holding of campus interviews of candidates for internship and employment with it at any location within India. Orane and BDSU would, further, mutually make efforts to design a course for training BDSU students as per NSQF levels specified by the NSDC.
India's beauty and wellness sector is currently estimated to be valued in the range of Rupees 100,000 crore and is forecast to rise almost 50% to Rs 150,000 crore in 2020. As per a study conducted by the NSDC, human resource requirement in the beauty and wellness domain is poised to rise from 7.39 million in 2017 to 14.27 million in 2022, with the highest demand being in the beauty and salon segment.