EcoSikh, an NGO committed to environment protection, launched a world-wide campaign '550 Rukh Guru de Naam'. Under this initiative people will be invited to celebrate Guru Nanak's 550th birthday in 2019 by planting 550 trees each at their respective locations in every country of the world and especially in Punjab. The organization is targeting to reach 1 million trees by the end of next year.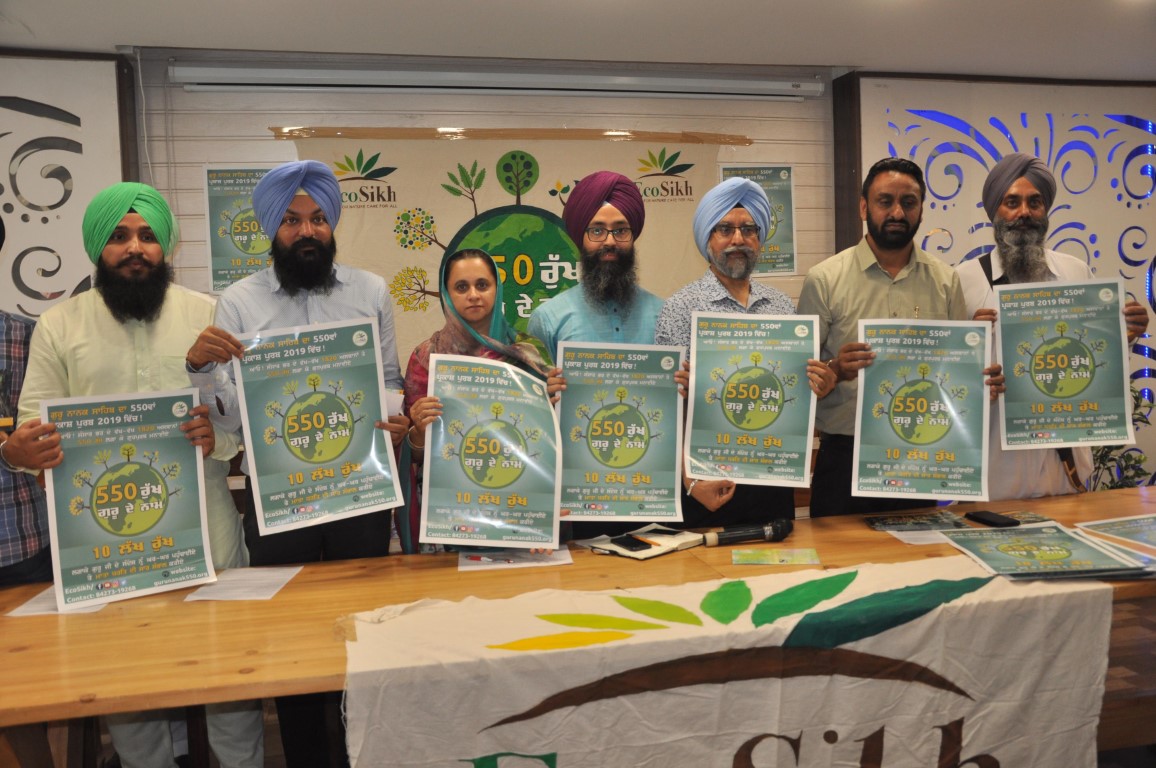 Addressing the press at Chandigarh Press Club, EcoSikh Global President, Dr. Rajwant Singh stated, "We want to highlight teachings of Guru Nanak on nature and this is the best way to exhibit the close connection of Sikh spirituality with God's creation: the beautiful flora & fauna. We are confident that this will inspire not only people of Punjab and India but those across the world. As per World Health Organization, 7 million people die every year due to air pollution.  It's high time that we come together to safeguard the air by making a gift of 1 million trees for our Guru Nanak on His 550th Gurpurab. It is the best way to celebrate His love for nature and protect our Mother Earth. EcoSikh is also creating a mobile app platform to consolidate this report and it will be presented at United Nations as a unified Sikh effort for the mother earth."
He added, "We appeal to Chief Minister of Punjab Amrinder Singh to focus on the environmental message of Guru Nanak while planning the celebrations next year and create a sacred forest of 50-100 acres in the name of the Guru in Punjab. This will be the long lasting impact of this historical celebration. This sacred forest could be at Sultanpur or any other location which has been visited by Guru Nanak. We are ready to cooperate in the execution of this plan. This could also generate eco-tourism in the region and bring employment to many."
EcoSikh has also created a Gurbani based Guru Nanak Bagh(garden), a first of its own kind nature oasis in Punjab. Various species of trees mentioned in the Sikh scriptures, Guru Granth Sahib, has been planted at this five-acre site and it was inaugurated on August 20, 2018. EcoSikh collaborated with the citizens of Patto Hira Singh village and the Patto Eco Tree and Landscape Society (PETALS) for this project. This historical sacred spot in Moga has been visited by Guru Nanak Dev ji and by the Sixth, Seventh and the tenth Sikh Gurus as mentioned in history.
Read More : EcoSikh to Focus on Climate Change on Sikh Environment Day
Supreet Kaur, EcoSikh India President, said, "Over 30 teams of 500 youngsters from Punjab, Haryana, Chhatisgarh, Jammu, Karnal, Assam and foreign cities of Derby (UK), Hong Kong, Washington DC have already started plantations under the Guru Nanak 550 campaign."
EcoSikh also released a handbook Shreni Anusar Rukhaan Di Vyontbandi, written by the renowned environmentalist, Dr. Balwinder Singh Lakhewali to empower and educate common people to engage in plantation drives.
Read More : Punjab Youth Commit to Action on Climate at EcoSikh Workshop
EcoSikh also introduced Puneet Singh Thind, Director Farm Grocers, a farmer owned business group which is focused on creating a bridge between farmers and consumers and making healthy food available for mass consumption.
Expressing his feelings, the PETALS President and native of Patto Hira Singh, Sukhchain Singh said, "We are thankful to EcoSikh for envisioning that Guru Nanak's 550th birth-anniversary should be celebrated with having a long lasting positive impact. Planting trees from Gurbani in the name of Guru is a win-win situation for people, earth, animals and nature. It is history being created."