Harby Singh, a budding Punjabi singer, has come up with his new song 'Badami Rang'. The song is a romantic dance number, shot in Bali, Indonesia.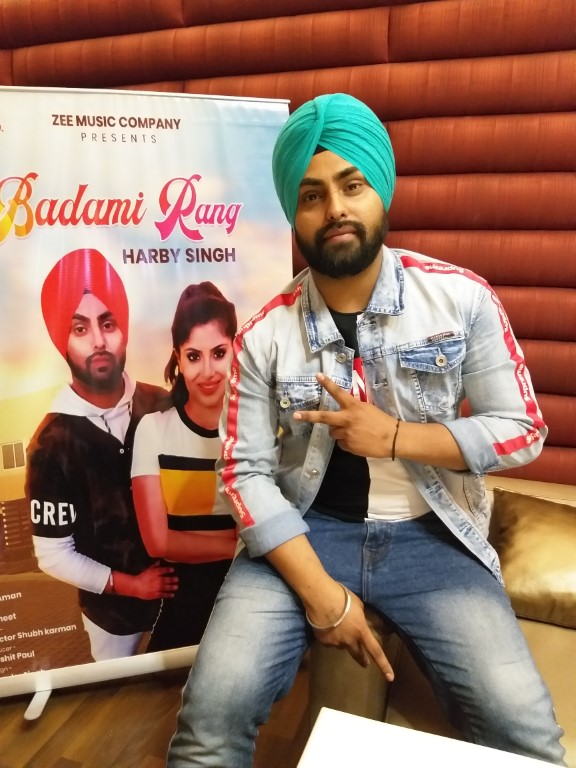 It has been released under the Zee Music label. Badami Rang is a Punjabi dance number, which is already getting massive response on youtube and other social media platforms.
Interacting with the media at Smaaash Gaming Zone here today, Harby told that he could not pursue higher studies due to keen interest in music. He said, "My parents did not support me for the first two years. They wanted me to pay attention towards my studies. But I used to skip classes to do my 'riyaaz'.
They were unsure if this field could give me a secure future. But when my relatives started praising my singing to my father, one day he asked me how much money will a song shoot cost. That's when my parents finally started believing in me and my singing. So my first song was a result of my parents blessings and support."
Harby's father is a tabla player and teacher in US. Harby has been trained in tabla by his father. His inspirations are Sardool Sikandar and Daler Mehndi. His music is in urban style. Harby has already sung two songs before Badami Rang. His first song 'Saun Lagge' was released in 2017.
"My father always used to joke, 'Je tu music ch kuch na kar paya tan meinu piyo na kahi" (If you couldn't achieve anything in music, then don't call me your father), said Harby. He is also been performing live since 2016 and has done many shows all over the world. From singing as a backup vocalist with other artists to now singing his own songs live, the 26-year old singer is determined to fulfill his big dreams.
The Delhi-based singer has been a bhangra dancer too. He used to perform in college youth fests. With his zeal to become a singer, Harby also took some vocal training. He said, "I'm so grateful that a newcomer like me got a lot of support from the artists of the industry. Kuwar Virk has always supported me like a brother. I have grown so much in all these years. For me music is my passion and I only see myself as my competitor. I never feel any competition with any other artist from the industry. I always want to do better than my previous song."