NewZnew (Mumbai) :Harper's Bazaar, the world's oldest fashion magazine inspires millions of women around the world. But it's not just a fashion magazine alone, serving as a lifestyle muse that brings forth new places to visit, foods to explore, and ideas for personal and professional growth. With this in mind, the first "Bazaar at Work" supplement was first started by the British edition in 2013, and has since served as an inspiration for what to wear, what to do, and how to climb the corporate ladder for women around the world.
This March the second edition of the Power Lunch was all about women making bold strides in their careers. The event took place at the St Regis in Mumbai on the 8th of March, which is also Women's Day.
Since the hashtag was #BeBoldBeAnything, the opening speaker for the event was Shaina NC, who juggles many roles as politician, social worker and fashion designer. As BJP spokesperson of Maharashtra she was attending 15 other events as it was also Women's Day. But she made it for the event and took her time giving a talk and answering questions. Her biggest tip: empowerment comes from being financially independent, so as women we must support other women find this financial independence.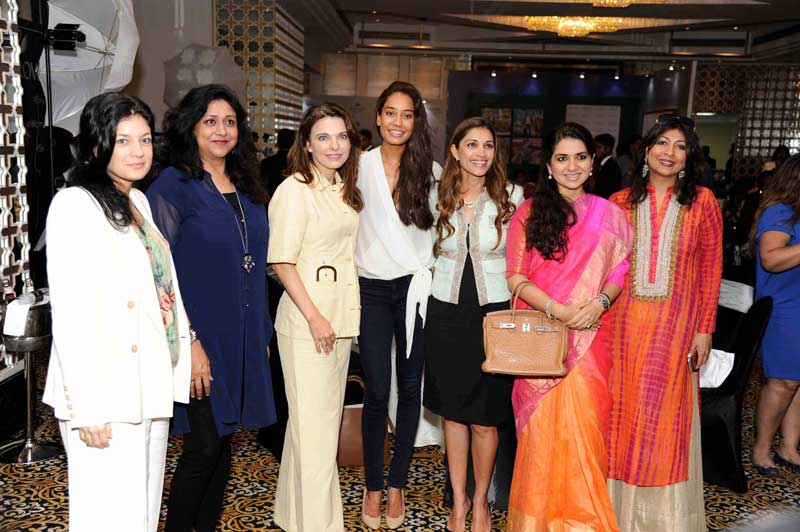 Next up was a film panel that included actor Lisa Haydon, cinematographer Priya Seth whose work includes Airlift and documentary filmmaker Vibha Bakshi who directed the award-winning Daughters of Mother India. Lisa spoke about making bold choices – even if she had to wear a bikini it should be in context of the film and not merely to objectify her. The panel discussion was followed by a lively question and answer round. A gem that we got to know from this round: it is only six months back that women makeup artists were allowed to officially work in films. Before that only male makeup artists were allowed to work on the sets. Still, it is a step forward. The entire event was hosted by Bazaar contributing editor Gayatri Rangachari Shah.
The closing speech was made by Aditi Kothari Desai, head of sales and marketing at DSP Blackrock. She ended the event with
an important piece of advice: that merely making your own money is not enough. It is also important to invest it on your own rather than leaving it to the male members of your family.
All panelists and guests received a goodie bag with an Arrow voucher, Forest Essentials products, an India Today scheduler, and the seventh anniversary issue of Harper's Bazaar.