Chai Biscuit, Rose Petal Punch, Paan, Gulkand, Anjir, Ras Malai and Shahi Kheer are the new flavors of this season
Havmor Ice Cream, a leading pure milk ice cream brand, today rolled out the new range of ice-cream flavors customized to appeal to the Indian palate. Known for its ice-cream innovations, Havmor's new range is inspired from traditional Indian flavors.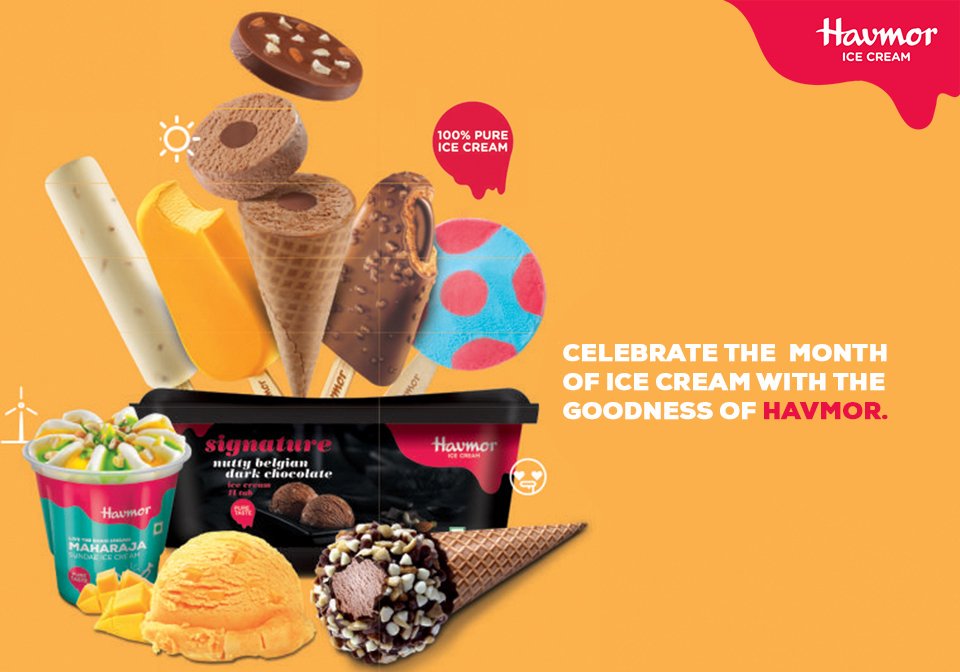 The new menu is curated as part of its customer centric approach and in-depth understanding of customer preferences. The range of new flavors includes Chai Biscuit, Rose Petal Punch, Paan, Gulkand, Anjir, Ras Malai and Shahi Kheer.
These flavors are classically designed with indigenous ingredients. With the introduction of distinct and delicious flavors, Havmor aims at satiating its consumers with the taste and flavor of local sweets in the form of ice cream.
Speaking about the launch, Chaitanya Rele, VP – Head of Marketing, Havmor Ice Cream said, "This season our key focus was to introduce Made-for-India flavors that reflect the Taste of India. The customers will not only be able to savour the latest flavor innovations but also be able to indulge in nostalgia that the traditional flavors offer. We have also involved the winners of our #TheCoolestSummerJob2017 in this endeavor. They have come up with flavors that are the perfect blend between contemporary and traditional, and keep in mind what appeals to the local palate. Chai Biscuit and Rose Petal Punch are the innovations of these winners."
Havmor has meticulously selected each ingredient to ensure that customers can choose from a host of flavors. The ice creams will be available in various categories kulfi, cups, novelties, signature tubs, etc. with the price ranging from INR 10 to INR 280.
Chai Biscuit: A concoction of Indian herbs and spices covered with layer of biscuits on both sides. Chai, a ubiquitous Indian drink is now available in the form of ice cream. Havmor is a first ever ice cream brand in India to introduce a largely consumed traditional drink in a unique way
Rose Petal Punch: A juicy ice candy prepared with rose petals
Paan: A special after meal ice cream treat is a concoction of betel leaf, dates, gulkhand, fennel and fruits. As a mouth freshener, Paan is consumed across Indian markets. This unique flavor is definitely going to lure ice cream enthusiasts with its luscious ingredients
Paan, Gulkand, & Anjir Kulfis: These are new variants introduced under the category of Kulfi. Paan Kulfi gives a real-taste of Indian pan. Gulkand Kulfi is prepared with gulkand, a sweet preserve of rose petals while Anjir Kulfi is a combination of fresh anjir (figs) and cashews
Ras Malai & Shahi Kheer: The two Indian traditional sweets in the form of ice cream will delight the sweet lovers with purity of milk and loads of dry fruits. Ras Malai gives a perfect taste of  Bengali sweet – Rasgulla while Shahi Kheer is a royal treat prepared with caramelized milk and loads of dry fruits
Today, Havmor has wide varieties and ranges under its portfolio; which includes Premium Range, Signature Range, Blockbuster, Turbo Cones, 98% Fat Free, 100% Sugar Free, Ice Cream Cakes & Pastries, Ice Cream Sandwich, Assorted Candies, Ready to Eat Cups, Novelties, Bulk Packs, Combo Packs, etc.