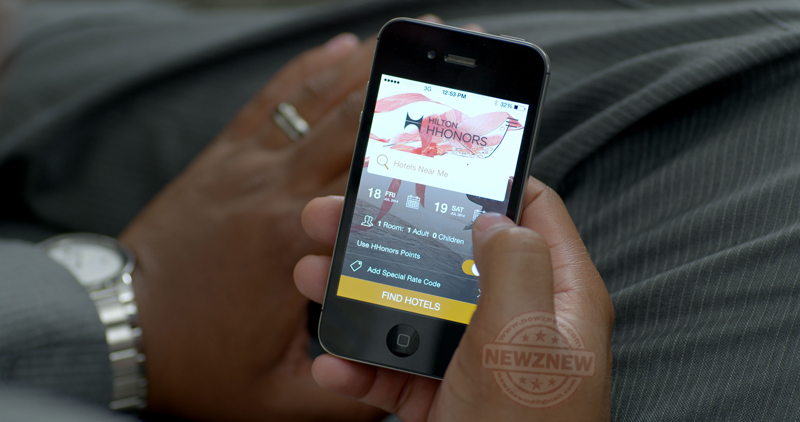 NewZNew (Chandigarh) : Hilton Worldwide today announced that its pioneering digital check-in and room selection technology is now live across more than 4,300 hotels spanning 12 brands worldwide. This includes the 14 hotels operating by Hilton Worldwide in India. Today's official announcement in India continues the incredible rollout of this technology across Asia Pacific, following the recent launches in Australasia and Southeast Asia, and preceding formal launches in China and Japan. A first for the hospitality industry, the scale of this digital rollout marks the largest of its kind to date across the sector.
Through their Hilton HHonors accounts, guests will be able to check-in and choose their exact room from digital floor plans or lists, on their desktop, tablet and mobile devices. They will also be able to further customize their stays by requesting upgrades or making special requests for items to be delivered to their rooms ahead of their arrival, with the simple click of a button.
Geraldine Calpin, global head of digital at Hilton Worldwide, said, "Digital check-in and room selection rewards our HHonors members for their loyalty and puts our guests in the driving seat by giving them unprecedented choice and control across their entire stay. Never before have guests been able to check-in, select their rooms from a digital floor plan, and customize their rooms to be ready for arrival. We are truly revolutionizing the industry, and this is just the tip of the iceberg for digital at Hilton Worldwide."
Daniel Welk, Vice President, Operations – India, Hilton Worldwide, said, "As a business, we have always prided ourselves on leading the industry – We were the first to put televisions in hotel rooms and now we are the first to let you choose your room – right down to the exact room number. With a 95-year history of delivering industry-transforming offerings, Hilton Worldwide will continue to enrich the guest experience on a major scale across our brands and regions. We look forward to helping our loyal guests across the region benefit from the most personalized digital service yet, all available in the palms of their hands."
This latest announcement forms part of a wider digital strategy for Hilton Worldwide. With English language interfaces for digital room selection available in Australasia, Southeast Asia and India, and Japanese and Chinese language versions available later in 2015, Hilton Worldwide aims to enrich the travel experience for guests of all backgrounds, visiting all corners of the world, with a simple streamlined process:
Room selection: At

6 a.m.

the day before a booked stay, Hilton HHonors members can sign into their accounts via their mobile devices, tablets or computers to check-in and choose their preferred rooms through floor plan maps or lists populated from the hotel's available inventory. Photographs of rooms are also available to help with selection. This function is updated in real-time, so guests no longer have to wait until they are physically in the hotel's lobby to be assigned a room.
Special requests: After choosing a room, guests can further customize their stays at full-service hotels by purchasing upgrades and requesting specific amenities to be delivered to their rooms before arrival.
Room key: By the end of 2016 the majority of hotel rooms will be equipped with the technology for doors to be unlocked with guests' smartphones. For now, once they arrive at the hotel, guests simply pick up their room keys from the front desk – a streamlined process since the guest's payment information and other details are already verified through their Hilton HHonors account prior to arrival.
Check-out: Guests can bypass the front desk upon departure as the bill will be automatically sent to their email address.
To experience the new digital check-in and room selection functionality, simply download the Hilton HHonors app here and join the free Hilton HHonors guest-loyalty programme. Hilton HHonors members that qualify for a free upgrade will also be able to request this via the new Hilton HHonors app in advance of their arrival, subject to availability.
Hilton HHonors, the industry-leading loyalty-programme, offers its more than 44 million members more ways to earn and redeem points, enabling them to create experiences worth sharing at more than 4,300 hotels in 94 countries and territories.