Hindi film 'Aarohi – Falsafa Zindagi Ka' premier held in city : The premier of a Hindi film , Aarohi – Falsafa Zindagi Ka was held at Museum and Art Gallery, Chandigarh. The film is based on Panchkula based author Amrit Gupta's book 'Just 7 Days to Excellence'.
Talking to media during a press conference before premier , Amrit Gupta said that the idea to produce the film transpired when he met the team at Entertainment Plus Studios Pvt. Ltd, Panchkula.
He said it was felt during discussions that since everyone don't have reading habits, the content of 'Just 7 Days to Excellence" should be adapted to make a film, which shall help in spreading the message of the book more effectively & widely.
It may be mentioned here that 'Just 7 Days to Excellence' is an inspiring book which has the content and potential to transform any one's life. Gupta's  another book 'Two Great Masters" has also been immensely acclaimed and appreciated.
One-hour movie keeps one entertained and shows the way in finding solutions to various problems of life, especially among the younger generations, informed Gupta.
He said further that through a charming love story, the movie humbly coaxes you to understand that the quick romance in life is not the only piece of joy. Real joy lies in understanding the basics of life and learning the right path that we should follow in our day to day lives. Self-realization is the ultimate goal of life.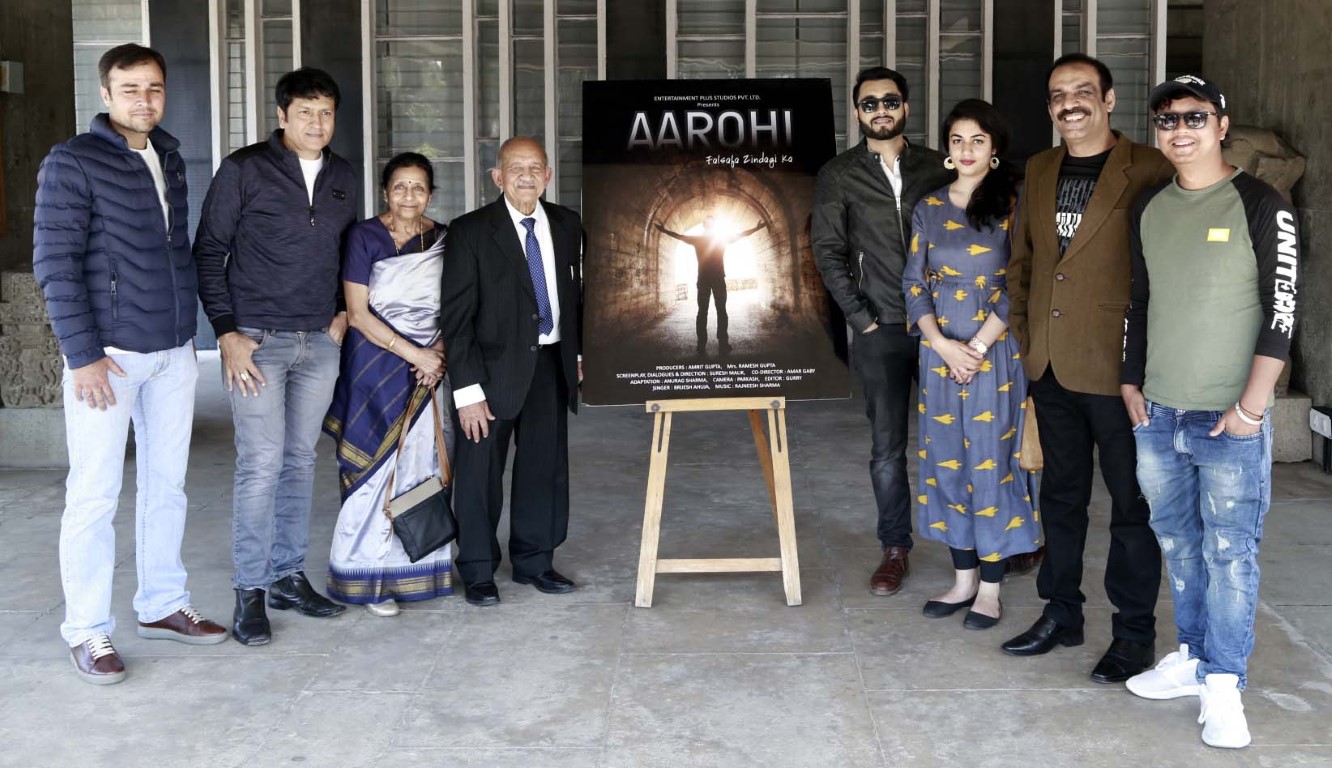 The movie is also a mirror to show how the current weak primary education system is affecting the complete character of an individual. Ills of the society are largely rooted in the ineffective primary education system. Any corrections later in Life, hardly work, he informed.
Talking about the purpose behind producing movie , Gupta said that the film is not only to entertain but to push the society towards better understanding and living a meaningful life.
Meanwhile team at Entertainment Plus Studios has effectively summed up the crux of the book, for a film decorated with meaningful story, screenplay and dialogues. The production team has worked hard with minimal budget and made this film to mark its presence among viewers with good camera work, acting and back score.
Interestingly team of artists in this film may be masters in their respective fields but most of them don't have any filmy background, in fact many of them have faced lights and camera for the first time. This film is made possible only due to their passion. This is entirely a dedicated team work.
Movie cast and crew:
PRODUCERS: AMRIT GUPTA Mrs. RAMESH GUPTA
Production: ENTERTAINMENT PLUS STUDIOS PVT. LTD.
SCREENPLAY, DIALOGUES & DIRECTION: SURESH MALIK
CO-DIRECTOR:  AMAR GABY
ADAPTATION: ANURAG SHARMA
CAMERA: PARKASH
EDITOR:GURRY
SINGER & COMPOSER: BRIJESH AHUJA
LYRICS: SUBASH SHARMA
SONG ARRANGEMENT: BIJAN BHATTACHARYA
SOUND DESIGNING  & BACKGROUND SCORE:  RAJNEESH SHARMA &SONU BHOLA
MAKE UP & HAIR: VICKY HANS
CAST: In Lead RAMA AHUJA as Aditya, MANISHA SHARMA as Aarohi and SUMIT SETHI
as Swamiji
Supported by their Act:
HEMANT BAWA
SHIVANI
PARVEEN WALIA
MANAN MAJITHIA
YOGESH SAHOTRA
SANJAY GUPTA
RAJEEV AGNISH
KANWALJIT KAUR
KAJAL
 I.P. MAJITHIA
MEENU MAJITHIA
ABHISHEK VERMA
PARUL CHAUHAN
MASTER ADITYA
MASTER SWASTIK
POURUSH
CHITRA
ANJLI RANA
KANCHAN JAIN
VOICE OVER ARTISTS:
RUPINDER JEET MAHESH
NAGESH DHAWAN
ANOOP SHARMA
NEHA AHUJA
SHWETA OJHA