Honda to renovate Children Traffic Training Park situated at Model Town, Ludhiana
To be Honda's Tenth such traffic training tie-up in India
Road safety awareness to be conducted on daily basis for all ages
NewZNew (Ludhiana) : Extending its commitment to make safe riding an everyday habit for two-wheeler riders, Honda Motorcycle & Scooter India Pvt. Ltd. (HMSI), today entered into a Memorandum of Understanding (MoU) with the Municipal Corporation of Ludhiana to adopt the first-ever Children Traffic Training Park in Punjab. The upcoming traffic-park in Ludhiana is set to be Honda's tenth such tie–up in India after similar parks in Chandigarh, Jaipur, Bhubaneswar, Cuttack, Yeola- Nashik, Hyderabad, two in Delhi and a recently inaugurated Road Safety Education center in Indore. Through a dedicated road-safety team, Honda has trained over 2.6 lac people on safe-riding in less than 3 years through these traffic parks.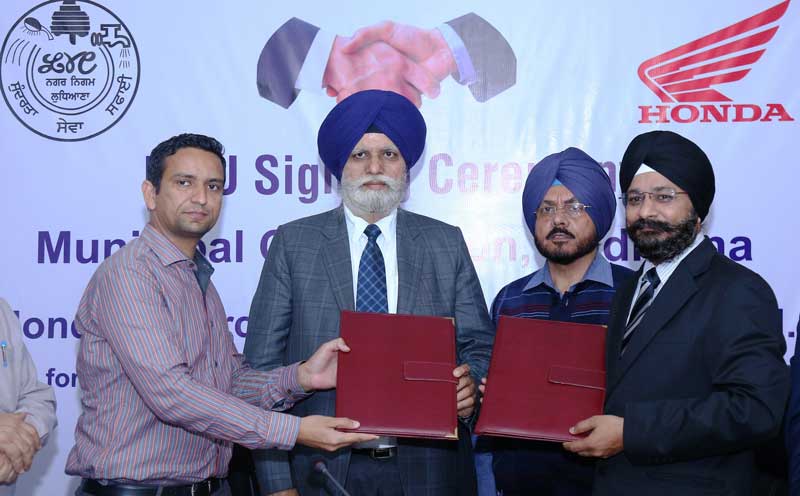 Present at the MoU signing ceremony were Mr. Harcharan Singh Gohalwaria, Mayor, Ludhiana Municipal Corporation, Mr. GK Singh-Commissioner, Municipal Corporation of Ludhiana, Mr. Ghanshyam Thori- Additional Commissioner, Municipal Corporation of Ludhiana, Mr. Harpreet Singh- Department Manager, Safe Riding Promotion & Training, Honda Motorcycle & Scooter India, Mr. Rajeev Singh- Zonal Manager (Sales), Punjab, Honda Motorcycle & Scooter India
Commenting on the occasion, Mr. Yadvinder S. Guleria, Senior Vice President-Sales & Marketing, Honda Motorcycle & Scooter India Pvt. Ltd. said, "As one of the biggest two-wheeler markets in the world, the importance of creating awareness about road-safety and safe-riding practices in India cannot be understated. I express my sincere thanks to the Municipal Corporation of Ludhiana for providing Honda 2Wheelers India an opportunity to extend our road-safety awareness initiatives here. This park is yet another step in our efforts to make the roads of Ludhiana safer."
Key initiatives by Honda at Children Traffic Training Park, Model Town, Ludhiana will include:
Expert Honda Safety instructors (female & male) to educate new riders on correct riding techniques
Honda's Proprietary riding trainers which shall aid people above 16 years of age to experience over 100 possible dangers on road. The virtual experience significantly increases rider's ability to predict & react to traffic hazards. The same can also provide instructions in Hindi language.
Specially imported CRF 50 motorcycles to educate children in "fun way".
Imparting road safety know-how – a boon for many existing and new riders.
Honda along with its dealers in Ludhiana will renovate the existing Children Traffic Training Park at Model Town in association with the Municipal Corporation of Ludhiana, into a specially designed, protected environment for promoting Road Safety education & awareness.