Honda Cars India and Bajaj Finance collaborate to offer attractive financing solutions this festive season: Honda Cars India Ltd. (HCIL), leading manufacturer of premium cars in India, has partnered with Bajaj Finance Ltd., the lending arm of Bajaj FinServ Ltd., a leading financial services group in India, to offer attractive and affordable finance solutions for its customers.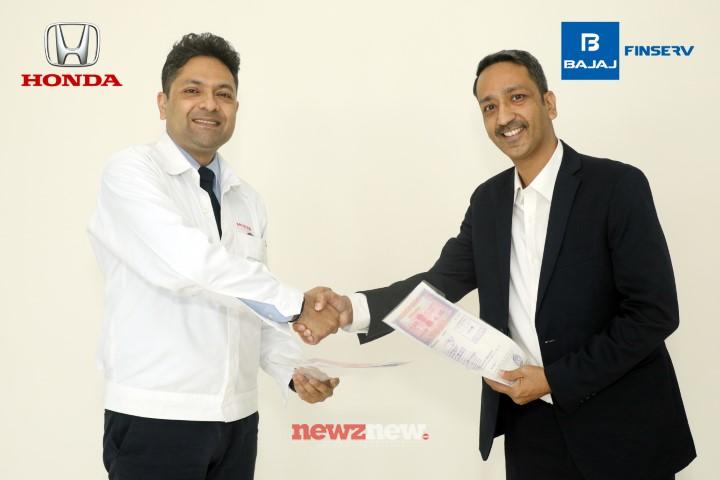 The partnership will help Honda customers avail exciting car finance schemes with low Rate of Interest and hassle-free quick sanction of loans on purchase of Honda Amaze, Honda City and soon to be launched new SUV; Honda Elevate.
Under this partnership, Bajaj Finance Limited will provide Honda customers with customised retail finance schemes with the introduction of Flexi Pay Scheme & digital-first experience, including up to 100% on-road funding, providing Low rate of Interest (RoI) starting from 8.75%, hassle free sanction with lower turnaround time as low as 30 min, among others To ensure a greater convenience, the entire financing process will be enabled through a digital customer journey for loan disbursement process.
Speaking on the occasion Mr. Kunal Behl, Vice President, Marketing & Sales, Honda Cars India said, "At Honda Cars India, we are dedicated to delivering top-notch services to our customers and we are excited about this partnership with Bajaj Finance. This alliance allows us to offer more financing options to our customers and enhance their ownership experience. The various schemes and options which will be offered by Bajaj Finance will lead to an affordable and accessible personal mobility solutions to a diverse set of valued customers."
Siddhartha Bhatt, Chief Business Officer, Bajaj Auto Finance, added "Through our digital-first approach & affordable solutions (Flexi Loans), we strive to make car buying incredibly easy & affordable for our customers. Our straight-through process is aimed at improving convenience and speed of loan disbursement. We are delighted to join hands with Honda Cars India to provide hassle-free and flexible financing solutions to customers for owning a Honda vehicle in a very accessible and rewarding manner."
Honda Cars India and Bajaj Finance are confident that this collaboration will strengthen their position in the market and reaffirm their shared mission of providing outstanding auto financing solutions to customers.
Bajaj Finance is a technology driven NBFC, offering a comprehensive suite of financial solutions and focused on enhancing customer experience digitally.
HCIL has been taking initiatives to make car buying more attractive and rewarding for its customers. HCIL has partnered with multiple financiers such as PSU Banks, Retail Financiers, and NBFCs to enhance car buying experience for its customers, offering consumers a wide range of financial solutions to match their diverse needs.
Know More About Honda Cars India Ltd.
Honda Cars India Ltd. (HCIL), a leading manufacturer of premium cars in India, was established in December 1995 with a commitment to provide Honda's passenger car models and technologies, to Indian customers.
HCIL's corporate office is based in Greater Noida, UP and its state-of-the-art manufacturing facility is located at Tapukara, District. Alwar, Rajasthan. Honda's models are strongly associated with advanced design and technology, apart from their established qualities of durability, reliability, safety, and fuel efficiency catering to the diverse needs of its discerning buyers across different segments.
The company has a strong sales and distribution network spread across the country.  Besides the new car business, Honda offers a one-stop solution for buying and selling pre-owned cars through its business function Honda Auto Terrace. The Honda Certified Pre-owned cars come with an assurance of quality and peace of mind that caters to the diverse and burgeoning needs of pre-owned car buyers across the country.
Know More About Bajaj Finance Limited
Bajaj Finance Ltd. ('BFL', 'Bajaj Finance', or 'the Company'), a subsidiary of Bajaj Finserv Ltd., is a deposit taking Non-Banking Financial Company (NBFC-D) registered with the Reserve Bank of India (RBI) and is classified as an NBFC-Investment and Credit Company (NBFC-ICC). BFL is engaged in the business of lending and acceptance of deposits.
It has a diversified lending portfolio across retail, SMEs, and commercial customers with significant presence in both urban and rural India. It accepts public and corporate deposits and offers a variety of financial services products to its customers. BFL, a thirty-five-year-old enterprise, has now become a leading player in the NBFC sector in India and on a consolidated basis, it has a franchise of 69.14 million customers.
BFL has the highest domestic credit rating of AAA/Stable for long-term borrowing, A1+ for short-term borrowing, and CRISIL AAA/Stable & [ICRA]AAA(Stable) for its FD program. It has a long-term issuer credit rating of BB+/Positive and a short-term rating of B by S&P Global ratings. To know more, visit www.bajajfinserv.in/