A unique initiative by Hyatt Hotels in India and the SMILE Foundation
NewZNew (Chandigarh) : To emphasize Hyatt's focus on its rich culinary heritage, Hyatt Hotels in India introduced the "Hyatt Culinary Challenge –people cooking for people" and this year we are celebrating the third season in October 2016 across 13 Hyatt India destinations. The Chandigarh episode of this Culinary Challenge took place at Hyatt Regency Chandigarh on October 22, 2016.
The event witnessed the presence of elite corporate to watch the participants ditch their usual work routine and woo the judges with their culinary skills. Six CEO's and Directors including Mr. David Lelliott OBE- British High Commission Chandigarh, Mr. Sunil Dutt- Chandigarh International Airport, Ms. Sofie Zahoor, Mr. Kapil Malhotra, Mr. Alankar Nagi and Mr. Ajit Sehgal participated with their favourite recipes to compete in Chandigarh Culinary Challenge-Preliminary round.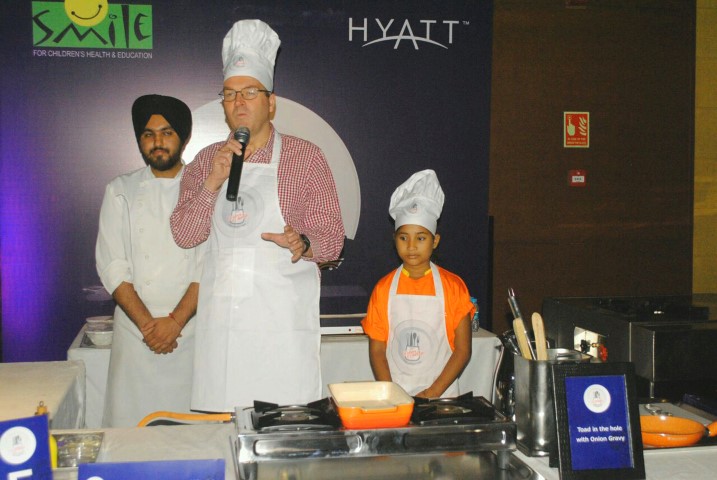 The Hyatt Culinary Challenge was conceptualized as a unique event that will bring together individuals from the corporate realm on a common platform where they could showcase their culinary expertise and passion for food in an interactive culinary event. Each participant will be paired with a child from the SMILE foundation, Hyatt's partner NGO in India and they will execute a recipe of their choice for the judges. The corporate winner from each city will compete at the grand finale at Hyatt Regency Chandigarh in November 2016.
Across India, the Hyatt Hotels in Ahmedabad, Amritsar, Bangalore, Chandigarh, Chennai, Delhi, Goa, Hyderabad, Kolkata, Ludhiana, Mumbai, Pune and Raipur are hosting the Hyatt India Culinary Challenge preliminary rounds in October 2016 and the finale will be held at Hyatt Regency Chandigarh on November 19, 2016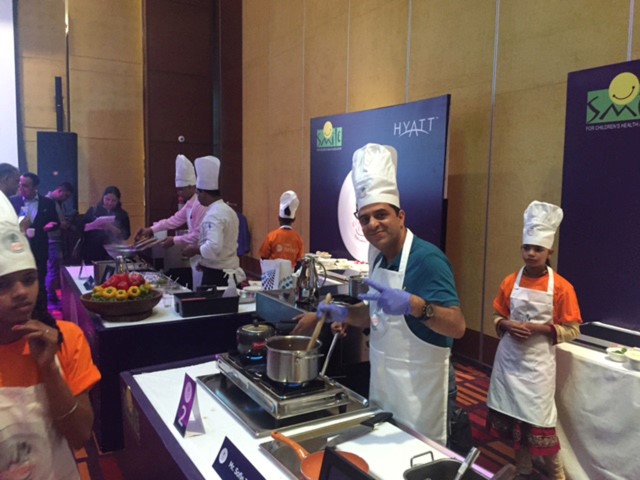 The General Manager of the hotel Puneet Baijal expressed, "We are excited to host our maiden edition of this unique event as it gives us the opportunity to connect with our guests more closely.  All the more reason to be delighted is the engagement of SMILE foundation kids with the Culinary Challenge, as I truly believe these events build up their confidence and bring smile to their faces.
We are proud to host the Grand Finale of Hyatt Culinary Challenge on November 19 at Hyatt Regency Ballroom where preliminary round winners from Hyatt Hotels across India will travel to Chandigarh to claim the winner's title."
According toVikram Singh Verma, COO, SMILE Foundation, "In order to bring some real and permanent changes in the lives of the most deserving children across India, members of the civil society need to be involved proactively in the process of development. We are overwhelmed by the support from Hyatt India and hope for continued collaboration in the future to see lasting impact in the upliftment of our local communities."
Keep Tweeting and Tagging @HyattRegencyChandigarh. You can follow the latest updates on Culinary Challenge using #CookWithHyatt