Idol of Lord Ganesha made of Britannia Good Day Biscuits
NewZNew (Chandigarh) : Ganesh Chaturthi is one of the most celebrated festivals in India. Enjoying the stature of the most popular god, Lord Ganesha, with his arrival brings people of all religions together to celebrate this auspicious festival. The deity of prosperity and the giver of fortune is believed to remove all obstacles to success through his blessings. To celebrate the arrival of the benevolent deity, families bring home idols of Lord Ganesha and worship the Lord with offerings of food and celebrate with lights, music and colour.
To adapt to the contemporary celebration, people bring in creative Ganesha idols, such as eco-friendly idols of various shapes and sizes. This Ganesh Chaturthi, the HyperCITY family, welcomes 'City Cha Raja' in an all new avatar made of Britannia Good Day Biscuits. This is the 7th consecutive year for HyperCITY to host Lord Ganesha in their 16 stores in India across Maharashtra, Gujarat, Madhya Pradesh, Hyderabad and Karnataka. HyperCITY will host Lord Ganesha from 05th September, 2016 till 15th September, 2016.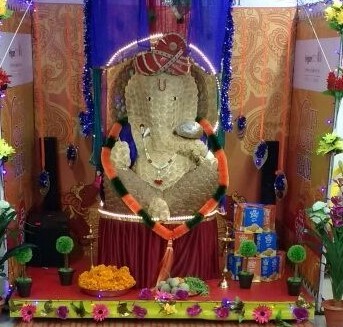 HyperCITY will create 5 feet Good Day Biscuit Ganapati idols in two variants – Butter Cashew & Choco-Chip. The idol will be crafted aesthetically, placing Good Day Biscuits carefully. The ambiance at the stores will come alive with Aartis, Bhajans, Modaks and other festive preparations.
Standing by its promise of 'Something Fresh Everyday', HyperCITY will also undertake the following competitions at their stores to enhance the unique festive experience.
Decoration competition in societies in the vicinity of the store. The Decoration will be judged based on theme, social message, size of the idol, etc.
Modak making competition in the neighborhood societies. Modaks have to be made using Britannia Good Day Choco-Chip as one of the ingredients.
HyperCITY will also invite its Discovery Club customers and their family members for their daily-aarti on all 11 days.
HyperCITY urges to celebrate Ganesh Chaturthi in an environment friendly manner and welcomes you to be a part of the celebration!