newznew (Chandigarh) : Hyundai Motor India Ltd (HMIL), the country's second largest car manufacturer and the largest passenger car exporter , flagged-off the 2017 edition of the 'Great India Drive' from McLeodganj today .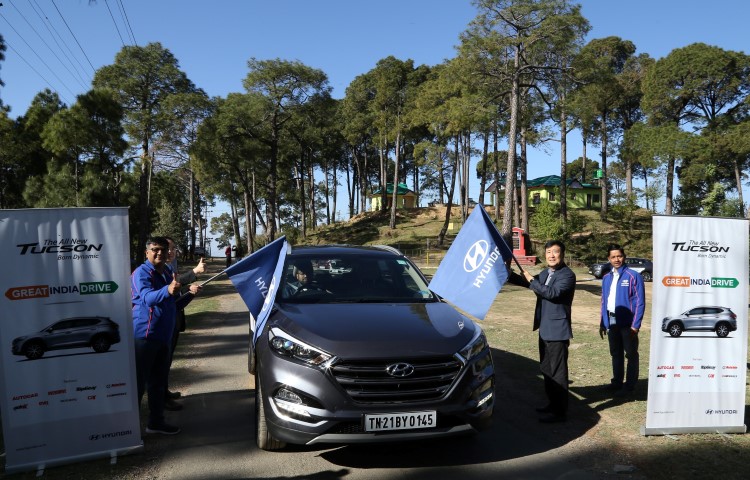 The flag-off by Y K Koo, MD&CEO, Hyundai Motor India Ltd. marked the beginning of the new season of the 'Great India Drive' focusing on the Premium SUV segment-leader Hyundai Tucson. It aims to highlight the multi-faceted, all-terrain capability of this globally successful SUV.
Y K Koo said that the 'Great India Drive' is a unique expedition to explore the incredible India, adding brilliant moments in customers' life adding thrill of driving a Hyundai – highlighting the challenging spirit of 10 Adventurers. This edition of 'Great India Drive' personifies the Tucson's Born Dynamic DNA through an expedition covering 2 countries, 29 Indian States, 6 Union Territories to create unique content for discerning customers."
"The 3rd generation all new Tucson is a globally successful and most awarded SUV in India. The Great India Drive will further strengthen the Modern Premium image of Hyundai with Tucson in India", he added.
Meanwhile Tucson Great India Drive 2017 will cover more than 30,000 km – 2 countries, 29 Indian States and 6 Union Territories highlighting the strength and capabilities of Tucson on some of the difficult as well as picturesque terrains in the country. Some of the locations include Pokhara in Nepal, Kaza in Himachal, Nepal, Seven Sisters State of North East India, Andaman Islands, Kutch and Daman & Diu among others. The 10 Media Houses will drive in Great India Drive along with their 10 respective lucky contest winners. The esteemed media houses include: Autocar India, Overdrive, Top Gear, Motoring World, AutoX, Auto Today, EVO, Car India, Zigwheels and Powerdrift.
In addition, the Great India Drive will engage with customers through various digital activation and contests to generate excitement. Winners will also get an opportunity to be a part of this drive. Hyundai will also promote #BeTheBetterGuy road safety CSR campaign and the participating teams will identify responsible drivers on the road gratifying them with Hyundai merchandise.