NewZNew (Chandigarh) : I debunk and trash the utterly false, malicious and politically motivated allegations leveled against me by the troika of Sukhbir-Saini-Jagir Kaur. I dare the government to order a judicial inquiry or a CBI probe, to include my role if any and that of Bikram Majithia in the drug racket says Khaira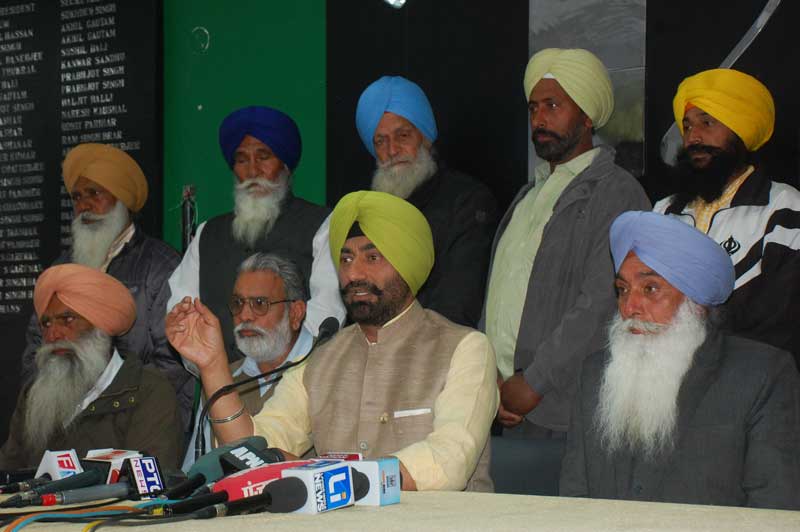 As stated above, I trash the utterly false and politically motivated allegations leveled against me by the Bathinda police, on the directions of Sukhbir-Saini-Jagir Kaur troika to ruin my political career.
This is not the first time that the said troika has in vain attempted to level such allegations. Apart from registering 6 false criminal cases against me, most of which have fallen flat or quashed by the High Court, the said troika on 11th November 2011, had in a similar sensational fashion attributed Rs. 3.64 crore cash recovery belonging to me at Rajpura. Thereafter, as a well thought out conspiracy the ADGP Police issued a press release on 26thNovember 2014, ordering an inquiry against me by SSP Sangrur, for fudging documents presented to Enforcement Directorate against Bikram Majithia.
In so far the present accusations are concerned, I admit that Gurdev Singh Ex-Chairman accused of drug smuggling was a known political supporter of mine. But I completely deny even an iota of knowledge or information of his dealings in drugs or any such activities.
Even going by the statement issued by Mr. Paramraj Umaranangal IGP Bathinda, that I exchanged 78 calls with the said Gurdev Singh during the past 11 months, is self contradictory as in his press note the police claims that Gurdev Singh started these operations in the middle of 2014, therefore any call made to him earlier was not an offence as per the police. The fact is that Gurdev Singh was seriously affected by Hepatitis-B virus for the last two years and out of courtesy, I would enquire about his health.
Now sometime around 27th or 28th February his sister Charanjit Kaur of UK asked me to help Gurdev Singh, who was missing from home since the last many days. As per her request, I contacted Gurdev Singh on the number given by her to be told that the Fazilka police was hounding him. He told me that he had to take Rs. 22 lac from a resident of the area and the police was falsely implicating him, on the asking of the man who owned him money. Thereafter, I called Mr. Umaranangal IGP and Amar Singh Chahal DIG on 4thMarch 2015, to plead that Gurdev Singh should not be falsely implicated. The IGP and the DIG told me about his nefarious dealings after which I withdrew my request to help him. I dare Mr. Umaranangal and Mr. Chahal to appear before Akal Takhat on oath, if I asked them to release Gurdev Singh in the drug case? Would they have obliged me given my tooth and nail opposition of the Badal's, the DGP and the Punjab Police?
Lastly I question the DGP as to how the police has set up a SIT probe against me on the drop of the hat on mere frivolous allegations?, while Sukhbir Badal and the DGP gave a clean chit to Bikram Majithia within hours of being named by the Rs. 6,000 crore drug lord Jagdish Bhola, who despite being in police custody made direct allegations of Majithia's involvement before the media at Mohali last year. Why a probe against him was not ordered? Is this not pick and choose, partisan attitude and political vendetta by the government and the police?
Now that a major national media house has carried a front page story today, that Bikram Majithia received Rs. 35 lac as election fund from Jagjit Singh Chahal the co-accused in the Jagdish Bhola drug case, at his residence 43, Green Avenue, Amritsar. Besides this the other accused Bittu Aulakh has also revealed, that the Canadian based drug smugglers Satpreet alias Satta and Pindi were not only in constant touch with Bikram Majithia, but stayed with him whenever in India and that Bikram Majithia helped them in their drug business. These revelations are a part of the chargesheet filed by the Enforcement Directorate in the Jagdish Bhola drug racket. Will the DGP have the courage, spine and the audacity to order a SIT probe against Bikram Majithia? Or will he only act as a stooge to victimize the political opponents of the Badals?
The fact of the matter is that the Badal clan have been wrecked and devastated by my direct attacks on them and are finding such frivolous issues to fix me and ruin my political career.
Therefore, I challenge the Badal government that if it has the courage let it order an impartial independent probe by either a sitting judge of the High Court or a CBI inquiry, to ascertain my role if any and that of Bikram Majithia into the drug scandal. If I am found guilty of any misconduct or wrong doing, I promise I will not only quit my present position but also give up active politics immediately, but in case these allegations are proved wrong then the said troika must come out and tender a public apology for damaging my reputation.