Since its very first edition at London's Millennium Dome back in 2000, the International Indian Film Academy Awards — known as IIFA Awards in short — has been among the glitziest events in the Bollywood red carpet calendar.
Every year, the setting has shifted to an international destination, and the event itself has grown from the awards ceremony to include the IIFA Fashion Extravaganza, IIFA Rocks, and a whole host of other activities that come under the banner of the IIFA Weekend.
IIFA 2017 marks the 18th edition of the IIFA Awards, and the stage was set for a grand night at the MetLife Stadium in New York City (well, technically New Jersey).
And as Bollywood put its best foot forward, both on the red green carpet and on stage, here's a collection of highlights from the IIFA 2017 show.
1. Alia Bhatt's performance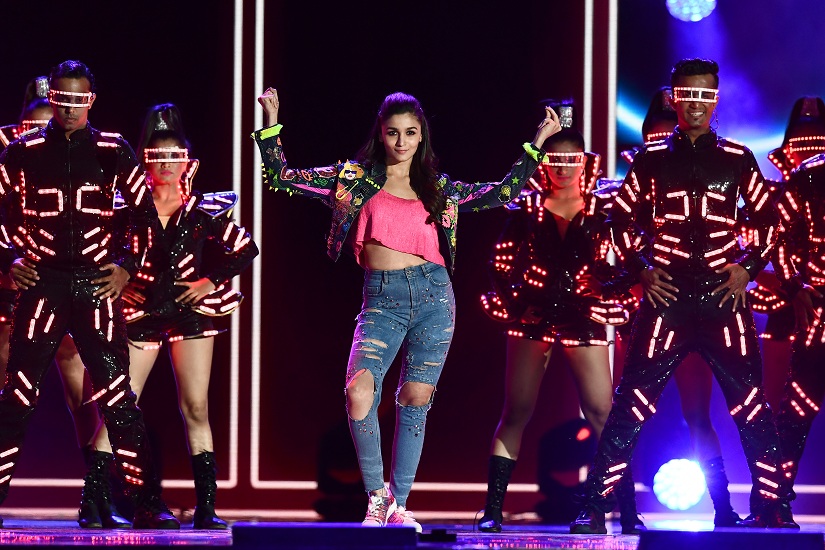 It was a special night indeed for Alia Bhatt. Not only was she nominated in the Best Actress category for two of her films from the previous year — Udta Punjab and Dear Zindagi — she was also scheduled to be among the early performances of the IIFA 2017 night. And Alia kicked off the show in grand style, with a zestful performance to a gamut of her hits. Starting in a pink midriff-skimming top and jeans, Alia quickly changed into a lemon yellow ghagra — before moving off stage, walking up to her Badrinath Ki Dulhania co-star Varun Dhawan, who was seated in the front row, and coercing him to match steps with her. The icing on top for Alia, of course, was winning in the Best Performance in a Leading Role (Female) category for Udta Punjab at the end of the night.
2. Diljit Dosanjh rocks the stage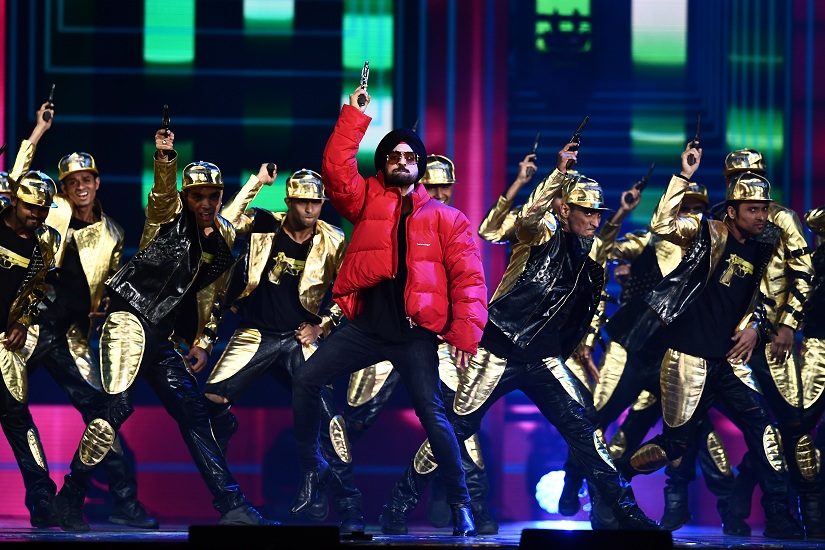 He may have missed out on the Best Playback Singer trophy to Amit Mishra (who won for 'Bulleya'), but Diljit Dosanjh didn't let that dampen his spirits any, as he went on to give a rousing performance on the IIFA 2017 stage. Sporting a bright red bomber jacket, Diljit epitomised Punjabi swag as he belted out one chartbuster after another.
3. Taapsee Pannu conferred 'Woman of the Year' honour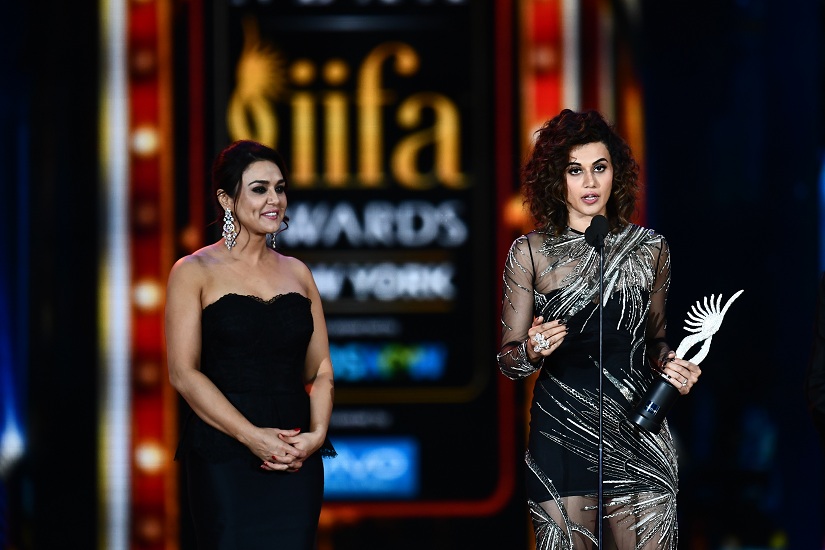 Her role as a gutsy survivor of sexual assault in Pink got her plenty of well-deserved praise. Taapsee Pannu also received a Best Actress nomination for her portrayal. And at IIFA 2017, the actress was called on stage to collect a special 'Woman of the Year' award. Taapsee received her trophy from Preity Zinta and delivered a moving speech about what being able to do a role like Pink had meant to her. Taapsee had another equally strong role in the year gone by — in Naam Shabana.
4. Salman Khan charms the crowd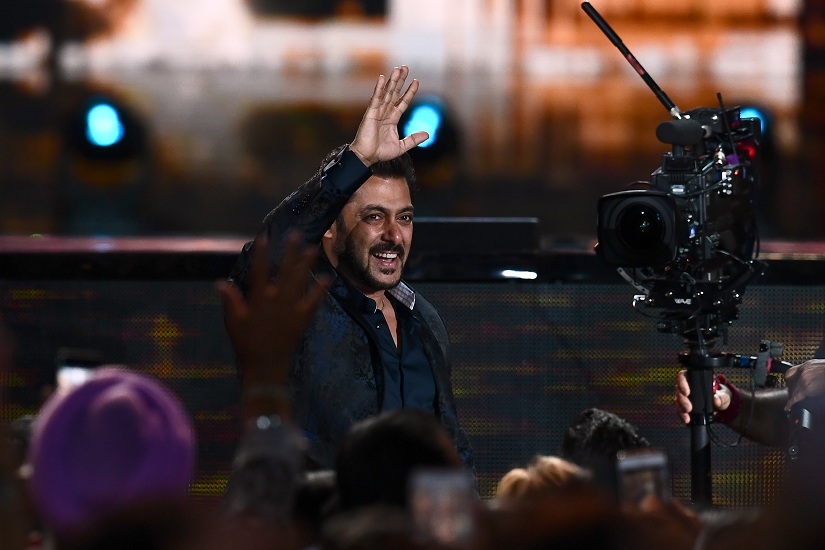 Does Salman Khan really have to extend much in the way of effort to charm audiences? He had the crowd at IIFA 2017 eating out of his hand — and all Salman had to do was walk in front of the stage and smile and wave at the cameras. Salman's latest release — Tubelight — may have won him more brickbats than bouquets, and its box office performance not up to the star's usual standards. But on the evening of 15 July, at the MetLife Stadium, it was time to bask in the audience's adulation, and reap the benefits of his Best Actor nomination for 2016's Sultan.
5. Sushant Singh Rajput-Kriti Sanon show off their chemistry
Their Raabta failed to set the box office on fire, but the chemistry during their IIFA 2017 performance — well that was a different story altogether! Sushant Singh Rajput and Kriti Sanon put up a performance that was energetic and entertaining, ably supporting by the troupe of back-up dancers, at IIFA 2017. He's always known to be a high-octane performer, but was the extra spring in Sushant's step the result of his Best Actor nomination for MS Dhoni: The Untold Story? Or was there some other story?
6. Jim Sarbh's winning moment

Jim Sarbh's chilling portrayal as the terrorist in Ram Madhvani's Neerja brought him national attention. And at IIFA 2017, Sarbh walked away with the trophy for Best Performance in a Negative Role. There was something endearing about the way Sarbh collected his trophy on stage — here's hoping this is just one among the many, many more awards the young actor will be picking up in his career over the years to come.
7. Katrina Kaif channels inner fierce diva

She came, she saw, she conquered. Katrina Kaif's performance on the IIFA 2017 stage was nothing short of fierce. Dressed in black leather pants and a bright yellow bustier, Katrina danced to hits like 'Kamali' and 'Dhoom Macha Le' and delivered what was undoubtedly one of the more scintillating performances of the night. And her act infused the right burst of adrenaline in the proceedings, just when they were beginning to flag a wee bit.
8. Varun Dhawan ribs Saif Ali Khan about Rangoon
While the camaraderie between hosts for the evening Saif Ali Khan and Karan Johar was supposed to be the high point of the evening, there was a pretty funny moment when Varun Dhawan decided to rib Saif about the box office debacle of Rangoon. But let's not spoil the gag by speaking more of it. Let's just watch it here instead:
9. Shahid Kapoor finishes the night on a high note

From making pouty faces on the green carpet with wife Mira Rajput, to winning the Best Performance in a Leading Role (Male) trophy for his role as a drug-addled rock-star who finds new purpose in life, Shahid Kapoor had a pretty splendid IIFA 2017. And he gave some of the love he received back to the audience with a super-charged act that capped off the night perfectly. Shahid is among Bollywood's best dancers, and every time he gets up on stage, he reminds us of the truth of that statement.
Source : FirstPost