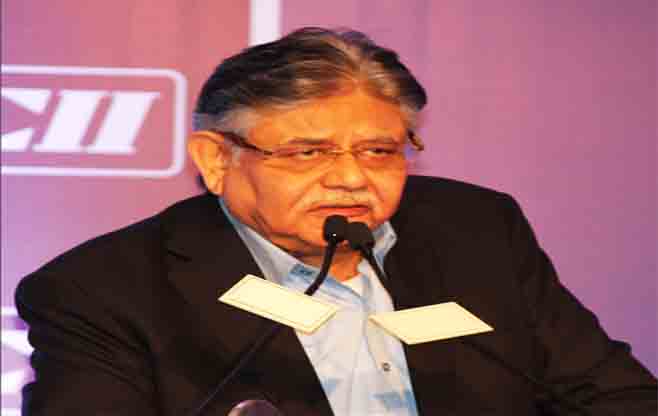 NewZNew (Chandigarh) : Since coming to power in May 2014, the new government has adopted several measures to generate positive sentiment about the Indian economy, said Mr. Sumit Mazumder, President, CII, while addressing the media today. Reforms have been taken forward in diverse areas. Examples include opening up more sectors to foreign investors, easing the regulatory environment for doing business, implementing a non-adversarial and investor-friendly tax system and better allocation of natural resources by making auctions the sole method for granting mining leases. The government should also be lauded for its management of the economy and fiscal performance. Its recent trade policy was appreciated for its effort to simplify procedures and enhancing trade facilitation.
Outlining his views on the economic outlook, he said that India is now the fastest growing economy in a global environment that remains soft. CII expects GDP growth to lie in the range of 7.8-8.2% in 2015-16. Industry and services are expected to continue on the path of recovery though there are risks that agriculture may be a dampener if the monsoon disappoints. However, given earlier successes in implementing mitigating measures such as wider use of drought-resistant plant varieties, he said he did not expect a decline in production. In the medium term, a multi-pronged strategy of focusing on the manufacturing sector, providing greater impetus to skill development and investing in agriculture and infrastructure would raise the growth rate to 9-10%, he said.
The CII President talked about some areas of opportunity in the present economic scenario that could be harnessed with an improvement in the policy environment. Land acquisition, he said, is a key bottleneck that is preventing the implementation of large infrastructure projects, which, he said would be beneficial for the poor and underprivileged. Farmers who have surplus land to sell are unable to do so under the current provisions of the land legislation. He said that CII will work with state governments and political parties to advocate for a more industry-friendly legislation on land acquisition. He added that there are two other areas where legislation needs to be more accommodative of industry interests, viz. Companies Act and labour laws. While CII will advocate for these changes, it will continue its work with companies to improve their governance, transparency and integrity.
Mr. Mazumder said that the agenda for building India is a shared responsibility, not merely the government's. In line with this belief, CII's theme for the year is to Build India: Invest in Development. This would involve CII's engagement in four broad areas: promoting growth and competitiveness, developing human capital, promoting infrastructure investments encouraging social development. CII is involved in three national missions – on smart cities, on digital India and on Sanitation in schools. CII is working with central, state and local governments for the successful implementation of these missions.