Ranked in top 5 automobile category in Inno Tech-2015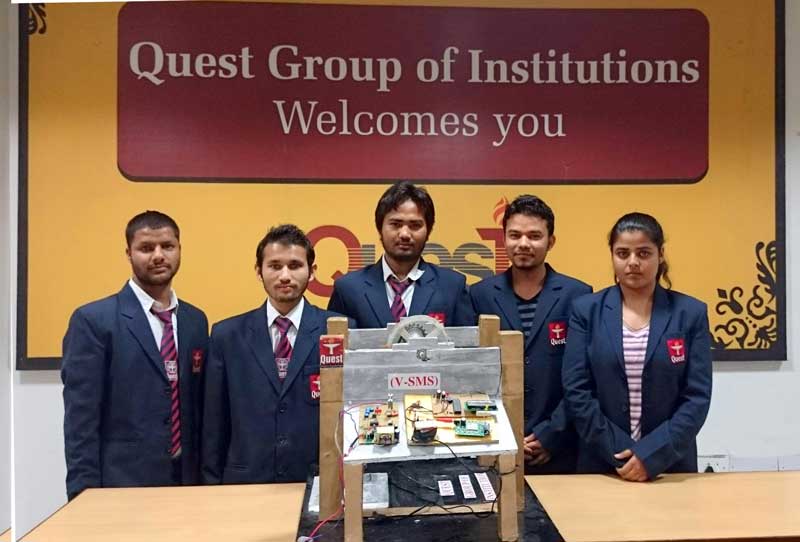 NewZNew (S A S Nagar) : The Engineering students of Quest Group of Institutions Amanjyot Kaur ,Bibek Raj Karki ,Bikal Raj Karki and  Nikesh of B.Tech   developed Vehicle Speed Monitoring System which constantly monitors  the vehicle speed & alarm the driver as well as the owner or parent . This project made to Top 5 finalists in automobile category in InnoTech-2015 which  was organized jointly by Pushpa Gujral Science City and Punjab Technical University. While giving the details of the Project Vice Chairman ,Quest Group of Institutions H P S Kanda Said that V-SMS not only alarms driver regarding over speed, with the help of piezobuzzer, but also sends an SMS to the owner of the vehicle about crossing the set speed limit  .It sends an SMS again when the normal speed is retained. The vehicle may be at any distance away.
Chairman of Quest Group D.S. Sekhon congratulated the students and faculty on this achievement and said that Most of road accidents occur due to over speeding & negligence of driver such innovative solutions make life easier and better. According to him often it has been observed that youngsters drive their vehicles on high speed and ignore the safety rules .Same is the case with commercial vehicle drivers such as Buses, Trucks, and school and college vehicles as well
He lauded the efforts of creating an environment in the college which encourage innovation and excellence. He stressed the need to encouraging the problem solving and creative thinking skills of students.