NewZNew (Chandigarh) : The Chopard branded amenity kits will contain a variety of cosmetic and comfort items for guests' indulgence. Specially formulated items include a hand cream, lip balm (stick), hair brush, eye mask and cabin socks.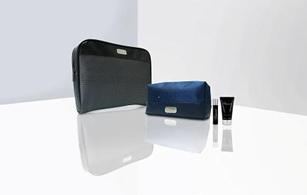 The First Class amenity kit also doubles as an after-use tab case allowing guests to store their personal handheld electronic device, such as a tab.
Mr. Gaurang Shetty, Senior Vice-President, Commercial, Jet Airways, said, "At Jet Airways, we have always endeavoured to provide our First Class and Premiere guests with an unparalleled in-flight travel experience, including a world-class in-flight product, and service.
Introduction of the Chopard luxury personal products reinforces our focus on elevating the overall inflight experience by keeping our guests refreshed, relaxed and recharged throughout their journey."