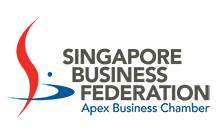 NewZNew (Chandigarh) : The India-Singapore Business Forum held yesterday was in conjunction with the official visit of Prime Minister Lee Hsien Loong to India. The Forum was attended by more than 260 senior delegates and officials from both countries, and co-organised by five parties, including the Singapore Business Federation (SBF), Confederation of Indian Industries (CII) and Singapore Indian Chamber of Commerce & Industry (SICCI), International Enterprise Singapore (IES) and Building & Construction Authority of Singapore (BCA). The Forum is supported by Standard Chartered Bank, the strategic partner for this India initiative.
Themed "Fostering holistic growth between India and Singapore", the Forum discussed opportunities in forging business partnerships between India and Singapore, as well as domestic opportunities, key business trends, policy reforms and other areas of development introduced by the Modi government. The Forum also took a closer look at how India and Singapore can collaborate to venture into regions such as Asean, North Asia, the Middle East and Africa by tapping on strengths of the respective business communities, especially in overseas diaspora.
During the Forum, participants highlighted India's focus on innovation, observing young start-ups' preference for Singapore over competing US and European technology hubs. Singapore was cited for its strategic location and connectivity to Asian markets and capital, and its business-friendly environment. The panel called for closer collaboration on SME development and innovation. The panel also looks forward to the enhanced Comprehensive Economic Cooperation Agreement (CECA) and the revised Double Tax Avoidance Agreement, which are expected to create favourable conditions for bilateral trade and investment.
The highlight of the Forum was a ministerial plenary session focusing on economic partnership between India and Singapore, which was led by Minister for Trade and Industry (Industry) Mr S. Iswaran and India's Minister of Railways, Mr Suresh Prabhu.
The ministerial panel focused on areas including skills development and the Smart City initiative, which has seen some 60 cities earmarked for development. While Singapore's expertise for smart city developments is widely known in India, the government needs to clearly identify areas of focus for Singapore companies to be able to participate. Indian companies can also tap on the global capital required to drive infrastructure investment by leveraging Singapore's global connectivity and pool of financiers.
In addition, the panel discussed partnership on skills development, the export of professional services and Singapore's expertise to build India's human capital base from its massive pool of young talents.