Indian army runners steal the show, grab top-three positions in the men's 21km and 10km runs: The Indian army runners grabbed the top-three positions in both men's 21km and 10km races in the third edition of the Tuffman Kasauli Hills Half Marathon powered by Glenview Villas Kasauli held on Sunday.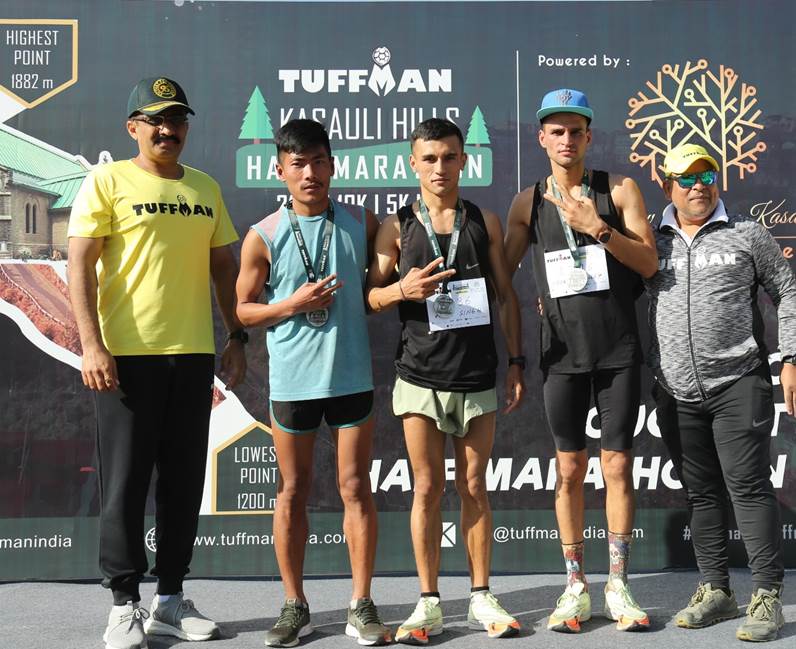 Over 1000 runners from across the country participated in the hill run.
Apart from the half marathon – which is considered India's one of the toughest 21km hill runs – there were 10km, 5km and 3 km runs.
The half marathon run was flagged off by Brig CS Pathania, VSM. The run started from Army Ground, Kasauli, and went out till Jangeshu Village via Parwanoo – Kasauli Road (Old Kasauli Road) and returned onto the same route to finish at Army Ground, Kasauli.
The run had an overall elevation gain of around 4000 feet in a course of 21.1 km and 1950 feet in a 10 km circuit.
The first position in the men's 21km run was jointly shared between Indian Army personnel Mayangam Lungleng and Amit Singh. Both the runners clocked 01:24:28 hrs. They were followed by another army runner Muzamil Bashir, who clocked 01:26:56 hrs.
Chandigarh's Simran Kochhar grabbed the first position in the women's 21km section. She completed her run in 02:22:40 hrs. Ludhiana's Sameera Auluck finished second (02:23:50 hrs), while Faridabad's Nisha Tyagi came third (02:31:56 hrs).
In the 10km men's section too, the top three positions were grabbed by Indian Army runners. Kailash Singh with timing of 36:34 mins won gold, followed by Bhuwan Rana (36:59 mins) and Rohit Kumar (37:33 mins).
Kiran Sodhi from Anandpur Sahib won the top position in the 10km women's section. She clocked 58:24 mins. Patiala's Indu Saldi (01:02:53 hrs) came second, while Delhi's Nandita Bayan (01:05:45 hrs) finished third.
Apart from athletes from the Indian army and North Indian states, runners travelled from distant places in Nagaland, West Bengal, Andhra Pradesh, Tamil Nadu, Kerala, Karnataka, Maharashtra to participate in the Tuffman Hill Run and enjoyed the scenic beauty, local villages and mist.
Over 100 local government school kids also took part in the 3km and 5km runs. They were sponsored by Glenview Villas Kasauli.
Eco–friendly paper cups were used for offering water and various liquids to the participants also food plates were made of eco–friendly paper only.
Lauding the efforts of participants of all categories, Brig CS Pathania said, "Running is not just about physical stamina but also needs mental strength and testing yourself. I am happy to see the enthusiasm and participation from various parts of the country is just beautiful in itself to run a half marathon and keep fit for the daily lifestyle."
The event was powered by Glenview Villas Kasauli which is a RERA-approved luxury housing project located in the lap of nature. Post-race refreshments were looked after by Welcome Heritage Glenview Resort, Kasauli and medical facilities were looked after by Max Healthcare, Mohali. Wow Skin Science was the skincare partner and Bodyvine was the performance partner for the event.
The run participation also included an excellent quality Tuffman DRI – FIT T-shirt, goodie bag, race bib, pre and post-race hydration, excellent pictures throughout the race, digital race certificate (for all finishers, post completion of the race), race photos search via selfie and a beautiful finisher's medal and promising good memories.
The registrations for the virtual edition of the race to be held on 6th – 8th May are open till April 31st at www.tuffmanindia.com or bit.ly/TuffmanKasauliVR. General & sponsorship queries can be addressed at [email protected].
TUFFMAN is India's premier endurance sports platform bringing Running, Cycling & Swimming events to sports enthusiasts. All events are organized in various beautiful destinations & major cities in India, which everyone wishes to visit like Chandigarh (Half Marathon, Triathlon, 24 Hours Stadium Run), Shimla (Mashobra), Manali, Gurugram, Kasauli, Leh, Goa, Jaisalmer, Jaipur & Andaman & Nicobar Islands at varied terrains to run on.