NewZNew (Chandigarh) :-  Internationally acclaimed Fashion Designer Rahul Mishra was here to walk the streets of Paris at INIFD Chandigarh after walking the Ramp of Paris Fashion Week recently. He took a stroll down the beautiful avenue in the world 'The Champs Elysees', Paris which has been aesthetically designed and artistically created by the students of INIFD at Chandigarh.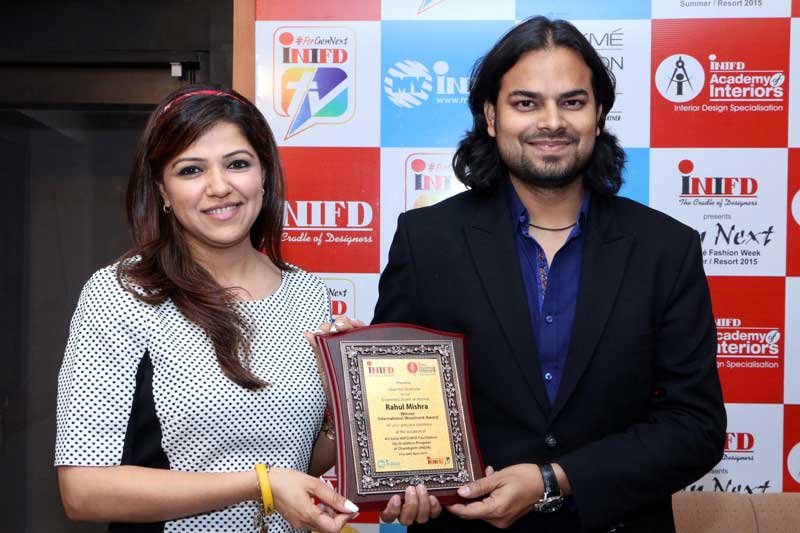 Young Genius Rahul Mishra told about his journey from being a Gen Next Designer at Lakme Fashion Week to a prominent International Designer. He shared his experience and encouraged the aspiring INIFD students to make it big in the design industry.
Mentor to INIFD Academy of Interiors Dr. Sundeep Koachar is an Astro Scientist, Vastu Expert with 2700 episodes on Zee News longest running show on television. He has entered the hall of fame with Limca book of records. Dr. Sundeep Koachar's clients start from captains of Industry to Bollywood Stars, from Cricketers to Housewives. He acted in Astro Thriller movie & also done a Marathi Film lately.
Rahul Mishra is the only Indian Designer to win International Woolmark award for his creative brilliance in the field fashion. Hot Favourite of Bollywood Stars like Kareena Kapoor, Deepika Padukone, Alia Bhatt, Sonam Kapoor, Shraddha Kapoor, Karishma Kapoor, Prachi Desai, Malaika Arora Khan and many more celebs have been adorning his creations lately. He has been presenting his design collections at National & International Fashion Weeks and has won many accolades for his unique work.
Rahul Mishra is one of the finest talents in Indian Fashion known for his style of designing. The sophistication & sensuality is always what his design collection embraces. His ensembles & techniques focus on empowering the Indian craft community thus providing employment to the Indian artisans promoting our heritage & culture.
Rahul Mishra admired the commendable efforts put in by the students of INIFD Chandigarh in redesigning the French Capital which brought back his fond memories of his recent visit to Paris. Dr. Sundeep Koachar was impressed with the hard work of students and complimented the INIFD students for their exclusive creative display.