850+ exhibitors from 40 countries and 60,000 trade visitors from over 900 cities in India and 60 countries across the globe
Live demonstration of more than 1000 woodworking machineries, technologies at INDIAWOOD 2018.
Asia's largest trade fair for wood working and furniture manufacturing sector, INDIAWOOD 2018 is all set to showcase the latest innovations and trends at BIEC, Bangalore. The 10th edition of INDIAWOOD will be held from 8 – 12 March 2018 and the wood working community will meet again at the Bangalore International Exhibition Centre.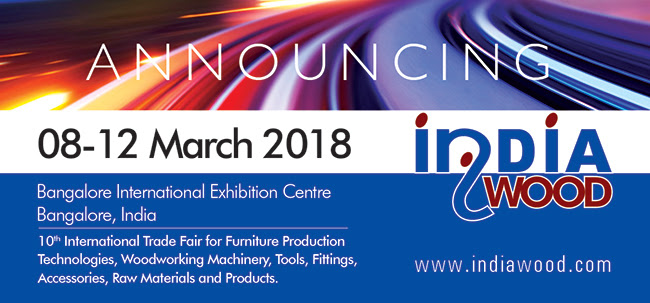 INDIAWOOD 2018 will host over 850 exhibitors from 22 states, 12 country pavilions, 40 countries around the globe. INDIAWOOD, this year, looks forward to a huge participation from Punajb & Harayana which has shown immense pace and scope in the industry. The fair also provides a platform to represent a vast array of furniture production technologies, woodworking machineries, tools, fittings, accessories, raw materials and products.
The Indian furniture Industry considered the 14th largest furniture market is expected to grow 20% per annum & is primed to cross US$ 32 billion by 2019.  Although furniture manufacturing in India is rapidly transforming into a mechanized process driven industry to cater to the burgeoning demand, around 60% of furniture is yet being imported from other countries. Technology & knowledge proliferation via events like INDIAWOOD will empower Indian industry to compete with countries like Malaysia and China and limit our import dependency whilst opening export markets.  From 8 – 12March 2018 at BIEC, Bangalore.
Sharing insights for INDIAWOOD 2018, SivaKumar V – Vice President, PDA Trade Fairs says, "With an increase in exhibitors and countries at every edition, it is sure that the INDIAWOOD has been considered as a strategic platform to showcase the best in technology and trend that are shaping the modern wood and furniture industry. The technology and knowledge proliferation through events like INDIAWOOD will empower Indian industry to open much wider in export industry. Through constant support from stakeholders and committed to excellence, INDIAWOOD assures to evolve in line with industry demands nationally and internationally."
The event welcomes key visitor groups including craftsmen, woodworkers, furniture manufactures, hardware distributors/ dealers/ manufacturers, plywood & particle board manufacturers/ traders, manufacturers of wood-based products, architects, interior designers, builders and the woodworking ecosystem from tier I, tier II and tier III cities from India and from South-East Asian countries & South Asian countries like Nepal, Sri Lanka, Bangladesh, Malaysia, Myanmar, Bhutan, Thailand, Indonesia, the Philippines, etc.
INDIAWOOD has also been used as a platform to conduct training programmes and schemes for bridging the demand-supply gap of skilled manpower by the Ministry of Skill Development and Entrepreneurship represented by Furniture & Fittings Skill Council (A body under the National Skill Development Corporation) Exhibitors at INDIAWOOD will launch new products from the categories of panel & solid wood processing, furniture processing, saw milling, fittings, hardware and components for furniture kitchen and cabinetry, raw materials for the supply chain and much more.
Known for industry's most important biennial meeting place for the last two decades in India, INDIAWOOD has now a prominent place amongst the international woodworking industry. The past editions have showcased over 50% exhibitors from overseas and the numbers are increasing every edition.